Wasatch Wing and Clay plans rebuild after devastating fire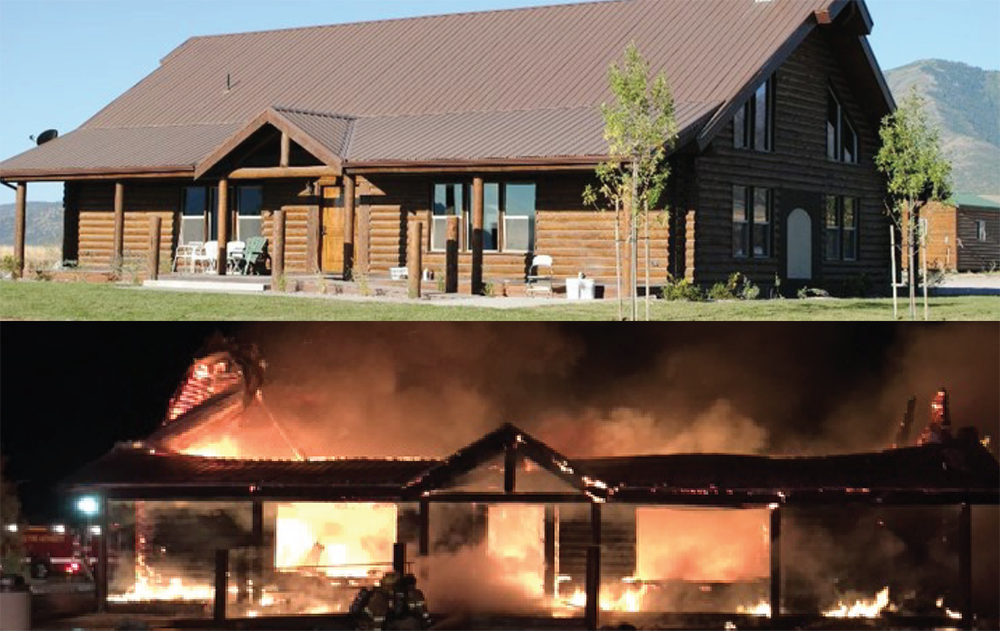 Jim Smith and Woody Berry surveyed what was left after a fire burned the lodge at their families' co-owned 2000-acre, upland bird hunting reserve, north and east of Cedar Fort on Thursday, February 16. The lodge was a total loss. The cause of the fire is still undetermined.
In 2008, Smith and his friend Mike Holdaway had an idea. The Holdaway family operated a large hunting and clay shooting complex in Vineyard. As development encroached on the Holdaway property, the Holdaways needed more land. Smith, whose family (Carey and Diane Smith, Jim and Deana Smith, Julie and Ken Chamberlain, and Woody and Laurie Jo Berry) have farmed thousands of acres of land between Eagle Mountain and Cedar Fort for decades. The two families combined resources and founded Wasatch Wing and Clay, a premier upland bird and clay shooting complex, just north of Cedar Fort.
The lodge was constructed in 2010. Most of the work was done by family members and local artisans. It took two years to build. "The custom designed woodwork, cabinets and mantel will be almost impossible to duplicate," stated Smith. The lodge was made of native woods that had been milled to the owner's specifications. The estimated loss is over $600,000.
"Wasatch Wing and Clay is one of the best kept secrets in state," said Smith. "We host family reunions, parties, corporate and church events. This venue is a better business environment than golf. There is much more interaction. The food is catered and many businesses have found this an exceptional place to meet with clients." Smith says the motto is, "shoot a bird—shoot a day."
Thousands of hunters utilize the unique facility during the hunting season, September 1- March 31. Over 20,000 birds are brought in each year. The birds are furnished by a family in Kansas. They supply us with pheasants, chukars, quail and Hungarian partridges. "There is no limit on the number of birds taken and the staff will even clean them!" added Smith.
During the rest of the year, shooters can focus on clay. There is a sporting clay course where hunters can walk from station to station.
Hunters who want to sharpen their shooting skills will find this paradise. "This is the only club in the state with all four clay venues: trap, skeet, five stand, and sporting clays. We invite all to come out. We are open now," states Smith. "We also have concealed weapon and hunter's safety classes. The latest service to be provided is tactical training for special forces," he added.
The reconstruction will begin immediately.