Point of the Mountain workshop held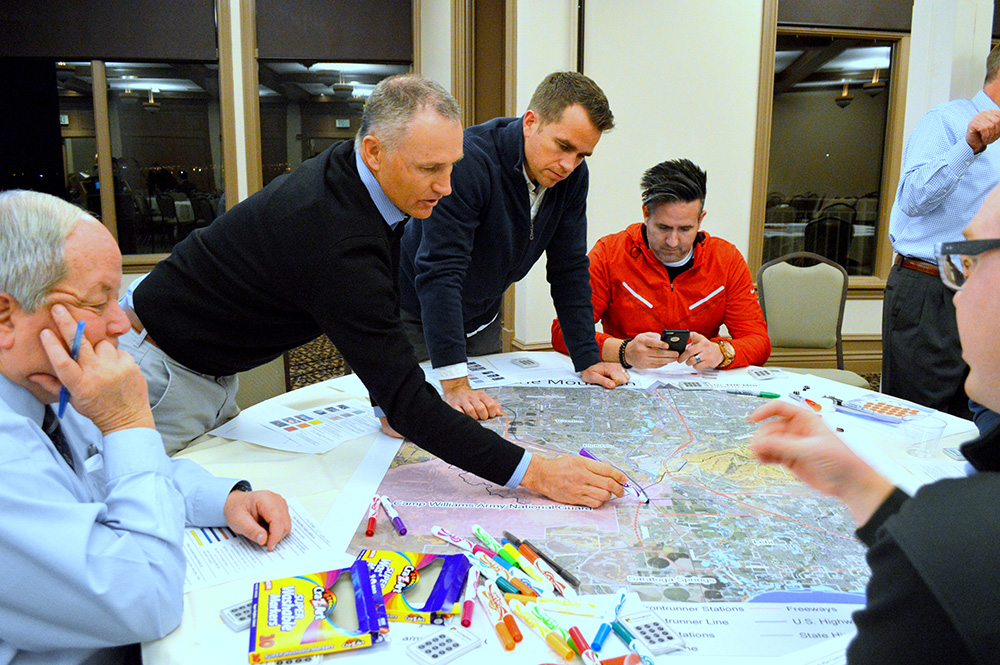 On Thursday, February 16, Envision Utah held a workshop in Lehi to get feedback and provide information about the Point of the Mountain Development Commission.
V. Lowry Snow (R) from the Utah State Legislature, the new co-chair of the Point of the Mountain Development Commission, started the evening by welcoming those in attendance to the process. "We're taking advantage of a moment in time when we can plan for 30-plus years in the future. Rarely does a state, city, or county have an opportunity like this," said Snow. The main purposes for the commission are to maximize job creation, ensure a high quality of life, be strategic about residential and commercial growth, and to preserve the natural land and expand recreation opportunities.
The Garden Room at Thanksgiving Point's Ashton Gardens was arranged with tables that each had a map of the 22,000 acres near Point of the Mountain, markers, and devices to use during the survey portion of the workshop. Robert J. Grow, President and CEO of Envision Utah, presented slides detailing the challenges and the big ideas that have been identified so far. Input from the public has shown that a large majority are concerned about preserving open space and recreational opportunities. The top three hopes of the stakeholders who were polled were to create a high-tech university/national-scale lab/research system, to create and preserve greenspace, and to have areas of mixed use developments including live/work/play hubs.
Those in attendance indicated during the survey that the most important outcome for the Point of the Mountain is to manage transportation access, mobility, and traffic. When asked what the most important transportation solution at the Point of the Mountain is, 40% responded that it is imperative to build more road connections to disperse traffic from main roads. Attendees were then asked to imagine the area in 2050 and use the markers to identify where there should be open space and recreation, land use and development, and transportation system improvements on the maps provided.
Envision Utah is still hoping to get as much input as possible from Lehi residents (and anyone else with an interest in the project). Go to pointofthemountainfuture.org to take a short survey and be part of the process.