Miss Lehi collects shoes for Africa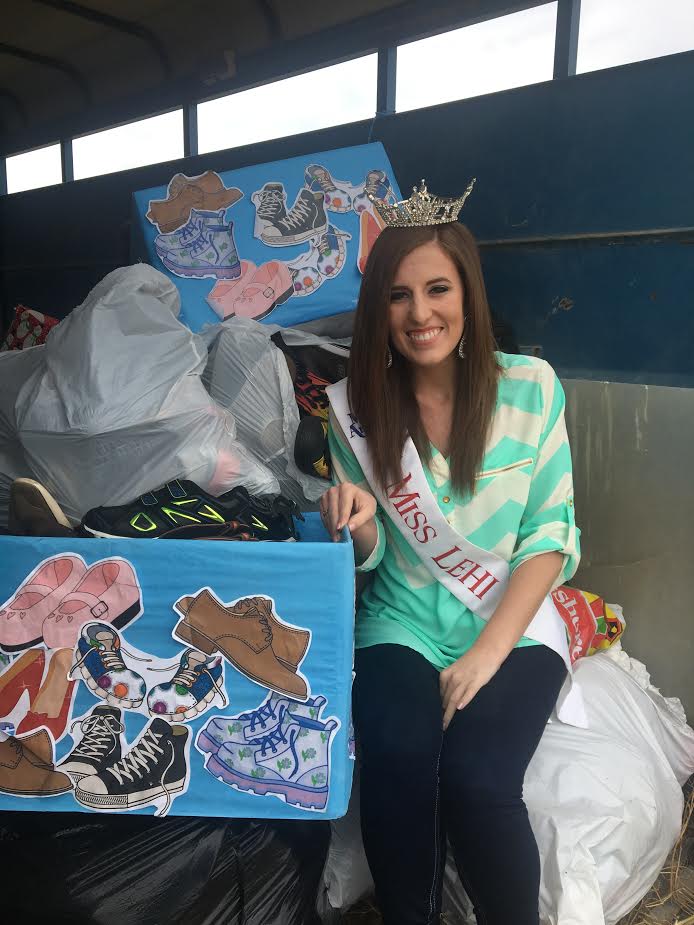 Part of the Miss Utah Pageant is a competition to see how many pounds of shoes each contestant can collect. The minimum amount required for the contest is 1,000 lbs. of shoes per contestant! With 51 women competing for the title of Miss Utah, that's a lot of shoes.
Jacki Thacker, current Miss Lehi, has a few horse trailers full of shoes already, but she will need a lot more to win. Until Friday, February 24, she is collecting shoes at Lehi and Skyridge High Schools. The school that collects the most shoes gets a little trophy from Jacki and bragging rights. Thacker will have a bin for shoes at the Lehi City building until April 1, or you can bring shoes to her house by that date as well. Donated shoes can be any size or style and still in wearable condition.
The shoes Miss Utah contestants are collecting go to a non-profit service organization called Power 2 Become. The organization give shoes to the poor in several countries and sells them in Tanzania to provide funding for Burkina Faso, Africa, the third poorest region in the world. Power 2 Become has projects in Burkina Faso for developing freshwater wells, scholarships to young students, and for planting a self-sustaining soy bean farm. The Miss Utah contestant who collects the most shoes (by weight) will earn a two-week trip to Burkina Faso to see firsthand the impact of Power 2 Become's work.
The Miss Utah Pageant will be held June 12 – 17 this year. For the "Show Me Your Shoes" parade, Jacki Thacker plans to wear one shoe for Lehi High School and one shoe for Skyridge High School. She'll need the combined efforts of both schools to win!