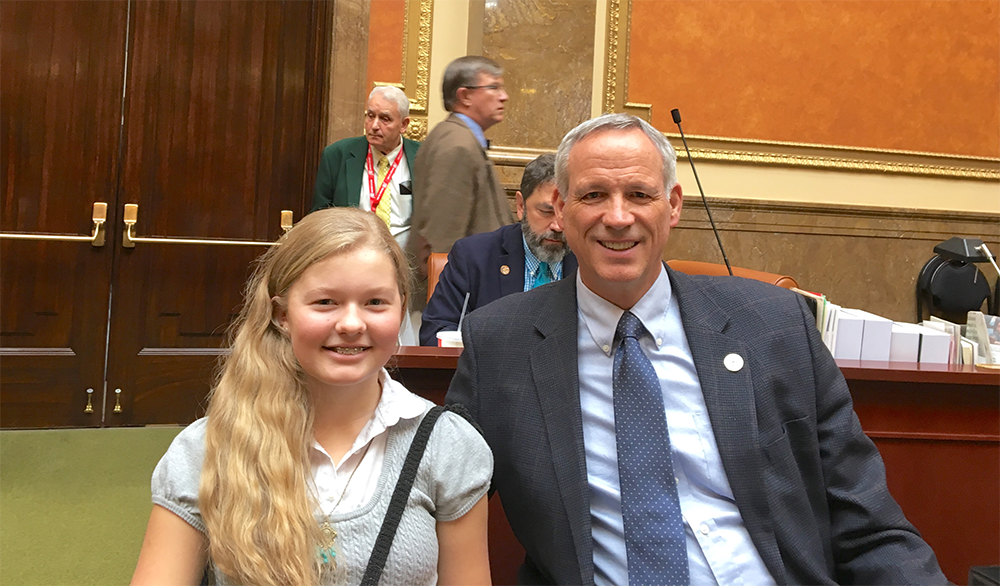 Lehi's state representatives are diligently working to move their priority bills through the legislature as the seventh and final week of the session approaches. On Tuesday, the list of bills lined up for consideration were "wiped off the board" in both the House and Senate and replaced with a new list of only priority bills.
At the end of week five of the seven-week session, Senator Jake Anderegg (SD 13) and Representative Cory Maloy (HD 6) were pleased that their jointly-sponsored "Fix-it Ticket" bill had passed the full legislature. The bill allows drivers who are pulled over and found delinquent in their registration requirements a 14-day grace period to take care of the omission without penalty.
Representative Kay Christofferson's (HD 56) bill to offer financial incentives to STEM teachers in public schools, HB 108, is headed to the Senate floor after passing out of committee. The bill is one of Christofferson's priority bills. It has moved smoothly through the House and Senate.
His other priority bill, however, has had a rougher time. HB 131 would allow relatives to dispute child placements made by the Division of Child and Family Services, and would give preference to family members, especially married family members, in determining child placement. Christofferson had the bill ready a week before the session began, but it got hung up in the process of working out the financial details. Since he has given it a priority designation, he is hopeful it will still be able to get through both houses now that it has its fiscal note.
Maloy was optimistic about the progress of his bill to grant added protection to a wider range of peace officers. It passed the House on February 21 and was assigned to the Senate Economic Development and Workforce Services Committee on February 23.
Another of his sponsored bills, HB 259, which adds protections to a person defending himself or his property from attack, was close enough to the top of the list that he was hopeful it would be voted on before the priority reassignment Tuesday. A third bill deals with changes to laws governing vehicle towing. Maloy will designate that bill, HB 393, as a priority.
Anderegg was pleased that his bill to change licensing requirements for home-based businesses, including removing fees associated with licensure, passed the Senate.
Another of his bills is designed to restructure the way Utah stores information it collects about Utah citizens. Anderegg explained that it has taken some work to figure out how to shift money from the Utah Data Alliance to the proposed new entity, but that the details are worked out now.
His bill to eliminate criminal penalties for parents of truant children is in a holding pattern while another bill to restructure several aspects of juvenile justice, sponsored by Representative Lowry Snow (HD 74 – St. George), makes its way through the legislative process. The juvenile justice bill, HB 239, would affect Anderegg's bill. "If Snow's bill passes, truancy as a criminal status becomes obsolete," he said, which would make a smooth passage for his bill.
Anderegg's most controversial bill, the Equal Pay bill, may run out of time, in which case the senator plans to seek an interim study for it.
A handful of noteworthy votes took place during the week, including a joint resolution to call for a Convention of States under Article V of the United States Constitution. The resolution failed a vote in the Senate after having passed the House on February 3. Both Christofferson and Maloy voted in favor of the resolution, while Anderegg voted against it. Anderegg said he received nearly 4,000 emails in about 30 hours expressing displeasure with his vote.
A highly debated bill to require emissions testing for diesel vehicles passed the House on a 39-29 vote. Christofferson voted in favor of it, while Maloy voted against.
"It puts diesel and gas vehicles on the same footing," Christofferson said. Maloy explained that the bill targeted Utah County specifically. "This bill forces one county to do it," he said. He thinks that county commissioners should get to decide the policy for their own counties. The bill is expected to be heard in the Senate this week.