Stucki shares love and superhero art with children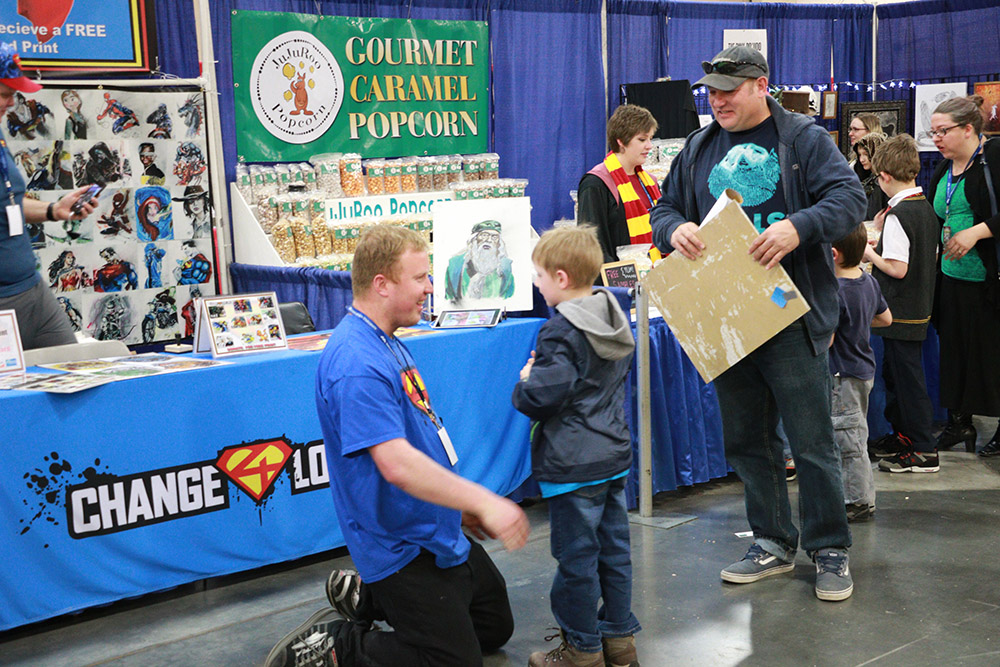 Painting superheroes, smiling and sharing love are Glenn Stucki's talents. And yes, those talents are remarkable. Glenn is co-founder of the charity, "Change 4 Love," an organization that donates hand-painted artwork to "super-friends" in need.
"I have a few favorite super-heroes," said Glenn. "My favorite is the one I'm drawing for someone at that moment." Glenn is motivated by the hugs and the smile that comes to a kids face when they see his paintings.  "Change the world with love," is Glenn's motto.
Glenn was twelve years old on a Fathers and Sons outing at Lake Mead when a jet ski struck him. He spent six weeks in a coma, suffering a serious brain injury. He woke up and found himself in a white room without the ability to communicate. Glenn continued to think that his daily life was like a dream; he thought he would eventually wake up and return to normal.
"I woke up out of my coma and I couldn't talk," said Glenn. "Anything can happen in a dream, so I just started to smile. The nurses would come in and ask me what I was smiling about. Each night I would go to sleep with the hope that I would wake up out of my dream and I never did, so I just smiled some more. I'm still waiting to wake up. Life has gotten so much better over the past few years."
It took him a year of hard work and recovery before he could start talking, walking, and eating on his own.  "I found that if I was mad about my situation, people wouldn't want to be around me," said Glenn. "So I'm happy, I want to give hugs and high fives. It's so refreshing to be happy. I wanted to be around people, so I got a job at Walmart as a greater. This is my job and I love greeting!"
Glenn would greet kids that were sad at Walmart and he would give create paintings to cheer them up. He was giving paintings away for a few years when KSL ran a story on Glenn that brought a lot of attention to what he was doing. Glenn collaborated with Bart Hawkins and created the Change 4 Love charity. The organization is working with those with disabilities to provide artwork for children. Glenn is also expanding into public speaking and sharing his message about overcoming adversity with schools around Utah.
Glenn continues to work at the American Fork Walmart on Tuesday and Thursday at the West door. He will be signing and giving away pictures there this Friday, April 7 from 2-6 and Saturday from 10-2. Donations for the art are accepted and appreciated.
He will also make an appearance at Chick-fil-A in American Fork on Friday, April 14, 3:30-4:30 p.m. You can support Glenn and the Change 4 Love organization through their website change4love.org or by finding their Facebook or Instagram page.