Keeping up with the Jones triplets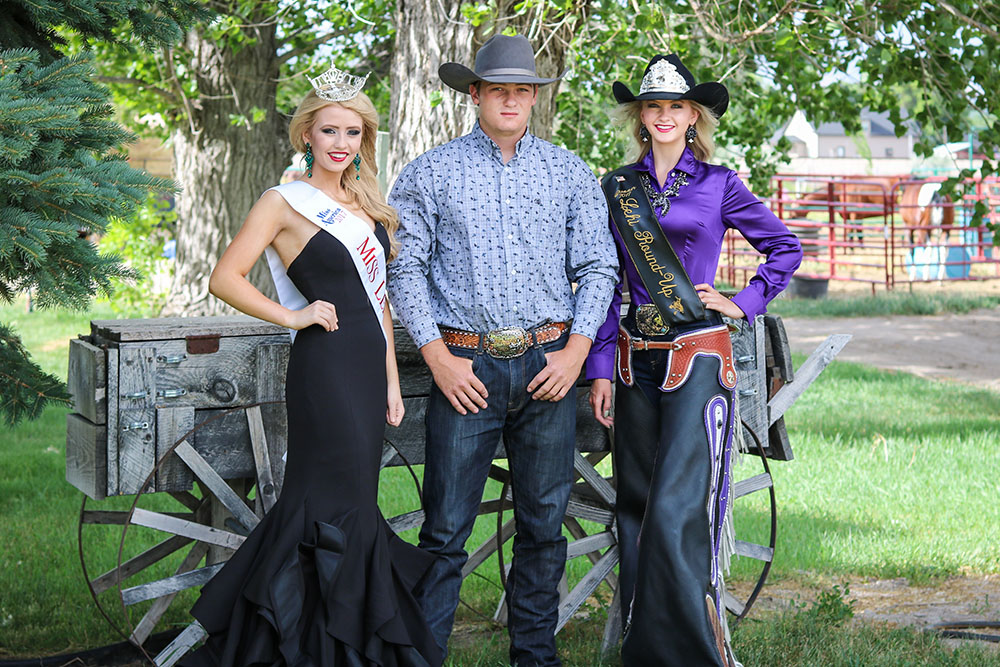 For generations the phrase, "Keeping up with the Joneses," was used as an idiom for staying up to date on the latest and greatest thing. However, Lehi triplets Kadee, Kassadee, and Klay Jones are showing us that the popular phrase can be taken literally as they've been involved in Lehi's historic traditions in every way.
The Jones triplets have always loved their hometown. Klay played Lehi football growing up and Kadee and Kassadee danced at the Dance Depot located on Lehi's Main Street. But the triplets' ties to Lehi go much further back than youth football and dance lessons. Kadee said, "Our ties to Lehi run deep. We love Lehi City and all that is stands for, and for as long as I can remember, we have wanted to represent Lehi in the best possible way and serve all the citizens within its borders." Darin and Kellie Jo Jones are their devoted parents.
When the triplets were six months old, they were taken to their very first Lehi Round-Up Rodeo. Kellie Jo said, "The Lehi Round-Up Rodeo has been a tradition in my family for generations. Even though they were young, I wanted to instill a love of the rodeo and the importance of traditions in my kids, so we bundled up the babies and at just six months old, they experienced their very first Lehi rodeo."
The triplets are the third generation to attend all three nights of the Lehi Round-Up Rodeo and have done so for all 18 years of their lives. But they do much more than just watch the rodeo. Through the years, they have helped behind the scenes pushing cows, retrieving fallen cowboy hats, untying piggin strings, setting up the firework show and many other odd jobs.
Klay particularly loves helping with the Round-Up and watching the steer wrestlers. Klay has represented the city of Lehi at various rodeos around the state and in November, won the coveted title of "Utah High School Rodeo's Champions Challenge Champion." He has won over 10 champion titles as a steer wrestler, all with "Lehi" written on his back.
The triplets have also been to every Lehi City Celebration event, but Kassadee and Kadee's favorite are the parades. "Our mother has built over 23 parade floats, so for as long as I can remember I have been on a float, carrying a banner, or holding a flag," said Kassadee.  Kadee constructed two of her own parade floats, both taking home the title of grand prize.
This year however, the triplets will be in the parades playing different roles than they ever have before. This year, Kassadee will be riding as the Lehi Round-Up Rodeo Queen 2017, and Kadee will appear as Miss Lehi 2017. They said that it has been a dream of theirs since they were just little girls to be Miss Lehi Round-Up and Miss Lehi at the same time. "We are so excited to serve Lehi together as the rodeo queen and city queen." Kadee said.
Aside from Round-Up week and city titles, the triplets are connected to Lehi in other ways. Kassadee and Klay represented Lehi at over 120 different rodeos across Utah during their high school years. Kadee served as Lehi High School Student Body Secretary and was the first Sterling Scholar from Lehi High School to compete at the state level since 2008. All three are graduates of the LHS class of 2017. Collectively, they have devoted over 1,000 hours of service to Lehi city over the years.
Klay said, "Lehi will always hold a special place in our hearts. We are the fourth generation to have been born and raised here, and we will do everything within our power to give back to it." With Miss Lehi Round-Up 2017, Miss Lehi 2017, and the Utah State Rodeo Champions Challenge Champion all in one set of triplets, it just goes to show that sometimes, the best things really do come in threes.