Plans underway for I-15 Tech Corridor expansion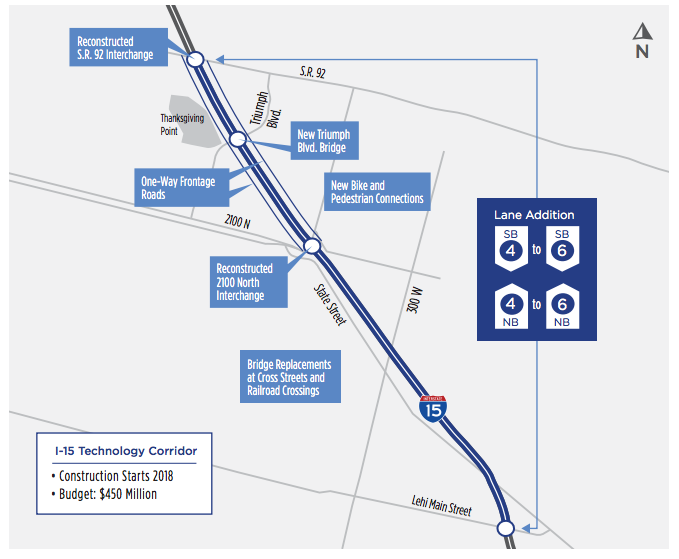 Plans are actively underway to get backhoes digging and concrete laid on the I-15 Tech Corridor. What will this mean for Lehi residents? If plans unfold according to the anticipated schedule, we can anticipate seeing machines and re-routing signs starting next Spring and lasting for two to three years.
The Tech Corridor is the 4.5-mile stretch of freeway from Thanksgiving Point to Lehi Main Street. Expanding this section, which is often called "the gap," will involve adding two lanes in each direction, a one-way frontage road on each side, and 13 bridges.
Major features that will affect Lehi residents include construction of an east-west connection bridge over I-15 at Triumph Blvd; redesign of the I-15 interchange at SR-92; reconstruction of the 2100 N. interchange; replacement of old bridges at cross streets and railroad crossings. Pedestrian and bicycle transportation features are also included.
Robert Westover, I-15 Technology Corridor Project Director for UDOT, said general plans for expansion have been in place for a few years. The total cost is estimated at $450 million, which makes it the largest project to be funded by the $1 billion freeway construction bond passed by the legislature this past session. Plans have already undergone the required environmental study.
State Representative Kay Christofferson (House District 56), a civil engineer with extensive professional experience in road construction, said contractors will be submitting Request for Proposals (RFPs) to the Utah Department of Transportation (UDOT) in Fall or possibly late Summer. While the main concept design is already finished, there are many details that need to be decided and laid out. Much of this work will take place during Winter.
Rep. Christofferson explained that it's a "design-build project" utilizing "value engineering." A design-build is a contracting format in which the state contracts with a single designer-builder team, rather than individually with a separate designer and builder. Value engineering is an approach to construction which works to maximize function while minimizing cost.
Westover said that if UDOT were using a traditional build model, it would require being in the design stage for one to one and a half years before construction could begin. "Procuring it as a design-build contract allows it to move forward," he explained.
While the congestion through Lehi has been irritating for residents, it's likely to get worse before it gets better. It may be a good time to learn some deep breathing exercises and put together a relaxing music playlist, then buckle up for the last stretch of this construction ride.