Skyridge High School adds portable classrooms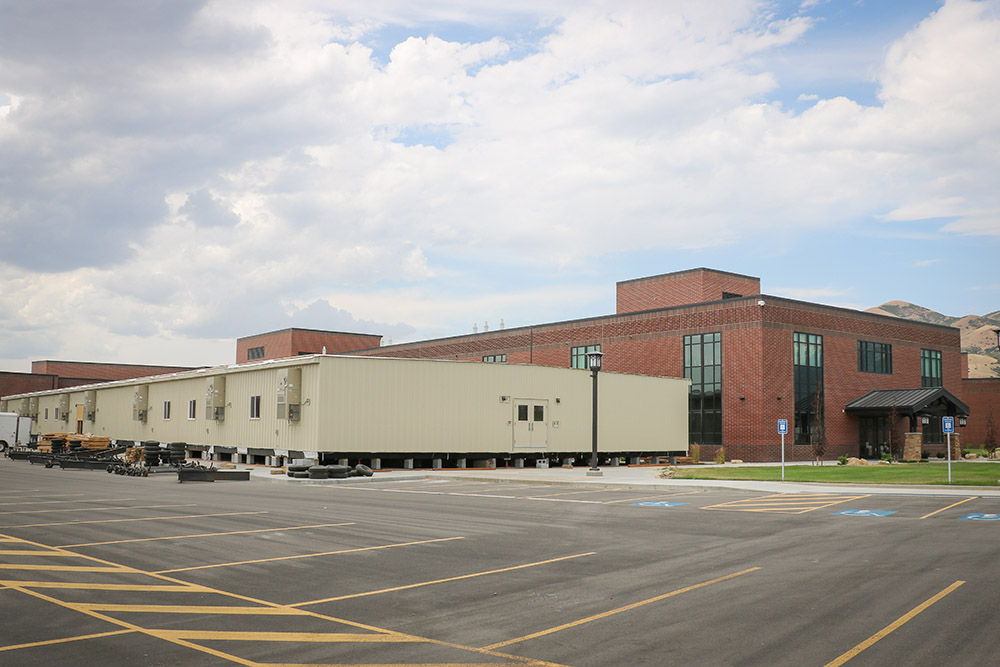 Skyridge High School just wrapped up its first year in operation, but it's already bursting at the seams. In order to serve the growing student body, the school is installing a 16-classroom "satellite" building, often referred to as a "portable."
While at first glance this may look like the result of a lack of proper planning, the satellite unit is actually part of the original plan for the school, said Kimberly Bird, Assistant to the Superintendent for Alpine School District (ASD). In fact, there are two "utility stubs" at the school, making it possible to add a second satellite unit in the future if needed.
"It's pretty typical that we do this," she explained. "We never build our buildings too big. We stub in and plan for" portable units at all the schools. Traverse Elementary, for example, includes four stubs. A line item for portables is included in the District's annual budget, and there are currently over 100 portables in use in ASD.
This type of planning is employed as a cost-saving measure to maximize usage of school buildings. It costs more to build, for example, 16 classrooms onto a brick and mortar school building than it does to put those 16 classrooms up in a portable structure. When this fact is considered in conjunction with the way school enrollment grows and shrinks over time with changing demographics in a given area, school district planners seek to maximize the use of taxpayers' money by including portable buildings in their school designs.
Midway through the summer, enrollment at Skyridge is currently at 2,560 students, already beating last year's opening enrollment by over 200 students. Principal Joel Perkins said the huge jump is due to three factors, all of which were generally anticipated: continued new construction of houses, especially in Traverse Mountain; an especially large incoming freshman class of 700; and a full class of seniors.
"When we open a new school, seniors get to choose where to go," Perkins said, explaining that last year a good number of seniors who might have attended Skyridge elected to stay at Lehi High School. This year there will be a full senior class, and Skyridge is the only high school in Alpine School District which includes ninth graders, who are attending Skyridge in order to alleviate crowding at Lehi Junior High School.
Asphalt for the satellite building was laid during the last few weeks of school – twice, said Perkins, because the job was done wrong the first time – and work on the satellite building began shortly after school got out.
The portable sits just a few yards from the cafeteria door on the southeast side of the building. Entrances on the east, west and south sides lead to a wide hallway which is flanked by 16 spacious classrooms, including 4 science rooms equipped with sinks. Restroom facilities are included in the building.
"It's not going to feel overcrowded," said Perkins. "It's basically adding a wing to the school. We're calling it the 'E' wing." Apart from needing to navigate any inclement weather for the few yards' walk to the building, it appears to be a fairly accurate description.
A number of elements will affect how long the satellite will be in place, said Bird. A major factor will be the completion of a new junior high school in Lehi, which will reduce numbers at Skyridge as the ninth-grade students move back to the junior high. The location of the junior high is yet to be determined, but it is projected to be completed in 2021.