Scout builds home for Tabernacle cornerstone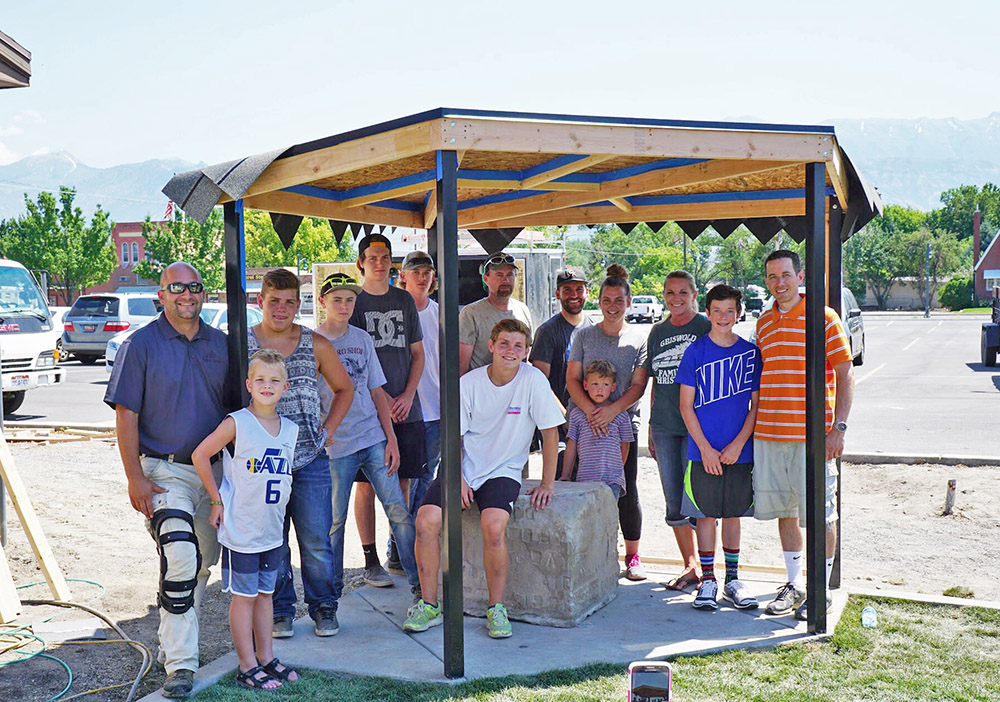 The cornerstone of the old Lehi Tabernacle received a new home Saturday at the Lehi Historical Society and Archives building. Seventeen-year- old Kayden Beecher of Lehi proposed to build a structure for his Eagle Project after finding out the important piece of Lehi history was sitting in a garage.
"My hope is more people will come to the archives if they know something like this is here," said Beecher of the cornerstone and the structure he, his fellow scouts, parents and friends built. "We are so excited for the cornerstone to be on display and protected from the elements," said Lara Bangerter, director of the Lehi Historical Society and Archives. "It's a great reminder of the old days and the sacrifices people made so we can enjoy Lehi the way we do today."
Jaimi Hyde, one of the moms who helped, said, "I had no idea there had been a tabernacle or that this cornerstone existed. I've raised my kids here and had no idea. Now we know!"
The small pavilion and cornerstone can be found in the backyard of the archives at 34 S. 100 N. Visitors are welcome Tuesday through Thursday from noon to 5 p.m. Beecher also expressed thanks to the Sons of the Utah Pioneers as the organization donated $500 to the project. Located at 200 North and Center Street, the Lehi Tabernacle, which belonged to the Church of Jesus Christ of Latter-day Saints, was constructed of white pressed stone and completed in 1910. Over the years, the LDS Church and Alpine School District swapped ownership several times. It was finally razed in 1962 to make room for the LDS Lehi Stake Center, which stands there day.
A cornerstone is the first stone placed on the foundation of a building. It is usually the largest and most solid of all the stones, and all other stones and angles are measured from it. Cornerstones are symbolic in the LDS Church as they are always likened to the life and example of Jesus Christ. Of his project, Kayden said, "It has shown me I'm a lot more capable than I thought. I also had a lot more help than I ever expected."