Beauty, Brains, and Buckles: Lehi's Kassadee Jones represents at Miss Rodeo Utah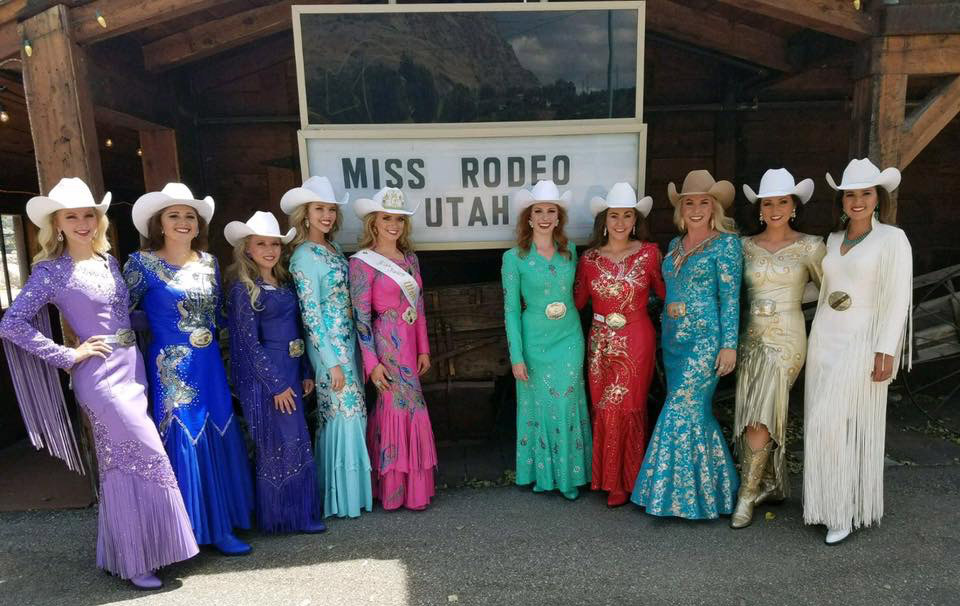 On Monday, July 24, Kassadee Jo Jones, who is serving currently as Miss Lehi Round-Up, was awarded the title of second runner up at the Miss Rodeo Utah 2018 pageant after a week of grueling competition against queens from across the state. We would like to congratulate her on her efforts, and for representing Lehi beautifully.
Jones left for the Miss Rodeo Utah competition, held in Ogden, on Wednesday, July 19 where she checked in and was assigned as contestant number two of nine. The contestants, ranged in age from 18 to 23 and came from all over Utah to compete for the coveted title. Jones was the youngest of the contestants at age 18.
She started her first day by competing in two of three horsemanship categories. The first horsemanship pattern was on her own horse, and the second pattern was on one of the other contestant's horses, drawn at random. Her horsemanship outfit was green and white, adorned with AB stones (a type of crystal) and gold sequins.
Jones also competed in a freestyle horsemanship category, where she could make up any routine she wanted, performed on her own horse. She proved to be a cowgirl that could take on just about any challenge, because just 14 days before Miss Rodeo Utah started, her queening horse went lame and she had to borrow a horse she had never ridden before for the competition.
Jones also competed in an impromptu speech category, where she was given the topic, "When life doesn't go right, go left," and had to write, memorize, and deliver a speech in just 10 minutes. Her speech addressed the fact that sometimes life can throw both good and bad surprises at us, but it's the way that we handle them that truly matters.
Two personal interviews were held, one was personal and the other was horsemanship oriented. Jones said that interview has always been her favorite portion of the competition. Contestants were also required to answer an impromptu question in front of hundreds of audience members and took a written test on common rodeo and horse knowledge.
The fashion show was another category of competition where contestants had to create an outfit that fit the western heritage theme. Jones chose a knee-length blue dress with bell sleeves, peach boots, a peach ascot, a white cowboy hat, and a classic buckle. Jones was also judged on personality, modeling, appearance, and public speaking ability throughout the whole week-long competition.
In total, Jones had a total of two horsemanship outfits, three leather dresses, seven wrangler outfits, one fashion forward outfit, nine pairs of boots, and five cowboy hats. With the help of few close friends, Kassadee's mother, Kellie Jo, made most of her outfits for the competition. Her entire clothing rack was encased in plastic wrap and driven in a horse trailer by her father to the competition.
The contestants were not allowed to have any outside contact during the five-day long competition and were not allowed to have cell phones at all. They stayed in a hotel in Ogden and were well taken care of by the dedicated committee members at Miss Rodeo Utah. Jones said, "We were definitely fed like queens, the committee took fantastic care of us."
The coronation ceremony took place at the Ogden rodeo on Monday, July 24, in the rodeo arena at 9 p.m. Jones was awarded the photogenic award along with the title of second runner up to Miss Rodeo Utah. She was also given an $1,800 scholarship to Weber State and a set of spurs for her achievement. Jones would like to thank everyone for their support during the competition and would like to congratulate all the contestants, especially, Carly Peercy, who was crowned Miss Rodeo Utah 2018.
Congratulations Kassadee on your awards, and representing Lehi so well at the Miss Rodeo Utah competition!