City Council hears update on power facility, Dry Creek Reservoir and road projects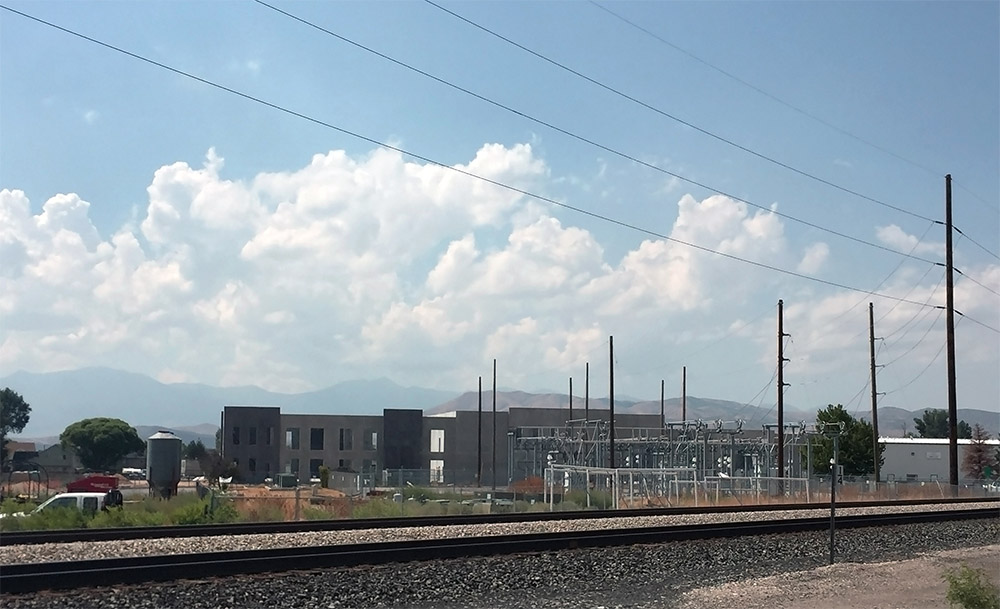 During Pre-City Council meeting on August 8, council members heard reports from Lehi City power and engineering departments. All council members were present except Chris Condie.
Mayor Wilson asked Joel Eves, head of Lehi City Power Department, to give a progress report on the new power department complex. Eves reported, "Walls are up and the pads for the generator are being poured. We are buying land to square up the parking lot. We have had some noise issues with the neighbors so we are putting up an 8-ft. fence and 12 ft. landscaping buffer."
The $ 17 million- dollar budget will provide inside parking for power vehicles which are currently parked outside. Eves went on to comment on the westside substation being built for Holbrook Farms, "The substation should be completed by November 1. The Spring Creek substation is almost done."
Mayor Wilson asked Brad Kenison, member of the engineering department, to talk about the status of the water tank being built on the west side of the Jordan River. The 2.3-million-gallon structure will collect water from the C.W.P. water line. The tank will provide water for approximately 57,000 E.R.U. (estimated residential units). The tank is located above Hardman Way.  Kenison stated, "Construction of tank is a little bit behind schedule."
Kenison continued, "The walls of the tank are 14-18 inches thick. 500 yards of concrete were poured in 13 hours to build the deck of the tank. The walls are 20 ft. tall. It is also 144 ft. in diameter. The $2.2 million tank is being paid for by Holbrook and Hardman. Lehi City fronted the money. Hardman paid for the culinary and Holbrook the pressurized system."
Lorin Powell, city engineer, was asked to report on the progress of Dry Creek Reservoir. Powell said, "We meet every two weeks with Highland City. Highland's mayor is supportive of the project; however, some Highland residents have mixed feelings about the project. Highland residents want a fence on the south side of the reservoir."
Parking issues have been discussed and because of problems with neighboring communities and parking around their reservoirs, parking stalls have been increased to 200 stalls in the basin and an additional 65-70 stalls will be marked along the road.
Powell, "We will be online for the project in 2019."
City Council member Revill commented, "We have staff with good heads on their shoulders and good plans."
There was some discussion about road construction in the city. Two major projects are being planned: The widening of 1200 West from Lehi Block to SR 92 and the widening of Main Street to Saratoga Springs. The county is providing $13 million for the project. 
In regular City Council meeting, the City Council members unanimously approved ten items.
During public input section of the meeting Ann Ray, Lehi resident, expressed disappointment in the cancellation of art classes held in the Arts Center Building. "I have lived in Lehi for some years and moved away. When I came back I was delighted to find a wonderful art class. I made many great friends in the class. The class has been discontinued because the instructor could no longer afford to pay rent for the room in the building. The rent has increased from $30.00 a month to $40.00 per hour. This is 23 times increase in rent. A new place for the class is being pursued. Don't forget quality of life is an important part of living in Lehi," Ray said.
City council approved the following agenda items:
Allred Annexation, .77 acres located at 950 East Mesa Ave.

Alpine School District/Powell Annexation of 15.59 acres. R1-22 zoning

Laney Annexation located at 900 N. 1500 E. (There was lengthy discussion before approval of this annexation and plot plan. One nay vote on this item.)

Amending Holbrook Farm plan to accommodate Utah Military Academy

Approval of the Cole Peck 3-lot subdivision at 350 S. Center in R2 zone.

Cold Spring Ranch area plan and zone change. Zoning is PUD. An exception was allowed for the Allred family to have acre lots with animal rights.

Zone change on .02 acre from A-1 to commercial to accommodate Hamilton Motors.

Approval of interlocal agreement between Lehi City and Utah County for the widening of 1200 W. to SR92.

Approval of interlocal agreement between Lehi City and Questar (Now Dominion Energy).

Approval of interlocal agreement between Lehi City and Saratoga Springs for the widening of Lehi Main Street and Saratoga Springs. The bridge over Jordan River will be widened.