Pioneers win barn-burner against Alta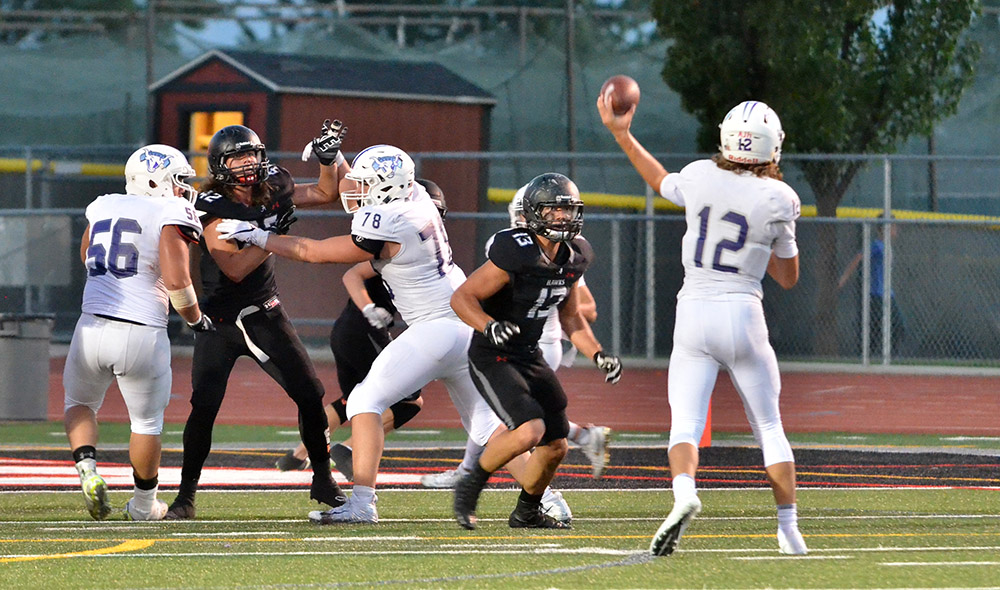 If someone were to say that a quarterback threw 10 touchdown passes, a new state record, threw for 599 total yards, and helped lead a team to a 72-point total, you would imagine the game was a blow out. But the opposite was true during Lehi and Alta's game on Friday night.
It is true that Cammon Cooper had 10 touchdown passes (a state record he now holds), and threw for 599 total yards, but the game went to double overtime! Needless to say, both teams need to work in a few defensive practices.
Lehi started out the game on top, and even had quite a safe 14-point lead midway into the 2nd quarter. However, the Alta offense was not about to give up without a fight. With excellent passing performances, and even more impressive running performances, the Hawks eventually took the lead. Lehi would quickly respond, though, by answering back with touchdowns of their own.
Things were looking dismal for the Pioneers going into the 4th quarter. It seemed that every time they scored a touchdown, or got some momentum, Alta would answer back. Cooper connected a great touchdown pass to tight end and BYU commit, Dallin Holker to answer for Lehi.
The Pioneers clawed their way back with stellar performances from all ends of the offense. The pressure mounted when kicker Wyatt Mosher lined up for 21-yard field goal. With the crowd going nuts, Mosher nailed the field goal to send the game into overtime.
In the first overtime, Alta won the toss, giving them the advantage to score first, which they did. Alta struck first with a touchdown and PAT, leaving Lehi with the task of answering back in like manner. They did. Holker caught a pass in the end zone that sent it into double overtime.
In the second overtime, this time Lehi's defense held the Alta offense, and Lehi scored a touchdown to win the game in double overtime. The final score of the game was a basketball-like score -72-66. With players, students, and the Lehi crowd ecstatic about the game, everyone got to see an impressive display of offensive power from both Alta, and Lehi.
The game was an exciting and impressive start to Lehi's football season. The Pioneers look to add another win to their record this Friday at home against Pine View.