Lehi shows up for American Idol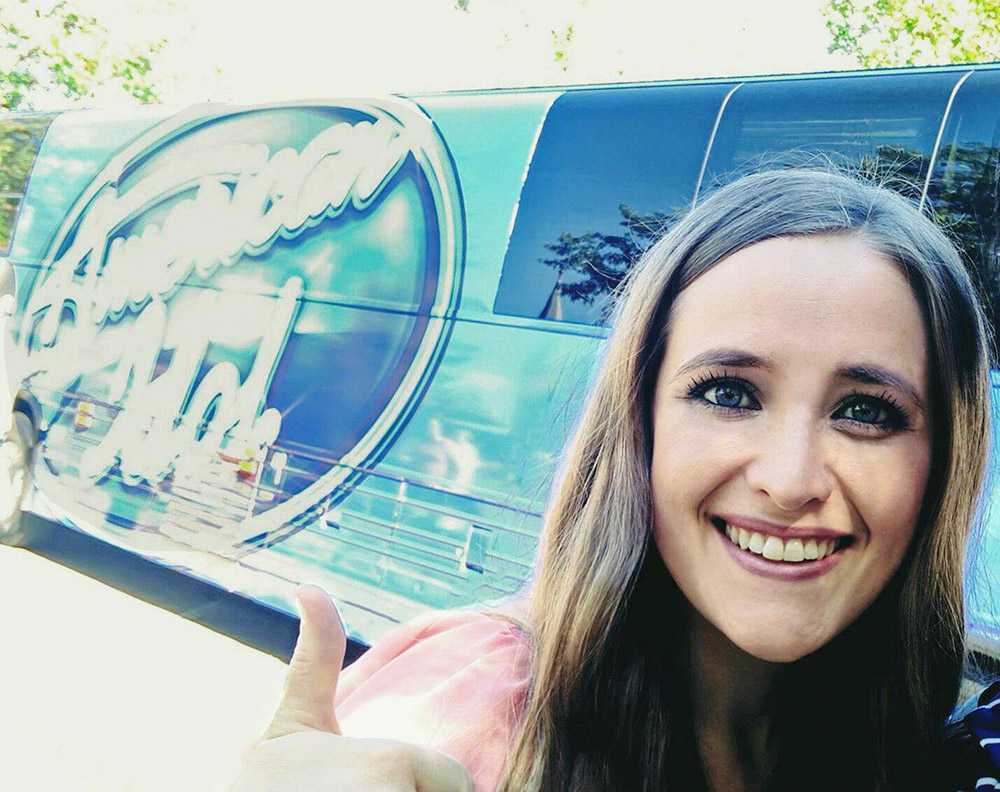 A little more than a year after American Idol ended its 15-season run on Fox and dashed the hopes of so many, the singing competition/reality show is back on television this fall on ABC. Several of Lehi City's talented vocalists went to Provo last weekend to audition for the show.
American Idol contestants must be between the ages of 15 and 28, but that is pretty much the only requirement to audition. Emily (Solavei) VanBloem, Miss Lehi 2008, is a member of the Provo School of the Arts, so she was able to get a special ticket for the auditions. VanBloem is 28 years old, so this was her last chance to audition for American Idol. She and her husband Jefferson VanBloem arrived at 10 a.m. at the courtyard across from the Provo City Center Temple where the American Idol crew had set up their tents. Because of Emily's studio ticket, she was ushered to the front of the line after filling out her paperwork.
"I've always wanted to audition for American Idol, but I never felt confident enough. I'm more comfortable doing musical theater and I thought I wouldn't be what they're looking for," said Emily VanBloem. "Now I'll never wonder what could have been – I have no regrets."
Those auditioning were taken five at a time to one of five small tents set up on the grass. Inside the tent was one judge. Emily VanBloem sang the first verse of "Summertime" from the musical Porgy and Bess, putting a little jazz/pop feel into it. The judge Emily sang for dismissed everyone in her group with an, "Okay thanks." There was no feedback or even a reaction from the judge. Later Emily heard the woman announce that she had finally let someone through to the next round. VanBloem also noticed that the few people she saw who made it had something quirky about them, like one young man who was wearing pajamas and a bathrobe.
"I'm glad I proved to myself that I could do it. I wasn't nervous at all – I had nothing to lose. It was fun to be part of the audition process. They got us in and out of there very efficiently. It was like a well-choreographed dance," said VanBloem.
Snow Stanley, a 15-year old sophomore at Skyridge High School, has watched American Idol since she was very young. She knew she would regret not trying out when the American Idol auditions were so close in Provo. Stanley and her Dad (who took work off to come with her) arrived at the auditions at 6:30 in the morning and there were already about 300 people in line. Snow sang "When We Were Young" by Adele for her judge. She had an opportunity to hear a lot of singers audition in front of her and she was surprised that so many amazing singers were turned away. One of Stanley's friends was told by a producer that she had a "low bar of talent."
None of the five people in Snow Stanley's group made it to the next round, but she didn't want to leave without getting some feedback. Stanley caught up with a producer for American Idol and asked him what she could do differently next time. "He told me that everyone comes with an Adele song, but no one can compete with Adele." They did like that Stanley had a big voice, though.
"I would definitely try out again," said Snow Stanley. "It was so much fun auditioning! People would start singing in groups while we waited in line and everyone was kind and supportive. I wish more people had auditioned. I would tell them not to be afraid of negative feedback – it's one producer." Snow will get to show off her pipes as Maid Marian in Skyridge's production of Robin Hood in just a few weeks.