Utah County Loves Loud with Imagine Dragons' festival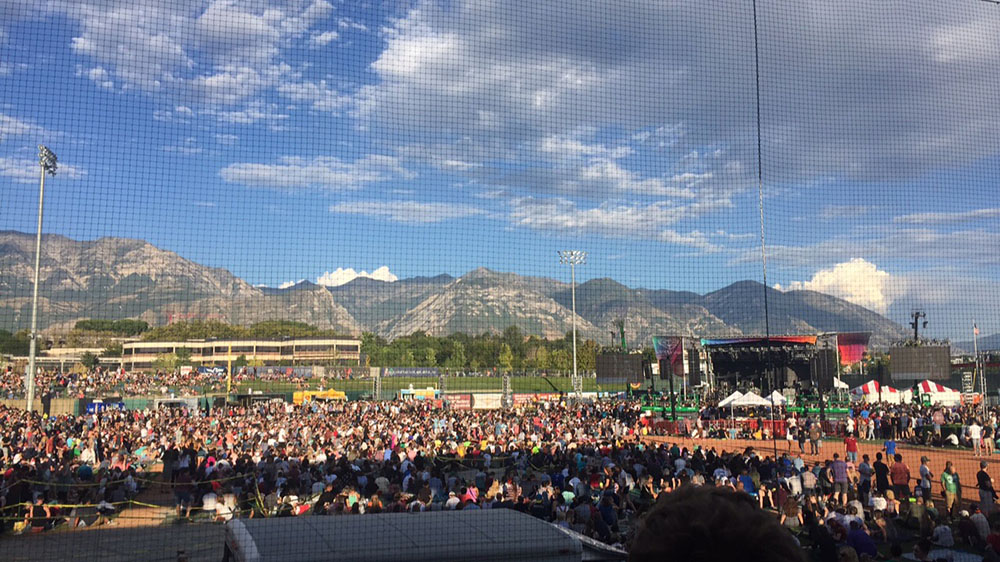 Provo-based band Imagine Dragons put on their first annual LoveLoud festival on Saturday, August 28, at Brent Brown Ball Park. With musical guests Neon Trees, Krewella, Nicholas Petricca of Walk the Moon, and special performances from UVU and BYU-associated groups as well as influential speakers.
The festival drew in over 17,000 people and everyone could feel the unity and love that was part of Reynolds's hope for the event. "Dan Reynolds [Imagine Dragons lead singer] had a vision of a way he could use his platform and his influence to make his community better and help people come together. He saw a need – that the LGBTQ youth were feeling alone and they needed support and he knew he could use his platform and his passion to hopefully bring people together to have a conversation about what we can do better. Love loud is about not being subtle and about opening our mouths and not being ashamed to loudly speak about how much we love each other and how much we support each other instead of just trying to do it silently, because that wasn't really working" said Festival Director, Lance Lowry.
Imagine Dragons is widely known as a highly successful band with emotionally charged, radio friendly anthems, but eight years ago the famed band was unknown apart from a regional following based in their hometown of Provo, Utah. Lead singer, Dan Reynolds was attending Brigham Young University when he met drummer, Andrew Tolman, who was also studying at the university. The band relocated to Reynolds's hometown of Las Vegas to record their well-received first EPs. Daniel Platzman filled in on drums when Tolman left the band. Imagine Dragons landed a record deal with Interscope Records shortly after their move to Las Vegas. The band's success led them to land a number two spot on the Billboard 200, and later their hit song "Radioactive" went platinum is the U.S. Neon Trees, a band also based in Provo, headlined the concert alongside Imagine Dragons, playing some of their more recent songs from their album "Pop Psychology".
Both Dan Reynolds and the lead singer of Neon Trees, Tyler Glenn, grew up members of the The Church of Jesus Christ of Latter-day Saints, and both Imagine Dragons and Neon Trees have a substantial influence in Utah. Glenn has since renounced the LDS Church, but still shared his love and support for the community in Utah through the festival. The LDS Church released this statement about the LoveLoud Festival:
"We applaud the LoveLoud Festival for LGBT youth's aim to bring people together to address teen safety and to express respect and love for all of God's children. We join our voice with all who come together to foster a community of inclusion in which no one is mistreated because of who they are or what they believe. We share common beliefs, among them the pricelessness of our youth and the value of families. We earnestly hope this festival and other related efforts can build respectful communication, better understanding and civility as we all learn from each other."
Festival Director Lance Lowry said, "We always hoped they [the LDS Church] would support this because we know this message is one that coincides with the gospel of Jesus Christ that they teach, but to have their official statement and have them say they applaud the festival was huge."
Allie Kirkham, a local resident said, "The festival impacted me in a way that as I go forward, I am going to accept everyone with love and compassion. It's so true that you never know what people are going through and the festival gave me a chance to walk in someone else's shoes."
With such a short time frame to put on such a large event Lowry said, "This was not by any means a solo effort, the number of people across so many areas that were working 130-hour weeks, devoting their time for no pay towards this was incredible. There are so many people who are responsible for this and I was lucky enough to have them surrounding me, but it was certainly a team effort that everyone came together to bring Dan's vision to life."
Some festival attendants waited in a line that wrapped around the campus of UVU for nearly two hours to see the event and tickets sold out not once, but twice after fesitval organizers spoke to fire marshals and increased capacity.