Butterfly Biosphere groundbreaking held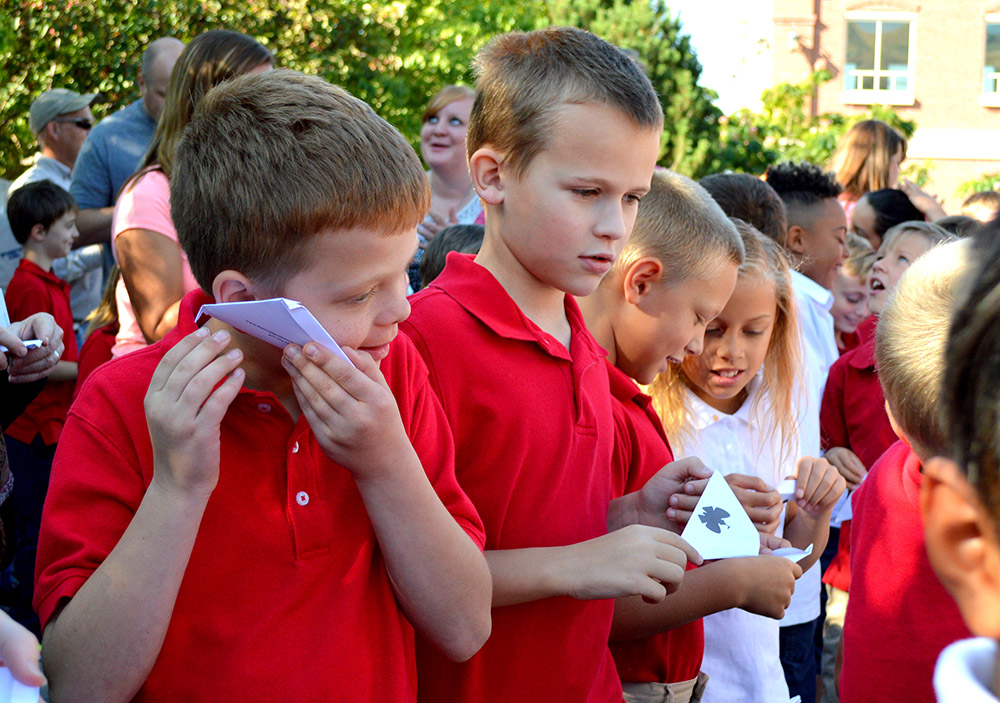 The much-anticipated Butterfly Biosphere at Thanksgiving Point held a ground-breaking ceremony on Monday, September 11. At the conclusion of the program, everyone in attendance was given an envelope with a butterfly to release.
After a prayer by Eileen Quintana, a Nebo Native American, Governor Gary Herbert took the podium and compared the metamorphosis of the butterfly to the metamorphosis in Utah. "In those early pioneer days when the land was barren and difficult, the people had to come together to make the desert blossom like a rose. We see that same thing taking place here at Thanksgiving Point." Governor Herbert pointed out that butterflies have a special job, similar to that of the bee, of pollinating our flowers and trees.
"We have cherries because of pollination and the state vegetable, the sugar beet and the state flower, the sego lily," said Governor Herbert. "There's another important aspect represented here at Thanksgiving Point with the Butterfly Biosphere. It is again an example of partnership and working together for the common good. Creating something better and bigger than any one person could do alone." Governor Herbert gave credit to Thanksgiving Point for the unprecedented growth in Lehi and what is now referred to as "Silicon Slopes."
Lehi Mayor Bert Wilson took a moment to remember what the land looked like before Thanksgiving Point, and that our pioneer ancestors would be proud of what has become of their property. "Thanksgiving Point is becoming one of the greatest places in the state to visit and you can tell that by the number of visitors they get every year. We appreciate that they are bringing in businesses, but also tourists – that it's a place of learning," said Wilson.
Local philanthropist Barbara Barrington Jones, dressed in black with a monarch-printed scarf around her hat and another around her neck, told the story behind her involvement in the Butterfly Biosphere. "I want to talk about the celestial aspect of the butterfly. We called my mother the Butterfly Lady. She loved butterflies, especially Monarchs. My son told me when he was little and Grandma was babysitting they saw a monarch in her yard. Grandma ran inside to grab her butterfly net to catch it. She couldn't catch it and it was flying off down the street, so she told the kids to get in the car quick so they could chase the butterfly."
Barrington Jones was reminded of her mother when Thanksgiving Point CEO Mike L. Washburn asked her to be a part of the Butterfly Biosphere. Since he had "all her money" for the Natural Curiosity Museum, Barrington Jones prayed for a sign that she should dive into this new project. During one of those prayers Barbara was walking along a path at Thanksgiving Point when she spotted a monarch butterfly. From her research, Barrington Jones learned that butterflies are celestial. That monarch butterfly was the sign she was looking for.
The Butterfly Biosphere will also include other insects from around the world. Alan and Karen Ashton seek out butterflies in their extensive travels. "There is a huge difference between going to a museum with Alan Ashton and going to a museum with Karen Ashton," Karen Ashton joked. "He's reading every tiny little thing. It's a delight to be with him, but we usually have to go back in and find him."
Karen mentioned the terrorist attacks on September 11, 2001. "We have a philosophy, it is called leaving beauty for ashes. Wherever we see something that is not right or not beautiful, we do all that we can to replace it with something wholesome and beautiful." Ashton then invited the audience to "break the sky" with their butterflies instead of breaking ground. The Nebo Eagle Dancers performed, then the butterflies were released.
The Butterfly Biosphere will be open sometime in Spring of 2018.