Mascot Bowl slated for Monday, September 25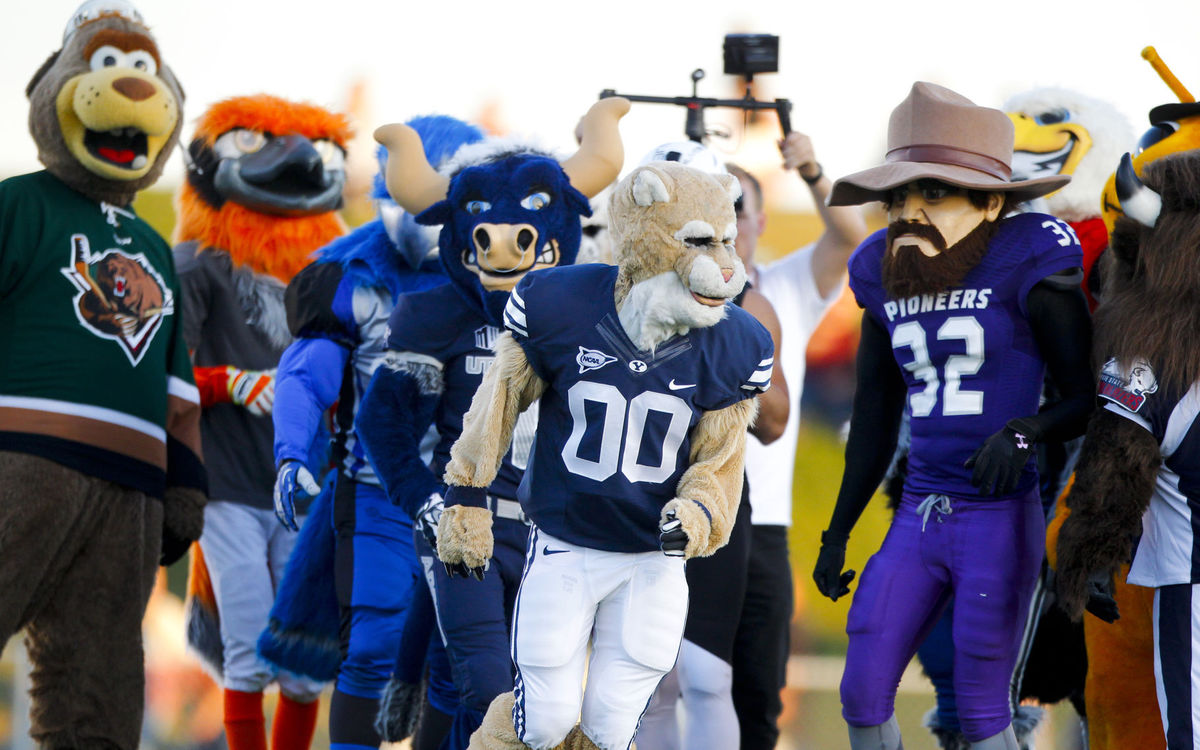 Since 2004 the community of Lehi has enjoyed the annual Mascot Bowl. The event started at Lehi High School as a service project for the sports marketing class taught by Becky White. Their goal was to raise money to provide a Christmas for children who would otherwise go without. Little did White know, it would grow into an event that adults and children alike would look forward to each year. This year's event will be held on Monday, September 25 at Skyridge High School.
Since the beginning, the Mascot Bowl has raised over $150,000 and provided a Christmas for nearly 1,600 children in the Lehi area. White said, "I'm proud to be from the great city of Lehi and appreciate all the support we receive for this event year after year."
This Monday, September 25 at 5 p.m., the Jazz Bear will again join the all-star mascot team for an action-filled night, alongside this year's celebrity quarterback Aaron Lesue (arena football player and former Utah State University wide receiver).
The mascot team roster also includes: Bear and Lil' Bear (Utah Jazz), Freddie (Atlanta Falcons), Gorilla (Phoenix Suns), Bango (Milwaukee Bucks), Boomer (Indiana Pacers), Miles (Denver Broncos), Leo (Real Salt Lake), Bumble (Salt Lake Bees), Grizzbee (Utah Grizzlies), Rocky (Rocky Mountain Raceway), Swoop (University of Utah), Cosmo (BYU), Big Blue (Utah State University), Willy (Utah Valley University), and Waldo (Weber State University).
Tickets are $3 (children 2 and under are free) and can be purchased in advance at Skyridge High School (3000 North Center Street in Lehi) or at the gate on Monday night. To avoid long ticket lines, attendees are encouraged to purchase tickets in advance.
The event will begin at 5 p.m. with a mascot and celebrity autograph session including Derrick Parra (Olympic gold medalist speed skater), John Buck (former MLB catcher), Aaron Lesue, Chris Wingert (Real Salt Lake), and other local celebrities. The all-star mascot team, will take on the 8th grade football teams from both Lehi and Skyridge. A fireworks show will take place after the game.
The night will also include performances by the Utah Jazz Stunt team, Jazz Dancers, Utah Jazz Dunk team, Lehi and Skyridge 8th grade cheer teams, and a special half time show by country star Charley Jenkins. There will be food, prizes, giveaways, contests, and activities for the entire family. For more information visit www.mascotbowl.com.
The event benefits "Bear Hugs for Kids" and "Firemen and Friends for Kids," both of which provide holiday shopping sprees for local children in need, and is planned and executed by Skyridge High School students under the direction of White. The event sponsors include Barco Construction, Bank of American Fork, Alpine Credit Union, Garrins Automotive, Great Western Landscaping, Hadco Construction, Harmony Hills, J & M Steel Solutions, WGU, Young Living, and Diamond Rental.