Pumpkin harvest for HIVEs group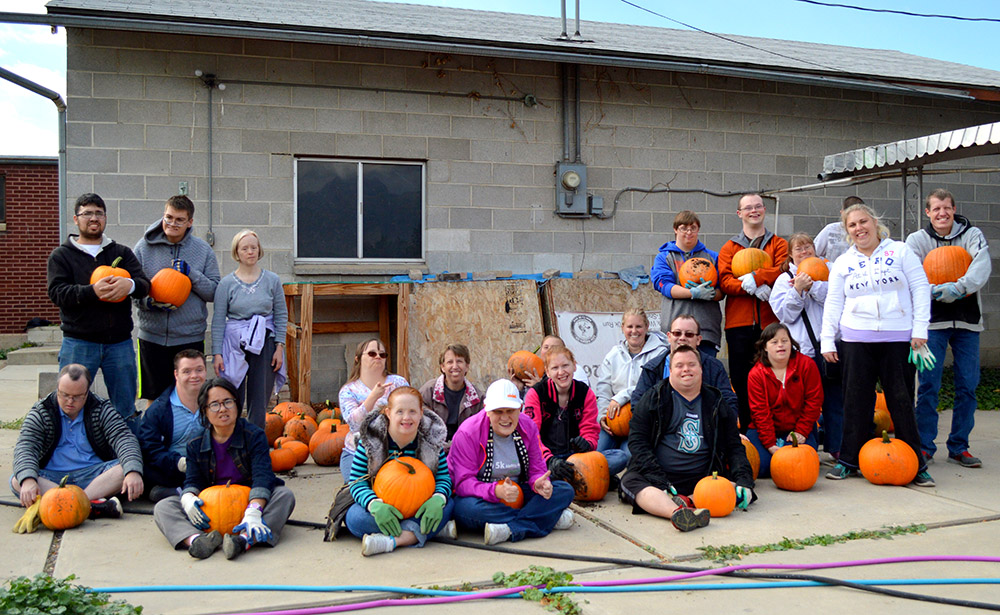 An old garden spot behind the brick home of the Lehi Historical Society and Archives on 100 North became a pumpkin patch for the American Fork and Lehi "HIVEs" group, which is a continuing education program for high school graduates with special needs. On Tuesday, September 19, the group picked their pumpkins and sunflowers before the weather turned cold.
HIVEs instructors enlisted the help of master gardener Joe Shelton for the pumpkin seeds and planting expertise. Shelton called in Douglas Calton and his tractor to plow through the waist-high weeds and make the soil soft enough for planting. The young people in the HIVEs group came to the pumpkin patch to weed and water each week. "Some of them weeded pretty good, but some of them were yawning in the shade," Joe Shelton remembered with a laugh. The sprinklers didn't reach all the pumpkins, so some had to be watered by bucket.
The HIVEs students all have big plans for their pumpkins. Some will decorate the front porch for Halloween, some will be carved into jack-o-lanterns, and Lindsey Atkinson plans to make a pumpkin pie with her pumpkin. Shelton had four varieties of pumpkin seeds for the students to plant, including the kind to make pumpkin pie.
The sunflowers were the first to be harvested last week, then students worked their way through the pumpkin patch getting every pumpkin picked. The HIVEs students proudly carried their harvest, taking every opportunity to make each other laugh and introduce themselves to new people who had volunteered to help. Pat Bowser came out of the Lehi Historical Society and Archives building to watch the young people in the garden. "This was the Smith home and they always had a garden back here. It's been nice to see a garden here again," she said.
Instructor Mike Packer (the students call him "Hey-Hey") took some gentle teasing from the HIVEs students as he arranged the harvested pumpkins. "This is such a great program. We have hundreds of special needs young men and women come to our events. There is definitely a need for continuing their education," said Packer.