Bowen Revill: In the eye of the storm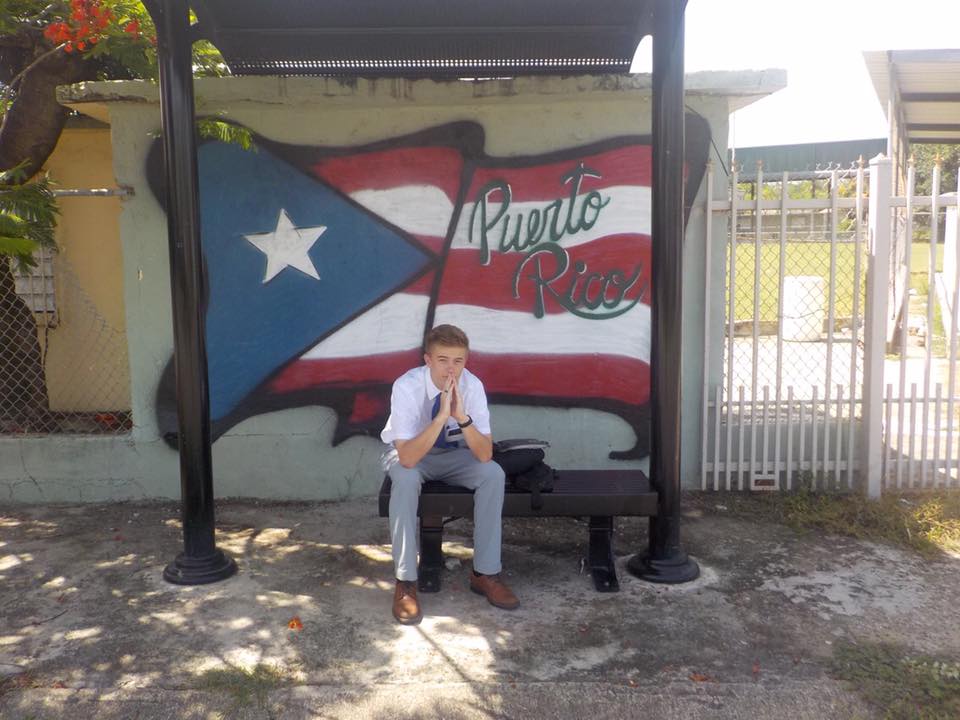 Just a few months ago Elder Bowen Revill reported to the MTC excited to serve a mission in Puerto Rico for the Church of Jesus Christ of Latter-day Saints. He had no idea the challenges that island would see and how they would affect his life.
Elder Revill had just gotten settled into his first area and learning the ropes of being a missionary when Hurricane Irma took aim at the Carribean. On Monday September 4 Missionaries in Puerto Rico were directed to have food and at least three gallons of water per person and to stay in their apartments for the storm. They checked in with President Smart each day. President and Sister Smart, who are originally from Utah but have served recently in Hong Kong, just began their service in Puerto Rico on July 1, 2017.
It should come as no surprise to parents and grandparents of teenaged boys that this advice from the Mission President was heeded by stocking up on peanuts, crackers, water and not much else. Elder Revill and three other missionaries planned to spend the time watching church videos and playing games, but they had no power and the only puzzle they had was missing pieces. Irma passed to the north of the island on Wednesday, September 6 sparing Puerto Rico from the brunt of the eyewall but leaving a fair amount of wind and water damage. As soon as they were released from the apartment, the missionaries were back at work in the Salinas area, serving the people and helping with clean-up efforts.
Less than two weeks later Puerto Rico was once again threatened by a hurricane. At first Smart directed the missionaries to follow the same plan of preparation. Parents were notified by e-mail of the plan.
Johnny Revill, Bowen's father, said, "I was awake that whole Sunday night. I was watching The Weather Channel and it looked like Puerto Rico was going to take a direct hit from Maria. I was worried. Early Monday morning we got another e-mail from President Smart informing us that there had been a change of plans and that they had been directed by the Lord to bring all the missionaries home. As soon as I read that e-mail I felt peace."
The 55 Sister Missionaries in the area stayed at the Mission Home while the 100 Elders hunkered down at the Mission Office and slept on the floor of the chapel. When the hurricane hit on Wednesday, September 20 it was a Category 4 storm and devastated the island with wind damage and historic levels of flooding. Most of the island's power grid was destroyed and water systems compromised, but all the missionaries were safe through the storm.
Bowen was able to call home after the storm just long enough to let his parents know that he was OK. A missionary couple serving in Puerto Rico was able to call their daughter a few times during the days after the storm and she updated the mission's Facebook page. Worried parents were relieved to know that all were fine, even if their children were dealing with hardships.
The levels of destruction led to the decision to evacuate all the missionaries from the island. Although they all had tickets to fly commercially, only 30 sister missionaries were able to get off the island. The airport is barely functioning due to damage sustained by Maria and the only planes that can fly in and out are those large enough to carry enough fuel for the whole trip since there is no fuel left on the island.
The Church chartered an airplane to deliver Humanitarian Aid to Puerto Rico and flew the remaining missionaries to Miami on Tuesday, September 26. Those missionaries who had three months or less left in their mission were released from their service and all the others were reassigned to Spanish-speaking missions in Chili, Mexico and the United States. Elder Revill and six other elders were assigned to the California Riverside Mission.
Due to the devastation on the island, the missionaries were not able to return to their apartments, so they are moving on with only the items they took to the Mission Home for what they assumed would be for only a few days. Elder Revill was left with one set of "Church clothes" and two sets of work clothes. He did take his journal, camera, and a bag that his dad carried when he was a missionary.
Nicole Revill said, "We have been assured by Sister Hammon of the Riverside Mission that the members there know the situation and are standing ready to help our boys. We may have to put more money into his account for clothes, but he will be cared for."
The Revills were grateful to be able to talk to their son for a couple of minutes on Tuesday, September 26 as he was traveling. Nicole said, "He was upbeat and looking forward to California even though he was sad to leave Puerto Rico. After spending a week together the Elders had really bonded and that made it even harder to leave." Elder Revill hopes to return to Puerto Rico in a few months to finish his mission there.