First loss of the season for Skyridge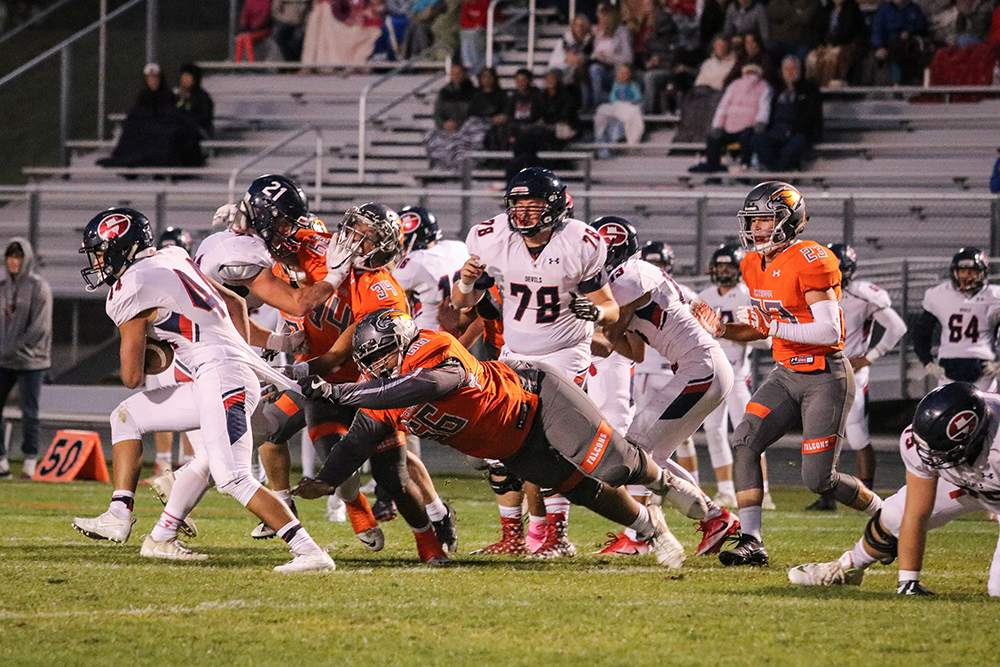 Pressure seems to mount when fans realize just how good a team really is. It seems to mount even more when teams are faced with tough opponents that are every ounce their equal. That's exactly what the Skyridge Falcons were faced with last Friday, October 6, as they took the field against the Springville Red Devils.
It was senior night for the Falcons, which provided a chance for the senior players to be recognized by friends, family, and the fans. A night that always brings a lot of emotion to the game.
The first quarter of the game was full of action, though the scoreboard didn't dictate it. With great defensive work by the Falcons and the Red Devils. Springville made a drive that resulted in reaching field-goal range, but the field goal was missed, keeping the contest scoreless.
It wasn't until the second quarter when Jayden Clemons connected a 26-yard pass that a lead was finally taken by Skyridge. At the end of the first half Skyridge had 7-0 lead over the Red Devils.
At the beginning of the third quarter, Skyridge fumbled, giving Springville the ball, which led to Springville's first touchdown of the contest on a gutsy fourth down quarterback keep. This tied the score 7-7. The Red Devils then proceeded to stuff the Falcon offense and scored another touchdown, but missed the PAT, making the score 13-6 in favor of Springville.
On Skyridge's next possession, they managed to punch through a 33-yard field goal, making the score 13-10 at the end of the third quarter.
The fourth quarter seemed to be the most entertaining, but a muffed punt by Skyridge, and another touchdown from Springville put the game out of reach, even with another missed PAT. The final score was 19-10 Springville over the Falcons—their first loss of the season.
It was clearly an emotional loss for Skyridge, but was nonetheless a well fought contest. The Falcons look for redemption this Friday at Maple Mountain against the Golden Eagles starting at 7 p.m.