Revills celebrate 50th anniversary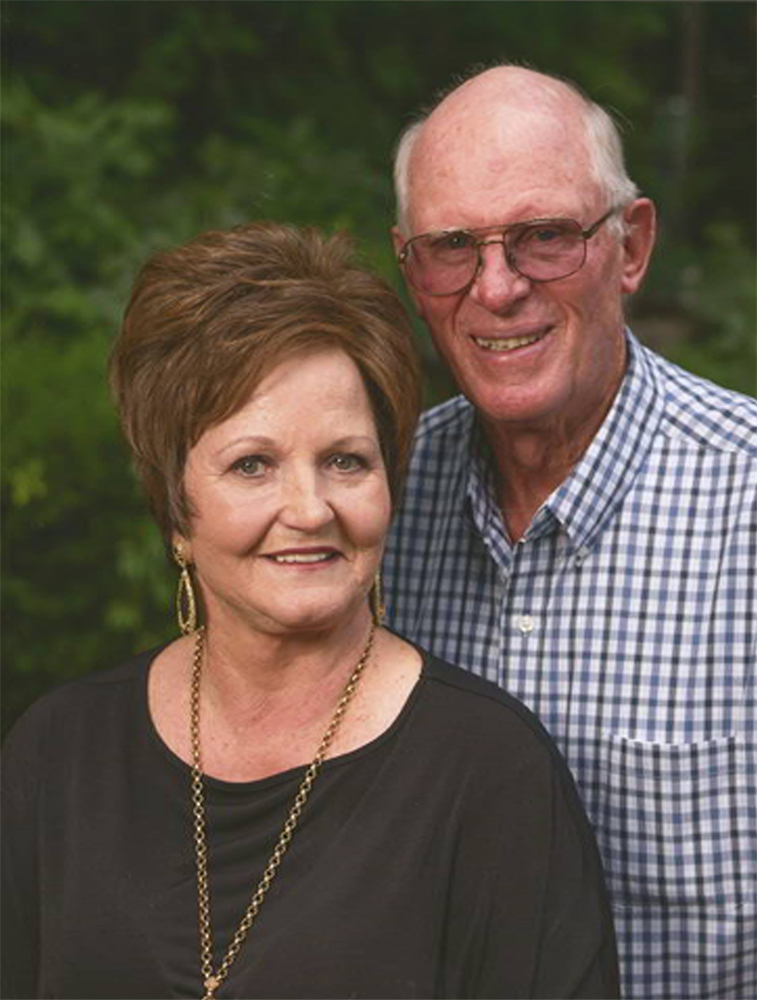 Chuck Revill and Renita Revill met 50 years ago, on July 9, 1967 in Salt Lake City. Chuck had recently returned from a mission in the North Central States. He was best friends with Renita's uncle, who was Chuck's neighbor. The pair was engaged on August 23, and married on Columbus Day, October 12, 1967 in the Salt Lake Temple.
Renita was raised on a farm in Vernal. She grew up milking cows, feeding pigs, and raising chickens. She was the oldest of five children so there was always a lot of work to do. Renita loved school, was a cheerleader and the Sweetheart Queen. After graduation, she went to "Finishing School" in Salt Lake City, where she was taught how to walk, model and have proper etiquette. While living there with her grandmother, she met Chuck.
Chuck was raised in Sanpete County and Salt Lake City. He graduated from Hillcrest High School where he played basketball. While in high school he restored a 1940 Ford Coupe he found in a chicken coop
The couple spent their honeymoon in the "honeymoon tent" on a deer hunt in Wales Canyon near Moroni. Evidently, Chuck's wedding ring wasn't sized correctly, because he lost it while cleaning a deer. He also forgot to tag his deer so he was fined and his rifle was confiscated. They were off to a great start!
At the start of the new semester, they moved into student housing at BYU, where Chuck pursued his education and Renita worked part-time as a secretary. They were anxious to start a family and their first daughter, Amy, was born in May of 1969, just in time for Chuck to have his number called for the draft in the Vietnam War. They were truly blessed when an army reserve group opened at Fort Douglas and returned missionaries were invited to sign up. Chuck left for boot camp in Fort Ord, California, just two weeks after Amy was born. They would be separated for nearly seven months. Chuck spent one weekend a month at Fort Douglas for six years, but was never called to active duty. He still jokes that if there's something he doesn't want to do, he says "sorry, I have army." As soon as he returned from basic training, they went back to BYU where he would major in Industrial and Graphic Arts.
After Chuck graduated, they were looking for employment and a place to live. Chuck always loved horses, but Renita wanted to live in the city. Renita's father sold Chuck a horse and in 1975, they settled in Lehi. They figured it had great access to both valleys and since they didn't know where Chuck would end up working, it sounded like a good plan.
In the meantime, another daughter, Wendy, and a son Johnny, were born. The Revill's built a home on the Lehi's north bench on an unnamed gravel road. By 1980, Cydnee and Ashley came along and the family was complete.
Chuck was called to be the bishop of the Bull River Ward in 1995. As the area grew, the ward was divided and he continued as bishop of the Bull River 1st ward, later being called as patriarch for the stake.
In 2006, the couple decided to down-size and found a modest home and property on Saratoga Road. Just as they were closing on the property, Renita received the devastating news that she had stage four colon cancer. After 12 series of chemotherapy every 11 days for three days at a time and a long nine months, she is still with us.
Renita and Chuck have both served on the Lehi High School Booster Club and the Old Folks Committee. They love Lehi and consider it their hometown. Four of their five children live in Lehi, as well as their two married grandchildren. Renita said, "we built a float for Miss Lehi years ago and wrote the following on it; "Lehi, the best kept secret in the state! The secret is out."
Renita also said, "I think what has worked for us for 50 years is having a sense of humor and laughing a lot." Congratulations on fifty years together.