Daughters of Utah Pioneers fosters appreciation for pioneer ancestors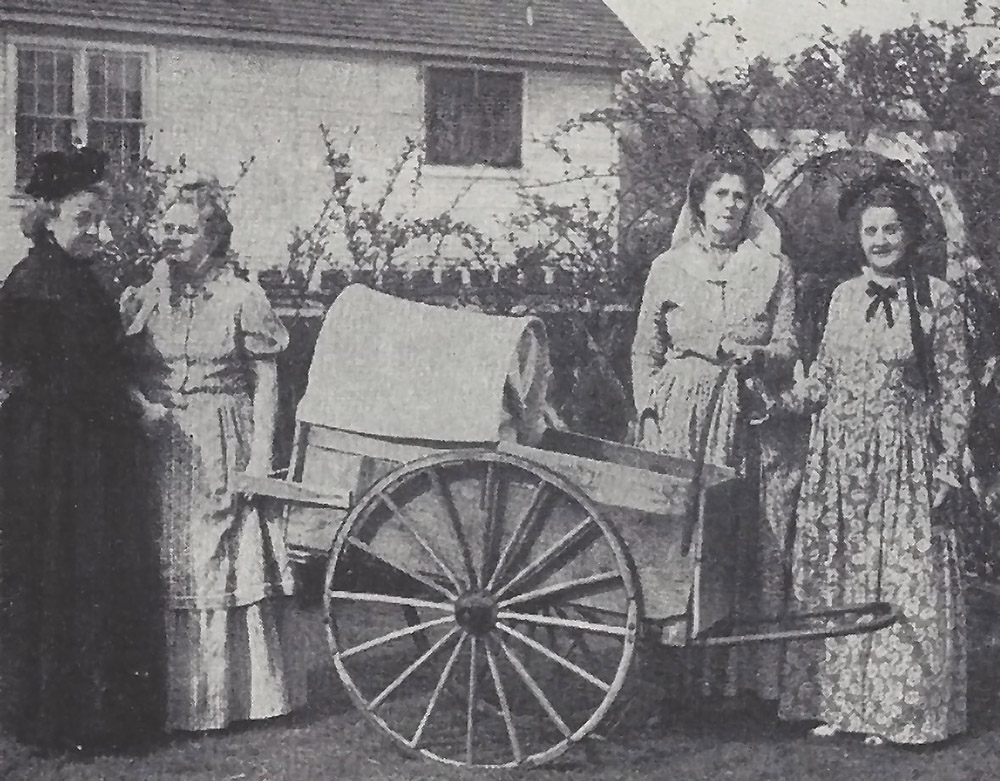 If Utah pioneer history is important to you and you have a pioneer ancestor who traveled to Utah between July 24, 1847 and May 10, 1869, be prepared to be enlightened, inspired and entertained by joining the Daughters of Utah Pioneers (DUP).
The DUP was organized April 11, 1901 by Annie Taylor Hyde (daughter of John Taylor) in Salt Lake City. Hyde felt impressed with the "importance and desirability of the children of pioneers becoming associated together to cement bonds of friendship and love of descendants" of the early pioneers.  According to the written history of the DUP, the purpose of the group is "to perpetuate the names and achievements of the men, women and children who were the pioneers in founding this commonwealth by preserving old landmarks, marking historical places, collecting artifacts and histories, and establishing a library of historical matter and securing manuscripts, photographs, maps, and all such data as shall aid in perfecting a record of the Utah pioneers."
The Daughter of Utah Pioneers Museum in Salt Lake City is a treasure trove of historical documents and relics. It was funded and built by the DUP organization.
Lehi has a rich heritage of DUP members. The first DUP organization in Lehi had its beginning in March 2, 1923. Viola Gardner Goates and Lula Schow Bone called a group of ladies together at the Memorial Building and organized the first Lehi Club. The group members were expected to write an authentic history of their pioneer ancestry, collect and record all stories and incidents that had been told and are still being told by the descendants of those who have passed on and to gather and preserve all relics and documents to protect them for the benefit of future generations.
According to Kathleen Lott, "Anyone can join the DUP. You just need to be 18 years old to join and can be involved your whole life. I have been a member for 20 years, but Velda Evans met with her group until she was almost 99 years old. We have eleven camps in Lehi with between 200-250 members. We meet monthly in church buildings, houses, and the Senior Citizen Center. We learn and share our pioneer ancestry and events that shaped Lehi's history."
Marilyn Nielsen, a long-time member of the group, was heard to say when approached about joining, "looks like a meeting where people take an uncomfortable nap." She later joined and has been a devoted member ever since.
The organization is grouped into companies which have a presiding board that oversee the activities of camps in a geographic area. DUP consists of 185 companies overseeing the activities of 1,050 camps in 15 states and Canada with a total living membership of 21,451 women.
Utah Lehi Company has eleven camps and captains. Listed are the camps and captains. Phone numbers are included as a convenience for anyone interested in joining.
Camp and Captains
Dry Creek: Mary Whittaker, 801-722-5555
Pilgrims Landing: Natalie Healy, 801 231 2891
Evansville: Karren Danielson, 801 768 9991
Pony Express: Anjanette Lofgren, 801 882 3049 & Rose Goodwin, 801 368 7093
Saratoga Springs: Marie Whittaker, 801 341 8761
Lehi Bluebell: Lynette Rushton, 801 768 3861
Snow Springs: Teresa Phillips, 801 766 2761
Lehi Hills: Linda Bus, 801 766 4616
Warm Springs: Janet Recksiek, 801 898-7520
Lehi Meadow: Liane Alder, 801 341 8778
Lehi Ridge: Linda Rehart, 801 753 7095