Standing Quietly joins Lehi City for Bridge of Honor Event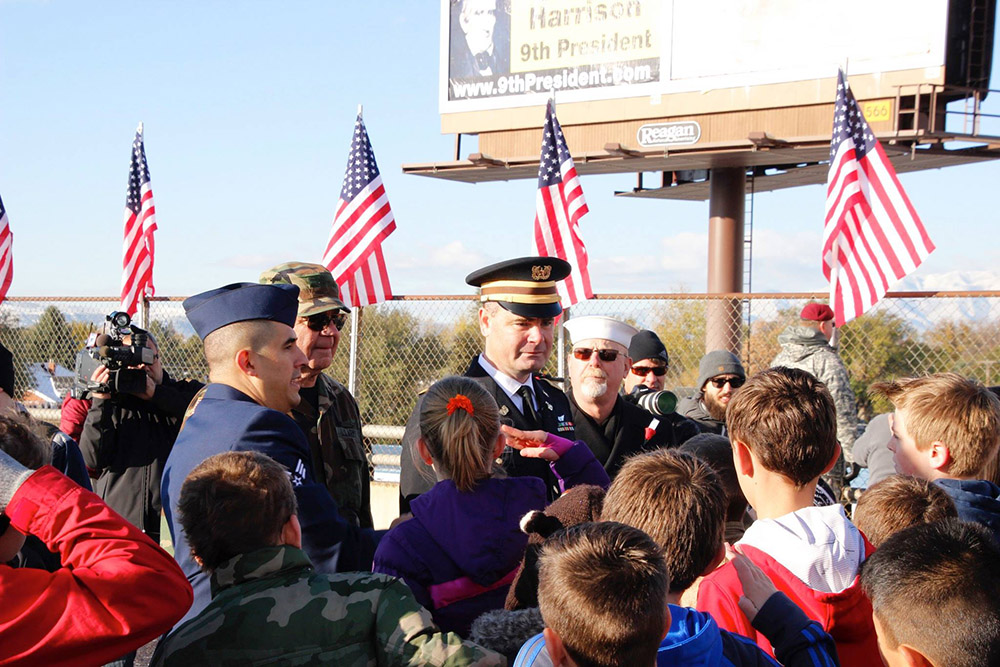 Veterans Day is coming up on Saturday, November 11. In celebration of the holiday, Lehi and Standing Quietly will hold a Bridge of Honor event from 9 to 11 a.m. The event is located on Lehi's 500 East bridge over I-15. Chris Condie, a member of the Lehi City Council, will be addressing attendants as well as a local veteran. There will be a musical performance by Skyridge High School's vocal group along with a flag ceremony and canon firing. The street will be adorned with 60 United States flags, military vehicles, and attendants honoring the veterans. Refreshments will be served at the close of the event.
The bridge will be closed off from traffic from 7 a.m. to 12 p.m. There will also be a shuttle service from the bottom of the bridge to the top, aiding those who need assistance getting to the top of the bridge.
Standing Quietly is an organization started by Jonathan Walker to bring awareness to Veterans Day and veterans service. They stand on bridges and overpasses on Veterans and Memorial Day to represent and honor the nation's veterans. "We believe that standing is a visual reminder to others of the significance of these days. It also gives us a chance to gather and meet other link minded people. It is somewhat of a unique experience. You do not have to be a veteran or have a uniform. Use what you have. If you are a veteran, try wearing something that identifies you as such," Walker stated.
Walker is a veteran himself and said he was looking for a way to do something to contribute and give back to the veterans. He felt that Veterans Day can be an overlooked holiday, and that he wanted to give it the attention it deserves.
This event has become unique to Lehi for Veterans Day, and one that is it happy to celebrate alongside Standing Quietly. Walker has gone to Yellowstone before with Standing Quietly, but has primarily hosted the event with Lehi City. This will be the third year Standing Quietly has partnered with Lehi to host the Bridge of Honor event.
"I really hope we can bring awareness to the day, so the people who see us can remember the veterans, and we can enjoy the time together in honoring the veterans. I hope other veterans can come and feel the fellowship and just enjoy the day together," Walker said.
Everybody is welcome and encouraged to come out and share this unique experience in honoring the veterans.