Skyridge Theater impresses with new production of Les Miserables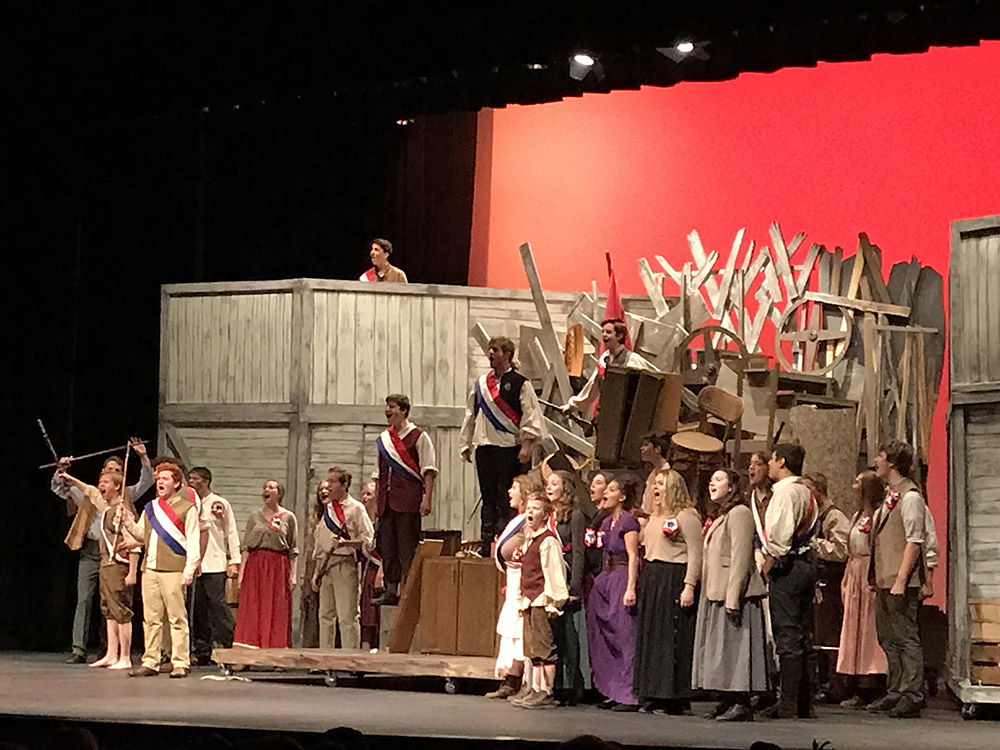 From the opening scene in which Inspector Javert exerts his self-righteous authority over his abused chain gang, to the closing scene where citizens of Paris rise in exclamations of a hopeful tomorrow, Skyridge High School's production of 'Les Miserables' provides swells of emotion and humor, along with visual and audial delights. Marshalling the talents of a stunning 120 cast members, director John Brown has pulled off what few high school theater programs dare to attempt.
In this classic tale of redemption centering on the life of former convict Jean Valjean, pitiable vignettes of the downtrodden people of Paris interweave with the personal stories of Valjean, his pursuer, Javert, and a cast of characters whose lives are affected by a student-led uprising against French government forces.
At Monday night's performance, highlights included a moving performance by Fantine, played by Sydney Cooper. While her delivery of 'I Dreamed a Dream' was nearly flawless, her performance only improved in the subsequent dialogue scenes. As she pleaded for mercy from 'Monsieur Le Maire' (Jean Valjean, played by Cole Brown), the entire auditorium was drawn in to her anguish.
Cade Kearsely brought a commanding presence to the stage as student revolutionary leader Enjolras. His rich, powerful vocals combined with his solid physical bearing to drive home the role of the charismatic leader at the heart of the story's physical conflict.
Likewise, Inspector Javert, played by Austin Anderson, brought charisma and personified the unbending, stoic certainty that is the character's downfall.
Young Carter Beck, whose twin brother Parker plays every other night in the same role, delighted the audience with his impersonation of street urchin Gavroche. His energy and clarity drew both smiles and tears.
Cole Brown carried the lead role of Jean Valjean with an energetic portrayal of the character's growth from bitter anger through desperation to responsible and caring generosity. He delighted the audience when acting and vocals combined as he hit the high note strong and clear at the end of 'Who Am I,' a scene in which he selflessly chooses to reveal his identity to Javert to protect an innocent man.
Jackson Eastmond and Abby Brown flawlessly executed the roles of pub owners and criminals Monsieur and Madame Thenardier. Audience members found themselves simultaneously repulsed and enthralled by the despicable antics of the loathsome pair, whose vocals and delivery provided a highpoint of comic relief.
Walker Isaacson, playing the role of Marius, was his best in 'Empty Chairs at Empty Tables.' His fists and voice rose in distraught emotion as he lamented the loss of his revolutionary friends, whose ghostly figures silently joined him on stage.
Among the sub-leads, Derek Dominguez stood out, bringing a calm, authoritative presence to the role of the Bishop of Digne, whose mercy toward Jean Valjean inspires his road to redemption.
Skyridge theater benefits enormously from the new auditorium facilities, which enable dramatic lighting effects, impressive set arrangements, and modern audio capabilities. All were employed to excellent effect in the production.
There was one moment in the evening, however, which highlighted both the risks of relying on technology and the professionalism of the lead cast members. When Eponine, played by Erica Schoebinger, took to the stage to perform 'On My Own', a glitch in the sound system injected loud periodic mic bumps.
A lesser performer might have been fazed, but Schoebinger continued on as if there were no issues and kept her character's woeful presence and emotional reflection strong through the end.
Director John Brown said the greatest challenge with this production was managing such a large cast. The large group numbers, which were impressive in their general fluidity, were rehearsed only a few times and with simple blocking in order pull off the feat.
Brown said the same thing echoed by cast member after cast member, that the highlight of the production was building relationships.
"The cast was really fun to work with," said Libby Patterson, who played a factory worker and revolutionary. Fellow cast members said it was great to get to know people they didn't before because of the size of the cast.
Several cast members expressed satisfaction with the growth opportunity presented by the production.
Navek "Obi" Baird, who has performed in seven shows, said this is the first one in which he really "felt it." Kearsley, who played Enjolras, said he learned to bring confidence to his character in way he hadn't before. And Madeline Charles, whose stunning vocals brought the character of Cosette to life, said she learned more about the dynamics of interacting with other actors in a scene situation.
The show's final four performances will be presented at 7 p.m. on Thursday, Friday and Saturday, November 16-18, with a matinée at 2 p.m. on Saturday the 18th. Tickets are $10 for adults, $8 for students, seniors and children.