Cooper athletic dynasty developed during the Depression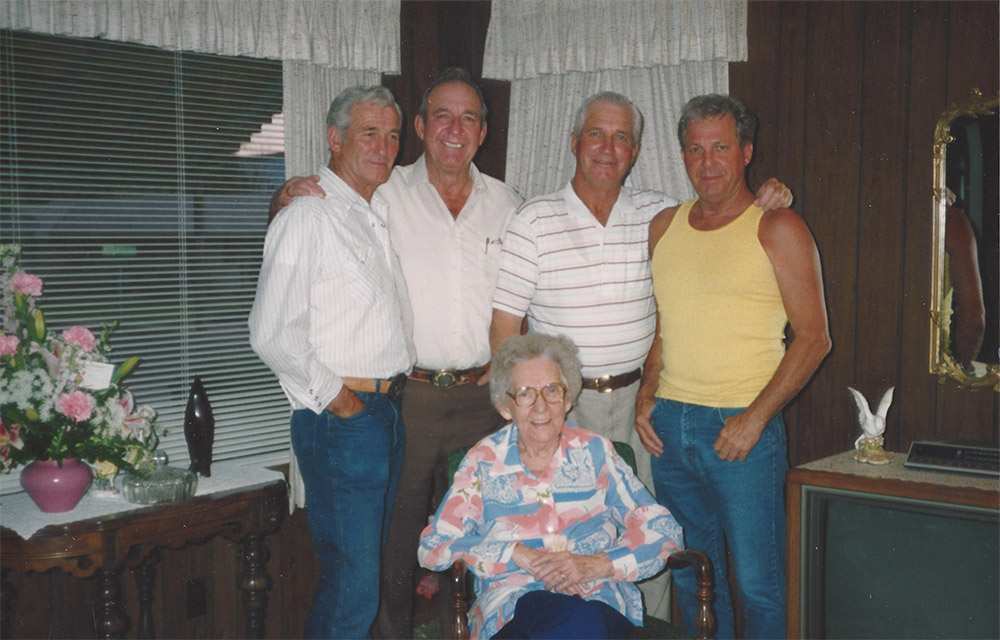 When recently widowed Josephine Cooper brought her four young sons to Lehi in the early 1930's, no one would have expected a three-generation legacy of remarkable athletes.
Jo, as she was known to friends and family, knew the chore of raising her sons would require hard work and discipline. It also meant she would need a good job. The boys, Eugene, J.B., Gary, and Dick were rambunctious kids with engaging personalities, and athletic ability.
Jo went to work as an overhead crane operator at Geneva Steel. She worked shift work and gave her sons much love, discipline, and responsibility. A story is told that one of the boys misbehaved in school. When Jo heard about the mischief she went to the high school took the young man out of the school by his ear and spanked him all the home. She had high expectations and did not tolerate disrespect or bad behavior.
With the money Jo received from the Federal Government for her husband's death due to malaria contracted during his service during WWI, she had Alma Peterson build her home on the corner of 600 North and Center Street. The home was always the hub of activity, but Wines Park became the boys extended playground. Pick-up games of football were held almost every night after school and on weekends. The boys were all extremely competitive in all they did.
All four boys played football and basketball for Lehi High School. They all played football under beloved head coach, Dean Prior. All the boys also served in the military.
While in the service, Gary became a boxing champion at Fort Ord. He also loved the rodeo. He rode in the Rocky Mountain Rodeo Association events where he was bareback champion for 22 years. He also rode bulls and continued this punishing sport until he was 48 years old. His daughter, Desiree was Miss Rodeo Utah and Miss Lehi.
Eugene served as a Highway Patrolman in Tooele. After retirement he served as a lobbyist. When he died, witnesses say his funeral procession went from Tooele to Lehi. "There were hundreds of vehicles," said Carolyn Cooper, wife of grandson Gary Allan Cooper.
Dick, the youngest son, was a medic in the military and went on to become a dentist.
J.B. worked at Geneva Steel. He spent many years in public service as a Lehi City Council member and as a state legislator. Mike, his oldest son, was voted an All-State athlete two years in a row in both basketball and football.  He went on to play football at the University of Utah where he also earned his law degree.
Kim, J.B.'s middle son, was also a quarterback for Lehi High School and earned accolades for his expertise. J.B.s youngest son, Howard, was on the 1972 team that won a state championship in basketball.
Gary Allan, the son of the elder Gary, has produced a house full of athletes, His daughter, Cami was All-State in basketball and volleyball in addition to being Miss Lehi, Round-up Days Queen, and runner-up to Miss Rodeo Utah.
Cole, Cade, Braden, and Chase all played football at Lehi High School. Cole played quarterback for LHS and then on to Ricks College (BYU-I) where he played for a national championship. He also played high school basketball where he was named MVP.
Cade played for Snow College where he was an MVP and All-American. His plaque hangs in the school today. Braden was an All-State quarterback and played at the University of Utah. He played when the "U" won the Fiesta Bowl. Cade also played on Lehi's basketball team that won three state championships in a row. Chase was recruited to play football at Snow and tore his ACL. He later went on to become a wrestling champion in the 167-180 weight classification.
The tradition continues, as Cole's son, Cammon, was recently named Gatorade Football Player of the year in Utah and was named Mr. Football by the Deseret News.
In an interview with proud Grandpa Gary, the elder Cooper states, "You can spend money on sports or rehab."
What began when Great Grandma Cooper played in a Woman's Baseball League in Provo continues as her great grandchildren live those same values of hard work, discipline, and commitment. These values pay huge dividends both on and off the playing field.