American Legion hosts Oratorical contest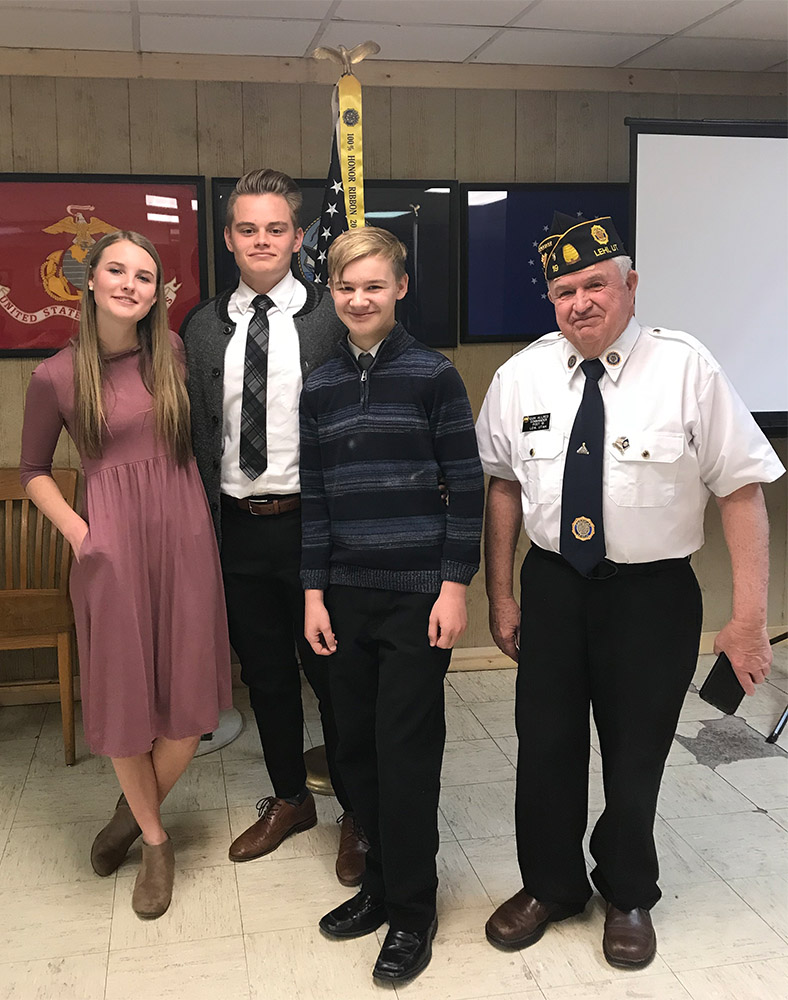 On Saturday, December 16 Lehi's American Legion Post 19 held their first annual oratorical contest with commander Quin Allred conducting. Three students, Ashton Welker, Kolton Wild, and Tyler McConnell of Skyridge High School competed in the contest to win $100 and make their way to Nationals. First place winner, Ashton Welker, received $100. Second place winner, Kolton Wild, received $75 and third place winner, Tyler McConnell received $50.
This was the post's first year of holding the official contest and commander Allred was excited to send someone from their post to district competition. Contestants competed to represent the post in district and hopefully make their way to the national contest where an $18,000 scholarship will be awarded.
The contestants prepared an eight to ten-minute speech on any part of the constitution and were then separated into a room to prepare. After the contestants presented their speeches, they were separated again to prepare for the impromptu portion of the contest, where a member of the audience picked a slip of paper with the topic of the third amendment or no quartering of soldiers, at random for each contestant to speak about extemporaneously.  Each participant had no more than five minutes to prepare and five minutes to present.
Kolton Wild presented his prepared speech first and spoke on different aspects of the constitution, focusing on the first amendment. Wild was deducted one point for not being between the time of eight and ten minutes with a time of 5:13. Kolton said in his impromptu speech, "We came here to help be a united country with the help of our government and our founding fathers. We need to strive to help the government and founding fathers continue this amendment."
Tyler McConnell spoke second and spoke about the second amendment, or "the right to bear arms." He referenced the Columbia v Heller court case and quoted James Madison and his contribution to the second amendment. In McConnell's impromptu speech about the third amendment he said, "Being able to see a certain aspect of a different life is beneficial to the country… giving back, if it's time, money, your house, as a country, is a good thing."
Ashton Welker was third to speak and spoke about the second amendment, explaining the balance between protecting our right to bear arms and avoiding gun violence. She referenced the Sandy Hook shooting and Columbine High School massacre. Welker gave her impromptu speech and was chosen from the panel of judges as the representative from post 19 to move to the district competition in January.