Lehi boy qualifies for Irish Dancing World Championships in Glasgow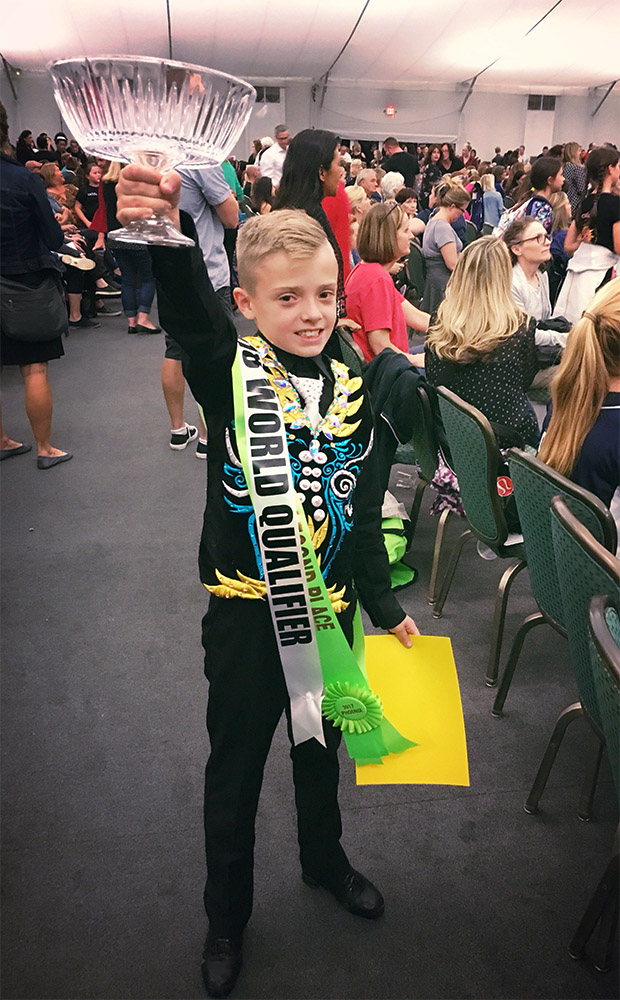 Dallen Smith is a 10-year-old fourth grader attending Traverse Mountain Elementary. He's a normal, healthy kid except for one thing: Dallen has practiced over 10,000 hours at a local Irish dance studio and has been developing his talent and love of Irish Dancing since he was three. According to his mother Naomi Smith, "Dallen has a tenacious drive toward his goals and a need to get up every time he stumbles. This drive has led him to become the performer he is today."
Smith has danced in hundreds of shows including those featuring world champion dancers, Riverdance cast members, Grammy and Emmy nominated Mairead Nesbitt (previous violinist of Celtic Woman), and with the Utah Pipe Band for the Mormon Tabernacle Choir and Orchestra. He now competes in the highest levels as an Open Champion. He has traveled the U.S. widely, and has competed from California to Rhode Island and Florida.
Dallen is ranked seventh in North America, is the Utah State Champion, and placed second at November's Western U.S. Regional Oireachtas in Phoenix, Arizona. He's also the youngest boy from Utah ever to qualify for the World Championships as of November 2017. Based on all this success, he will compete in the 2018 All-Ireland National Championship in Killarney, Ireland in February, and the World Irish Dancing Championship in Glasgow, Scotland in March.
Being of Irish descent is what led Dallen to this sport, but the friendships, goals, teamwork, and love of entertaining is what has kept him going.  His mother Naomi said, "we are excited to see him represent his dance school, his home state, and be in the top 1% of dancers globally to qualify." He's the youngest competitor to attend the All-Ireland competition this year, with only three other dancers from Utah who qualified. The other qualifiers were girls aged 17, 18, and 22 who also attend the Scariff Gilleoghan School of Irish Dance.
As an added note, Dallen has a younger brother, Rorey, who is biting at his heels. At the Western U.S. regional competition in November, Rorey took first place in the Traditional Set becoming the Western Region Champion, and will continue to compete later this summer at the 2018 North American Championships in Orlando. At six years old, he's not old enough yet to compete in the Worlds, but he hopes to follow Dallen's lead and compete when he's ten.