Corporal Lewis and K9 cop Onyx featured in national calendar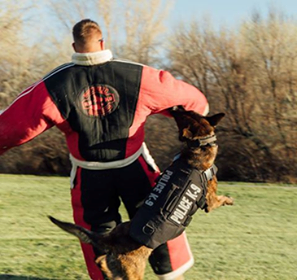 Corporal Levi Lewis and his K9 partner, Oynx, have been through a lot together keeping Lehi City safe. The law enforcement team is featured in a national calendar made by Vested Interest in K9s, Take a Bite out of Crime, in their January 2018 photo.
Corporal Lewis and his Dutch Shepherd are often called into dangerous situations. Onyx has been trained to find narcotics and apprehend suspects. He can be friendly and loving, but when it comes to his job, Onyx is all business.
Corporal Lewis wasn't always a police officer, but he always knew he wanted to be one and to work with K9s. "I always wanted to get into law enforcement because of the K9 portion of it. That is my passion – my dream," said Lewis. He has served on the SWAT Team and is a drug recognition expert as well as a K9 trainer. The connection and trust between Lewis and Onyx is obvious. Lewis feels like he has the best partner he could ask for in Onyx. "I have him on my six – behind me all day long, utilizing him and finding narcotics and taking them off the streets," Lewis said of Onyx.
"There's so much good out there," said Corporal Lewis. "This job is all about compassion – you have to have compassion." Vested Interest in K9s recognizes law enforcement partnerships from all over the country on their yearly calendar. Corporal Lewis and Onyx are representing the Lehi Police Department well.