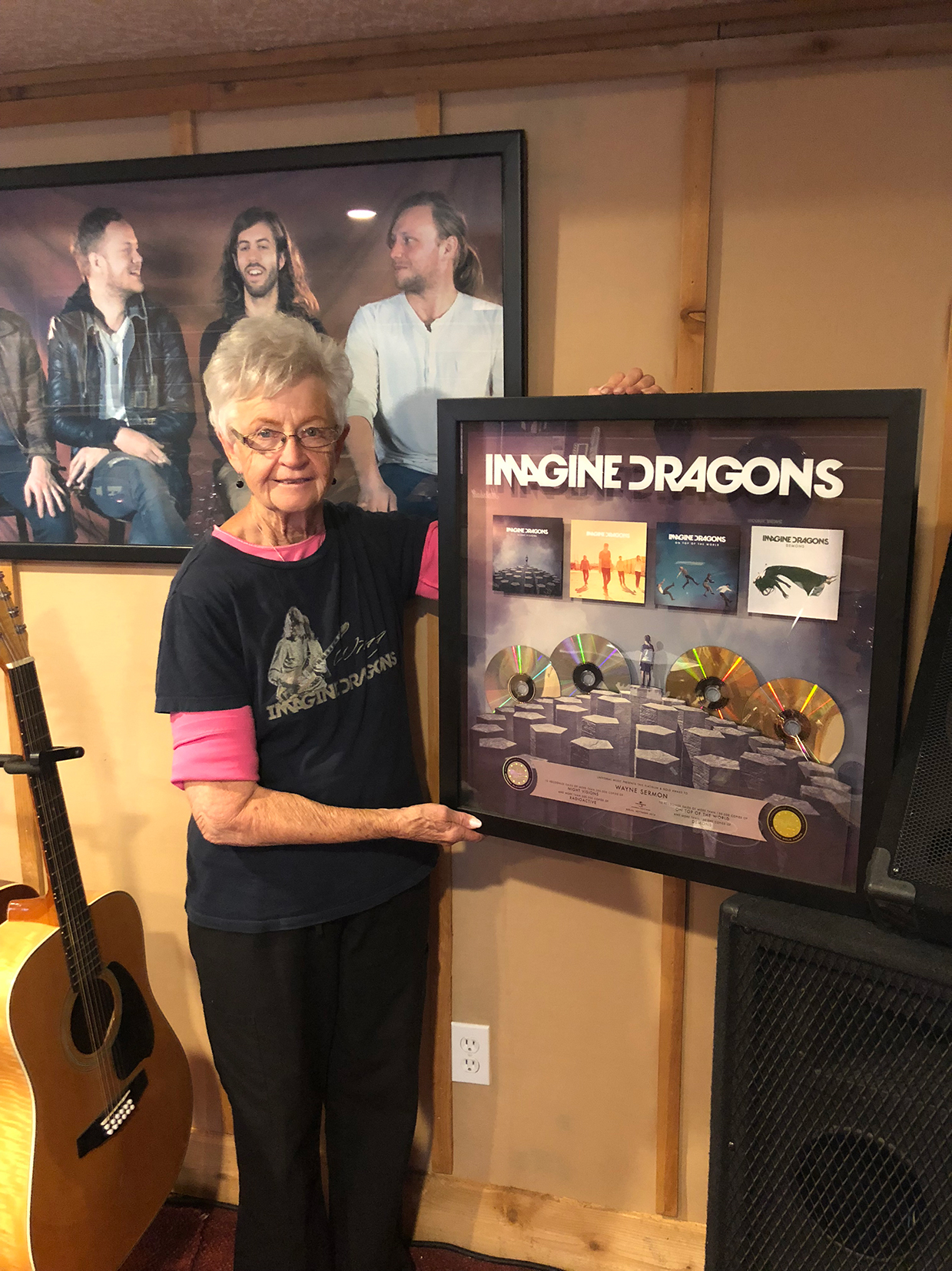 Years ago, a group of families in an American Fork neighborhood organized a children's musical group called "Christmas Kids," and went around the area performing Christmas songs. One of the members of the group was a young boy named Daniel Sermon. Fast forward 20 years later, and Daniel is now the lead guitar player with the globally popular, Grammy Award-winning rock band, Imagine Dragons.
Often, when Imagine Dragons performs internationally, in the audience will be Lehi's Lois Littleford, Daniel Sermon's grandmother. Sermon's mother Debbie, born and raised in Lehi, along with her husband, Jeff, saw to it that Lois and husband Roy, were always in the audience to watch Daniel and his fellow band members perform. Roy passed away several years ago, but Lois continues to be involved in the travel plans to watch the band perform.
"We have traveled with them for six years," said Littleford. "I have been to Texas, Denver, Tennessee, Russia, New Zealand, Australia, and plan to go to Austria, Switzerland, and Amsterdam at the end of the month."  She continues, "I am treated like royalty by my family and the band. I am spending my family's inheritance, but they encourage me to come and be part of this marvelous adventure."
At one of the band's first concerts at the Red Rock Amphitheater near Denver, Lois and Roy watched as over 80,000 fans screamed and applauded. Lois remembers saying, "Honey, that's our little Dan Man!"
Because there are three "Daniels" in the band, Sermon is referred to as "Wayne," his middle name. Sermon's wife, a former ballerina, traveled with the band until their second child was born. With two young sons, it became difficult to travel, so the Sermons bought a motorhome and now they all travel together. The couple is expecting their third child, a girl.
Lois' enthusiasm can hardly be contained as she talks about her talented grandson. "He can play almost any instrument– cello, marimba, mandolin, banjo and piano. He plays the piano by ear."
One of Lois' most memorable experiences was attending the Grammy awards where her son-in-law, Jeff Sermon, met Beatle, Paul McCartney. "McCartney had always been Jeff's idol growing up as a farm boy in Swan Valley, Idaho. Having an opportunity to "hang-out" with him at a post Grammy party was really a dream come true," says Lois.
For sixteen years, Lois and Roy served at the Missionary Training Center where she became known as the "Grammy Granny." Lois has also served as a missionary for the Church of Jesus Christ of Latter-day Saints in Ohio. She continues her service as a temple worker at the Timpanogos Temple when not planning or attending an Imagine Dragons concert.
This slideshow requires JavaScript.