Truth in Taxation hearing held by Alpine School District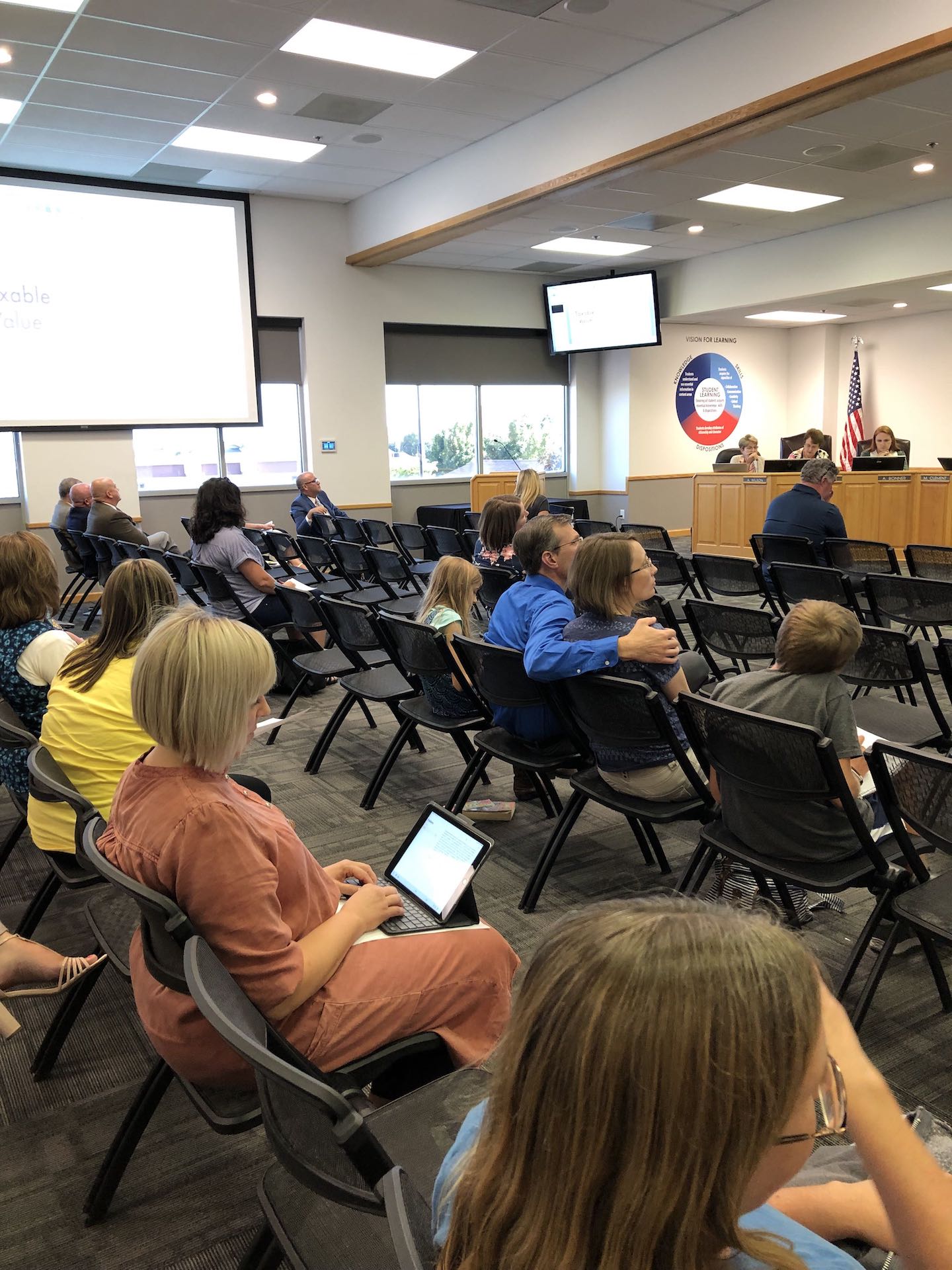 On Tuesday, August 13, a "Truth in Taxation" hearing was held in the Alpine School District Board of Education meeting room. The sparsely attended event drew several comments mostly in favor of the increase in the tax rate.
In a video presented to the group, Alpine School District Assistant Superintendent, Rob Smith, explained that 73% of the $5.6 million generated by the .006699 mill levy would go to increasing teachers' salaries. The rest would be used for capital projects. The increase would result in a less than $3.00 per month increase on an average home. He explained that this is lower than last year, but because of the increased property values in Alpine School District boundaries, the rate floated down.
Derek Smith, an ASD teacher, addressed the Board, "I have taught in Alpine School District for 17 years. I would like to spend the next 17 years here. I have appreciated the transparency of the District, but we haven't progressed. As we grow, demands on teachers increase each year. Compensation has not always been there. Many teachers are leaving. Some of my friends have left the district to go to other districts who pay more. We need to be competitive."
Kate Ross, Principal at Lindon Elementary, expressed frustration, "In 2011, I had over 167 applications for two positions, this year I had only eight applications for a position. We are losing our teachers and teachers are what matter in academic achievement."
Mike Gowans, President of the Alpine Education Association, said he had received countless emails about how pleased teachers were with their contracts. Gowans said, "For twenty years we have moved cautiously. This current tax proposal is a conservative approach."
Michelle Stallings, a citizen in the District, complained that her house value has tripled. We are taxing people out of their homes. I would like to know what you are spending our money on."
Wendy Hart, a former Alpine School District Board member expressed her unhappiness is with the Utah State Legislature. "They should give us the money."
Board member, Amber Bonner, explained that if the tax levy was not increased, we would lose TSSA funds. Bonner said, "We are backed into a corner. We had almost double the requests for capital improvements than we could fund."
ASD board member Mark Clement made the motion to approve the tax rate. "I see how lean we run," said Clement
The motion was unanimously approved.