Lehi football pummels Mountain Ridge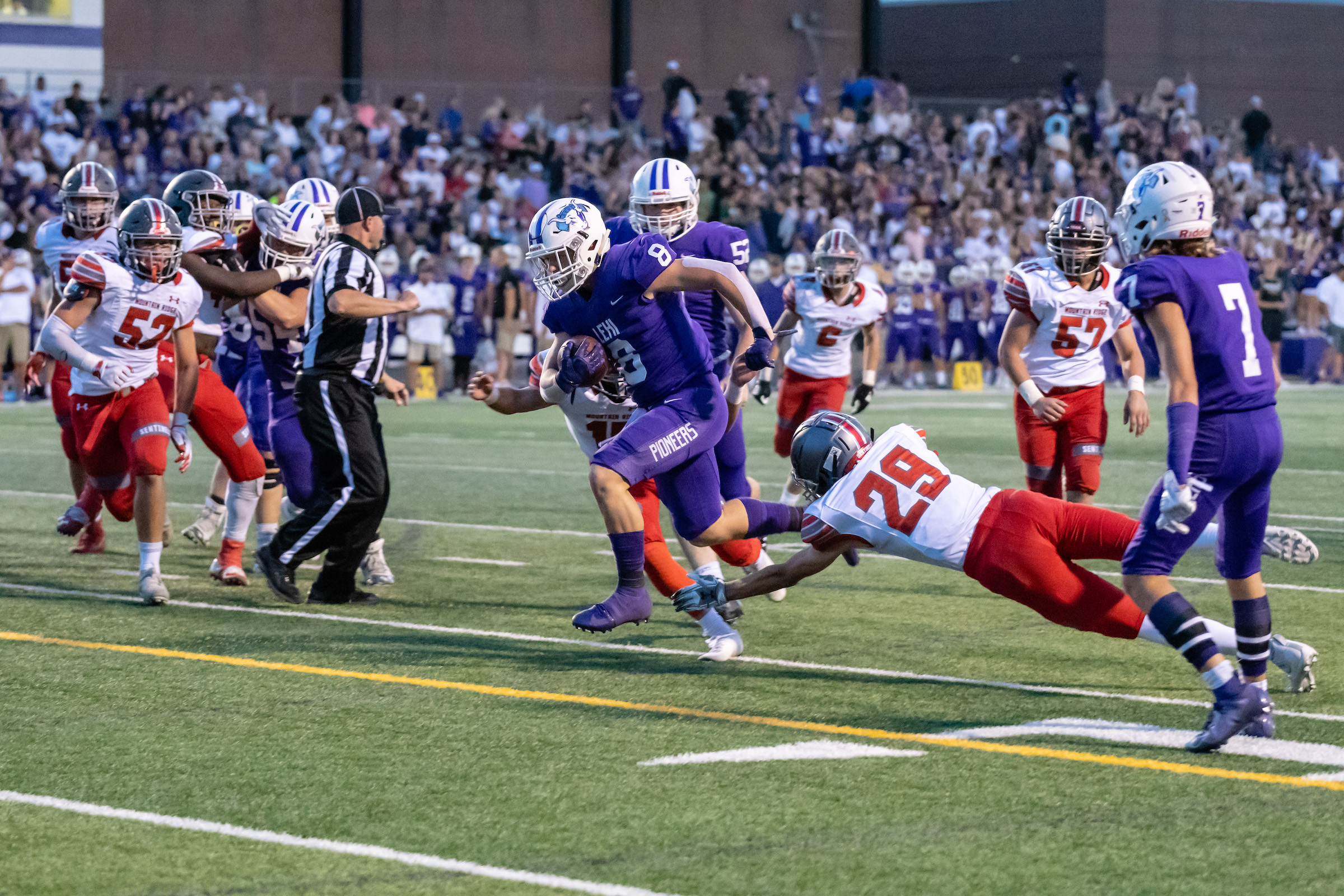 The Lehi Pioneer football team started Region play last Friday night with a dominating 47-3 win over the Mountain Ridge Sentinels. For the third consecutive week, Lehi overwhelmed their opponent. They scored all of their points in the first half and then rested most of the starters for the remainder of the game. With the victory, the Pioneers improved to 3-1 on the season (1-0 in Region).
Lehi Offensive Summary
Pioneer Quarterback Creyton Cooper threw four touchdown passes. He was intercepted on the first possession of the game, but rebounded quickly, completing 12 of 19 attempts for 181 yards and rushing for 16 yards. McKay Wall had 185 all-purpose yards (124 yards on three punt returns and one kickoff return and three catches for 61 yards). Wall had two touchdowns – one on a 35-yard punt return and a 32-yard pass reception.
Running back Carsen Manookin scored two touchdowns. He had only six carries on the night due to the Pioneer's success in the passing game. Also, strong defense and excellent kick returns gave the offense outstanding starting field position – which they took advantage of, scoring quickly. During the first half, the Pioneer offense took possession of the ball at the Sentinel's 22, 32, 37, 2, and 46-yard line. Freshman quarterback Jackson Brousseau saw time in the second half going 7 for 11 for 82 yards. Cooper and Brousseau tossed the ball to 11 different receivers for a total of 263 yards (13.8-yard average/pass). Isaiah Tauai, Brayden John and McKay Wall each had three catches.
Lehi Defensive Summary
The Pioneer defense had another outstanding game limiting the Sentinel offense to only one field goal. They forced two turnovers, both leading to touchdowns. Caden Houchin recovered a fumble in the first quarter on the Mountain Ridge 32-yard line. Tyler Ehat intercepted a pass in the second quarter and returned it to the Sentinel 2-yard line. Christian Wren led the team with nine tackles and three tackles for loss followed by Matt Bullpit (8 tackles) and Jacob Vasquez (7 tackles). Christian Wren also had two sacks and Harrington Ray had one sack.
After playing 3 of their first 4 games at home, Lehi travels to take on the Timpanogos Timberwolves in a Region contest on Thursday, September 12, at 7 p.m. The game is scheduled to be broadcast live on KJZZ 14. Timpanogos is 0-4 on the season with losses to Farmington, Mountain View, Maple Mountain, and Woods Cross.