Cooper, offense shine in lopsided LHS victory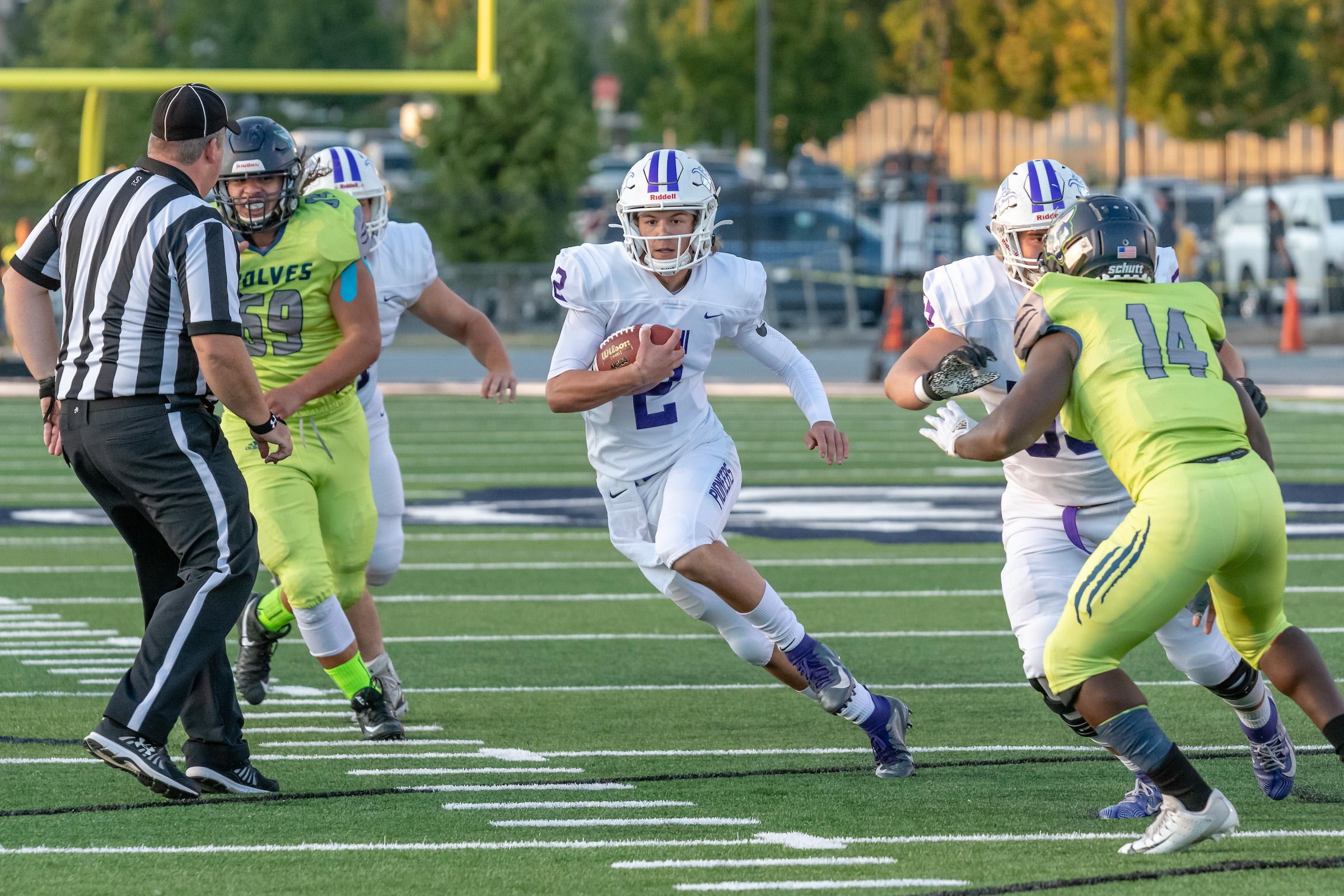 The Lehi Pioneers showcased their talents live on the KJZZ Thursday Night Lights broadcast in a Region contest with the Timpanogos Timberwolves in Orem on Thursday, September 12. For the fourth consecutive game, Lehi came away with a lopsided win, defeating Timpanogos, 52-0. The Pioneers are now 2-0 in region play and sit atop the 5A Region 7 standings.
Lehi Offensive Summary
Pioneer Quarterback Creyton Cooper threw five touchdown passes and one interception. Jaden Greenwood was Cooper's first target on an 18-yard strike late in the first quarter. A few plays later, Cooper hit McKay Wall for a 38-yard touchdown. Josiah Westover got involved in the action, grabbing two touchdown passes of 14 and five yards during the second quarter. McKay Wall added another touchdown on a 44-yard bomb in the third quarter.
The Pioneers had bookend rushing touchdowns on the night. Running back Carsen Manookin scored Lehi's first touchdown of the game on the first play from scrimmage. After taking the handoff, it appeared that Manookin would be stopped for a short gain. However, he cut to his left, bounced outside, and outran the Timpanogos defenders down the Lehi sideline 63 yards for the score. Jacob Vasquez is a linebacker and kick returner for the Pioneers. The versatile athlete scored Lehi's final touchdown on a six-yard run with four minutes remaining in the game.
Lehi Defensive Summary
The Pioneer defense limited the Timberwolves to 81 yards of total offense (44 rushing, 37 passing). Lehi forced Timpanogos to punt seven times and recovered four fumbles on the night. Harrington Ray and Ryder Hatch each had a recovery and Caden Houchin had two.
Next, LHS will meet the Provo High Bulldogs at home on Friday, September 20, in Lehi's homecoming game. The Pioneers face a quality opponent in the Bulldogs (5A Region 8). Both teams are 4-1 on the season. Provo's only loss was on the road to rival Timpview, 13-7, during week two. The game is scheduled to start at 7 p.m.