Sweet Victory for Skyridge football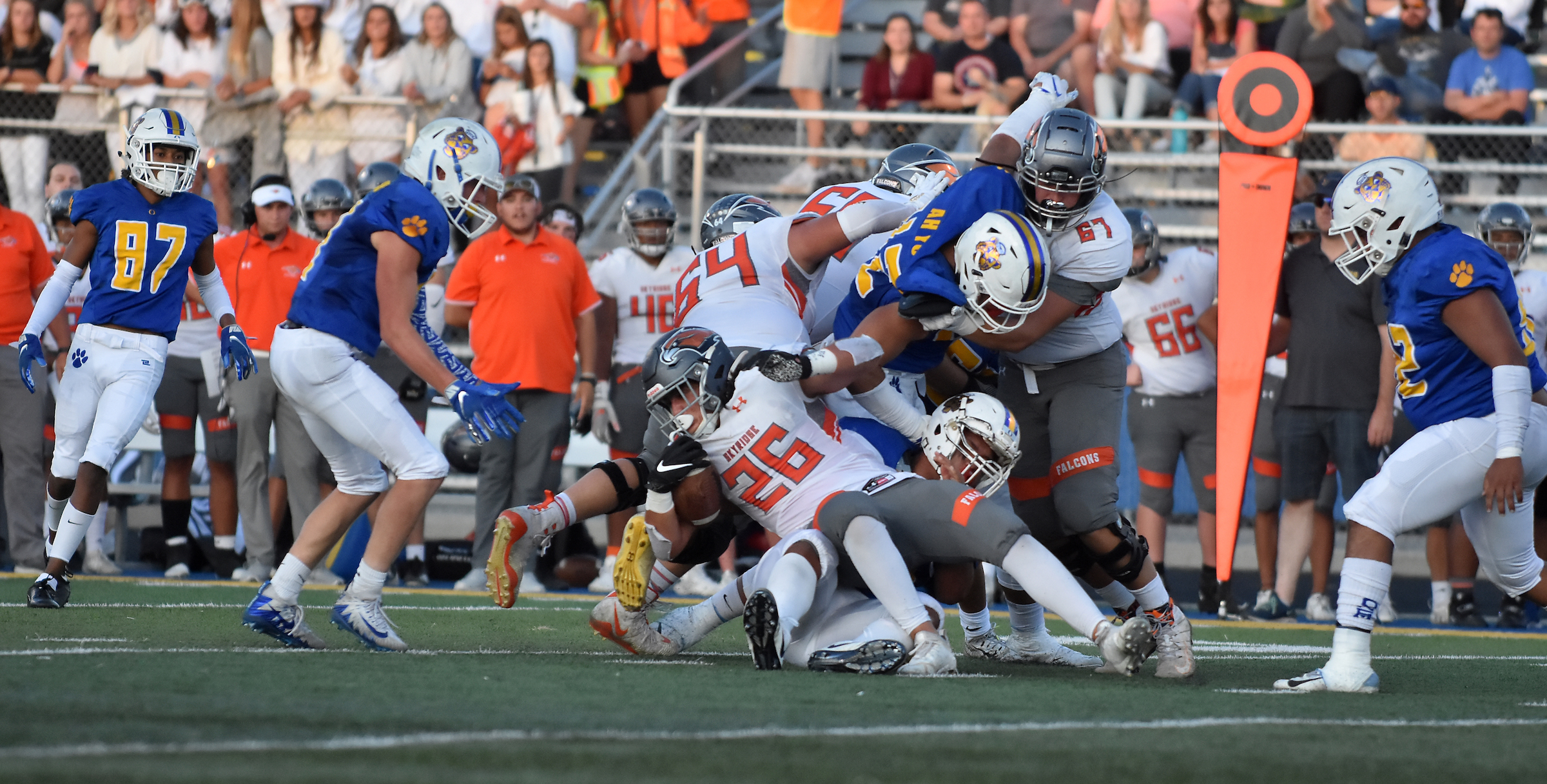 It has been said, "The harder the battle, the sweeter the victory." Victory was sweet under the Friday night lights for the Skyridge Falcons as they battled hard and beat the Orem Tigers 28-14 on the road. The strong and disciplined Falcon defense took charge early in the game as defensive back, Tanner Shelton intercepted a Tiger ball. The relentless defense of the Falcons held the tigers to 14 points and executed well the entire game.
"Orem is a very good and physical team. Our defensive challenge from Coach Lehman this week was to be aggressive and be physical but also disciplined. That was the key, being physical and disciplined at the same time," said Falcon safety, Bowen Thomas.
Orem scored first on a scoop and score of a 45-yard fumble return by defensive back, Buju Tuisavura for a 7-0 lead in the first quarter. The Tigers had a long drive on their next possession but fumbled in the backfield and Falcon defensive lineman, Stone Mulitalo picked up the ball, shrugged off a tackle and ran 75 yards for a touchdown. Six seconds later, the Falcon defense took advantage of another fumbled Tiger ball as linebacker Carson Baker dove onto the ball in the end zone for another Skyridge touchdown.
"I felt excited about the touchdown. It felt good to reach the end zone and I was glad to see my brothers right behind me and running with me all the way," said Mulitalo.
The Falcon offense came on strong in the second quarter as quarterback Emmett Call scored a one-yard touchdown. This gave the Falcons a 21-7 half-time lead. Sophomore running back, Jeter Fenton played impressively with 24 carries for 120 yards. Fenton set up the final Falcon touchdown pass from Call to receiver Dylan Samuels.
Fenton said, "Our whole team played really good tonight. Our D line dominated. Our defense locked down all night. Our offense took a little bit to get going but we were solid and played really good."
Head coach Jon Lehman said, "Our team was very physical defensively and that made a difference in the game tonight. Orem had a lot of guys that could really run and a tricky scheme. Orem started with a defensive score, but we answered with two defensive scores back-to-back on consecutive plays. I am proud of how our team stuck together and kept fighting."
With the sweet victory, Skyridge will open region play against American Fork with a 4-0 record on Friday, September 20.