Lehi Pioneers score fifth straight win vs Provo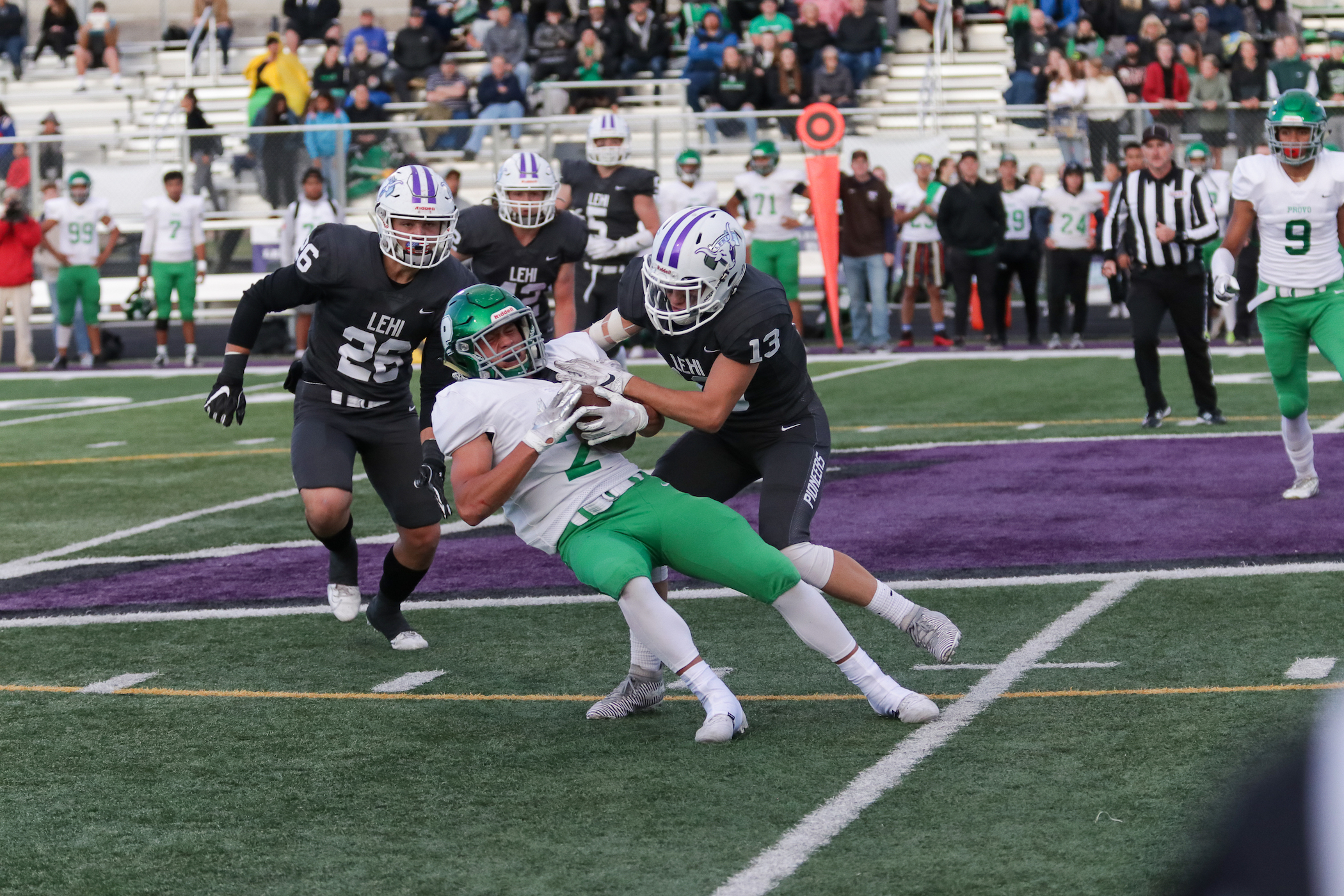 Sporting new gray uniforms for homecoming, the Lehi Pioneers continued their winning ways defeating the Provo Bulldogs, 35-14, on September 20th. After losing the first game of the season, 27-14, against American Fork, Lehi has reeled off 5 straight dominating victories. The Pioneers are 2-0 in region play and are on top of 5A Region 7.
Lehi Offensive Summary
Pioneer quarterback Creyton Cooper completed 24 of 48 passes for 348 yards. Isaiah Tauai had 117 yards on 6 catches – including 2 touchdown receptions of 8 and 38 yards. McKay Wall had 125 receiving yards on 5 catches and 91-yards on two kick returns.
Carsen Manookin scored on a 27-yard run in the 2nd quarter. He had 120 all-purpose yards (97 rushing, 23 receiving) on the night. At halftime, the game was close with Lehi leading, 13-7. However, Creyton Cooper gave Lehi a comfortable lead, 28-7, after adding two rushing touchdowns (1-yard, 6-yard) in the 3rd quarter.
Lehi Defensive Summary
Once again, the Pioneer defense applied pressure to the opposing team's quarterback and forced multiple turnovers. Defensive back Maoputasi Young had 2 interceptions – with 47 yards on the returns. For the second game in a row, Harrington Ray recovered a fumble. Ray and Ryder Hatch both sacked the Bulldog quarterback. Jacob Vasquez led the team with 13 tackles. Matt Bulpitt had 9 tackles and Tyler Ehat added 7.
Next, Lehi will travel to Provo to meet the Timpview Thunderbirds in a region contest on Friday, September 27th at 7 PM. Timpview is 3-3 on the season. They defeated Mountain Ridge, 42-0, in their only region game this season. However, the Pioneers and Thunderbirds have had 2 common non-region opponents this season. Timpview lost to American Fork, 58-35, in week 2 and defeated Provo, 13-7, in week 3.