Falcon defense shines in hard-fought Homecoming victory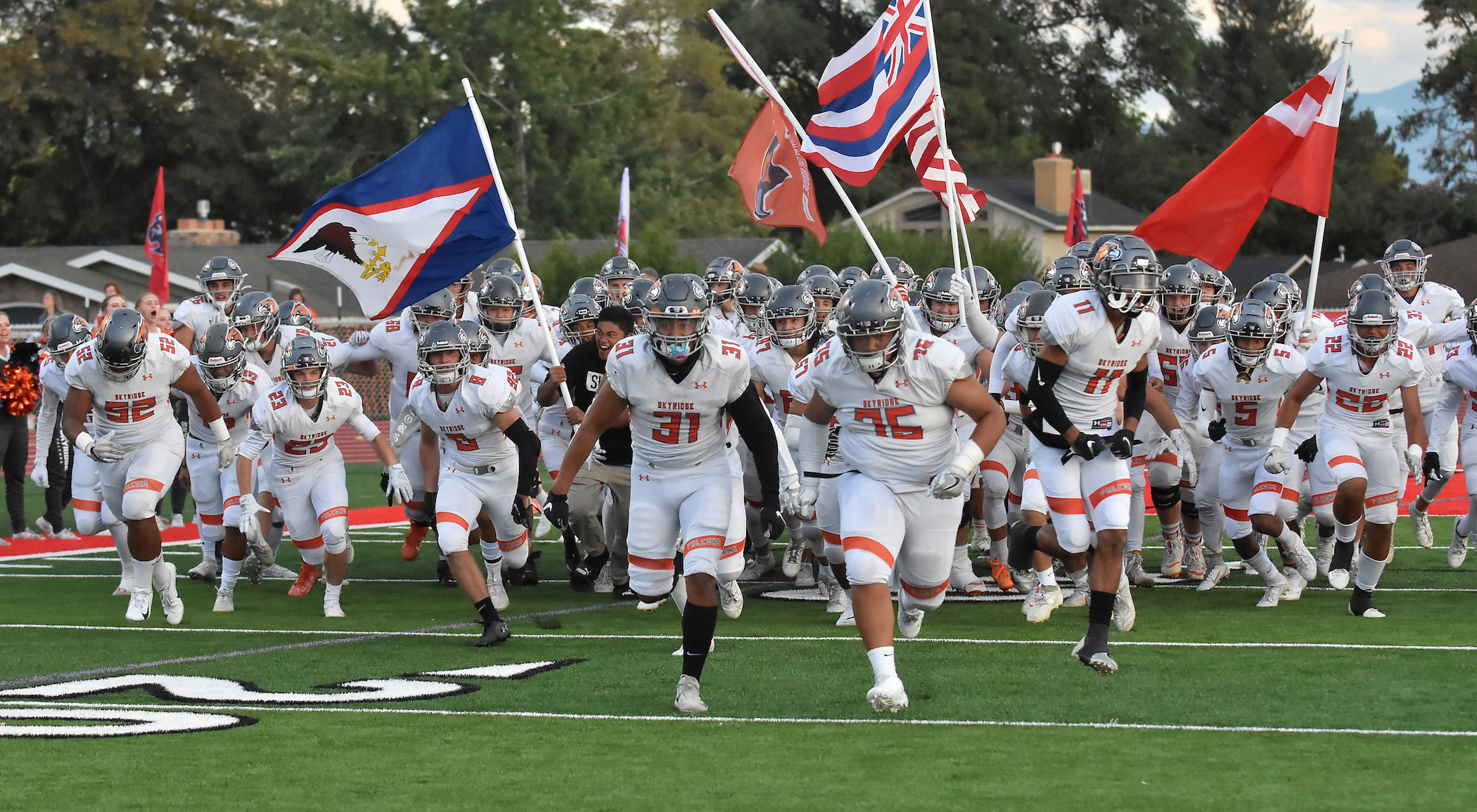 The Skyridge Falcon defense persisted and didn't give up the fight last Friday night in their Homecoming game against the Sky View Bobcats. Sky View dominated the field position battle but Skyridge won the game 18-10.
It was a scoreless first half for the Falcons, and the Bobcats only got a field goal. "It was a heck of a fight," said head coach, Jon Lehman.
The Falcon defense adjusted at half-time and played with more vigor and focus. Linebacker Carter Southwick started the second half strong defensively as he broke through the line and forced a Sky View run into the end zone for a safety in the opening minutes of the second half. The safety put the first two points on the board for Skyridge and they didn't lag the rest of the game.
"We made adjustments at half-time and kept some players in to stop the Bobcat quarterback," said Lehman.
The energized Falcon defense took control of the second half of the game. Malae Tanuvasa intercepted the Bobcat ball which set up a 3-yard run into the end zone by running back, Jeter Fenton. Receiver Tanner Shelton scored the two-point conversion and the scoreboard lit up 10-3 for the Falcons.
Lehman said, "Defensively we had guys making plays and putting the offense in good position. We stayed together and continued to battle to the end."
The energized crowd and Skyridge student body chanted and cheered for their Falcon team. The enthusiasm was contagious, and the Falcon defense battled harder for a win. "Our energy on the sideline was good this game, that's what our focus was this week, energy and being able to execute," said Shelton. However, the Bobcats and their quarterback, Mason Falslev weren't finished as they still had more to give with time left to play.
"Falslev was a good quarterback who did a lot with his legs. He was a factor on every play and always made something happen with his legs and his arms," said Lehman.
Falslev threw a 12-yard touchdown pass late in the fourth quarter to cut the score to 16-10. The Falcon defense made key plays that shut down the Bobcats. The defense stopped Falslev with 1:40 remaining on the clock as they backed him into his own end zone, forcing him to throw the ball away. This resulted in another safety which led to the 18-10 Homecoming victory for the Falcons.
Skyridge cornerback Scottie Brown said, "Our defense stood out tonight. We played great defense. Our offense pushed it and came up strong at the end. It was a great win."
The Falcons' record is now 2-0 for the season. They take on the Sierra Vista (Nevada) Mountain Lions at home Friday, August 30. Kick off is at 7 p.m.