Outdoor quilt show attracts global participation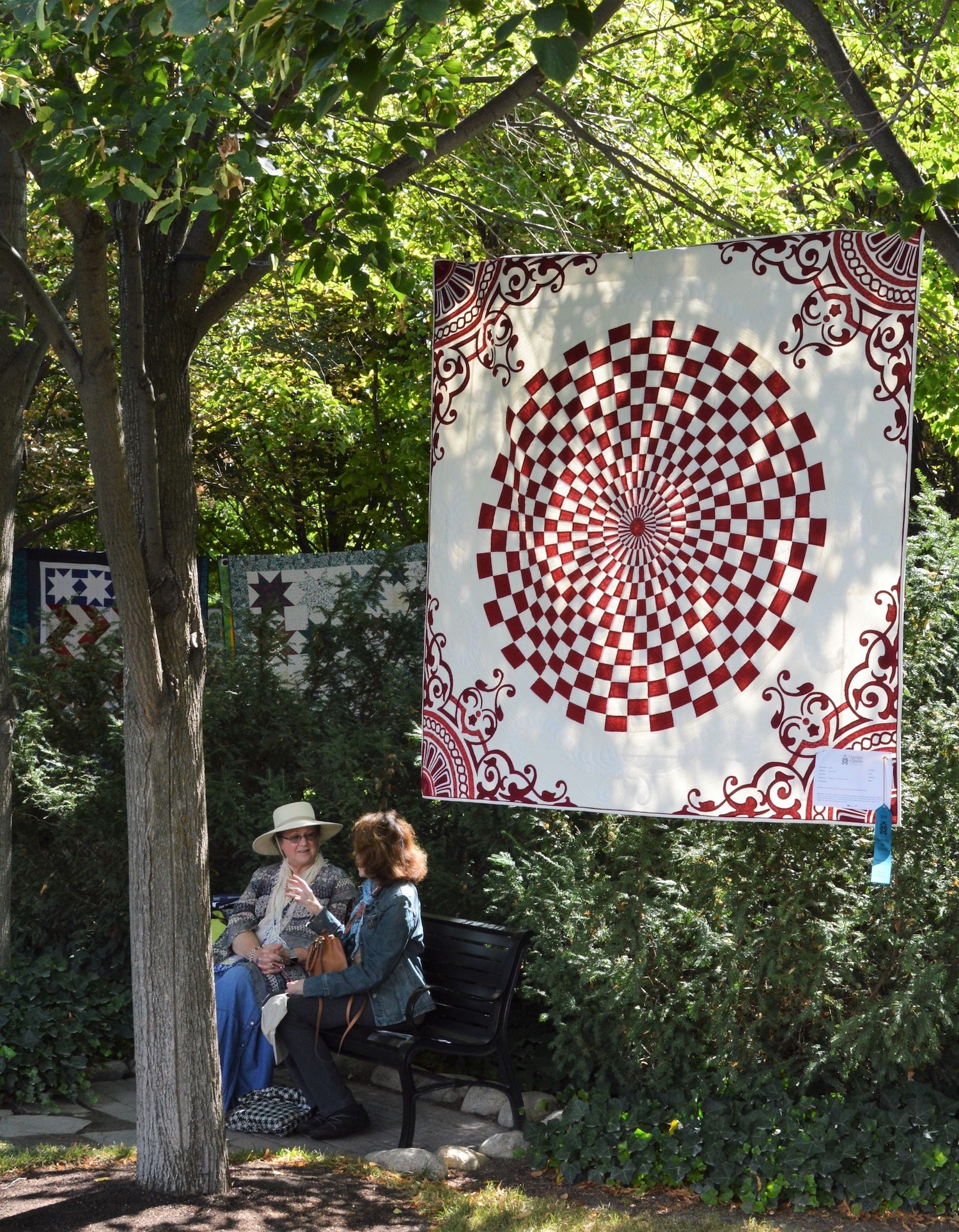 Riley Blake Designs, a family-owned fabric manufacturer based in Alpine, Utah, celebrated their tenth anniversary with an outdoor quilt show at Ashton Gardens last weekend, September 12 – 14. Hundreds of quilts hung from the trees, in the arbors of the rose garden, on easels under tents, and along the greens throughout the spectacular, late summer gardens.
On display in the Secret Garden was Thanksgiving Point founder Karen Ashton's personal collection of quilts. On Friday and Saturday at noon, Ashton shared her memories and love for each of the quilts during a short presentation. "Nothing in particular makes these quilts special. I'm just crazy about them and they're at my house and I love them," said Ashton. Some of the quilts were commissioned by Ashton to celebrate family milestones or for the Primary children of The Church of Jesus Christ of Latter-day Saints. Ashton has purchased antique quilts and dazzling quilts created for charity auctions. One of the quilts in the collection was made by Karen herself, but she was quick to downplay her own work.
"Every week I meet with the Thimble Creek Quilters. We realized that there was no creek called Thimble Creek, so one day we went out to a little creek behind the barn on my ranch and threw a thimble in. We dubbed it 'Thimble Creek' and then we called ourselves the Thimble Creek Quilters," Ashton explained. Ashton told stories from her childhood taking a bus to Salt Lake City to learn how to knit, her time serving on the Church's Primary General Board, her love for house motifs, and especially her love of womanhood and celebrating strong mothers through quilts.
One of the quilts in Ashton's collection was an antique blue and white quilt that had used an even older quilt as the batting with a superimposed picture of a suffragette over the middle third. The quilt hung in a bedroom of the Ashtons' cabin until her grandchildren asked her to take it down because it was cursed. "They felt like that woman was watching them!" said Ashton. "I still love it, but I can't hang it up."
"I think women do the most wonderful things! Women can do so much good in the world. These quilts are some of the most beautiful art pieces and I love to see them celebrated," said Karen Ashton.
Other smaller collections were featured in tents throughout the gardens, as well as quilts from around the country submitted by quilters. There were large vendor tents where enthusiasts could see the latest gadgets and purchase tools and fabrics to their heart's delight. Top quilting instructors made presentations or conducted private classes throughout the day on Friday and Saturday. Jenny Doan from Missouri Star Quilt Company had a trunk show to open the festival on Thursday, September 12. At the concession booth were English-style scones with clotted cream and berries, as well as peaches and ice cream, the signature dish from the Timpanogos Storytelling Festival leftover from the week before.
The international non-profit organization Days for Girls had a tent near the Secret Garden where festival goers could stop in and sew kit bags and learn more about the hygiene kits they make for young girls in third world villages. "We make washable, re-useable hygiene kits that keep girls in school. In the last 11 years we've distributed more than half a million kits to 125 countries around the world," said Lynette Berg of Days for Girls. The kit includes a colorful drawstring bag the girls can carry to school every day, not calling attention to themselves when they need to include supplies for their periods. Days for Girls creates washable shields and liners using quilter's cotton fabric, water-proof fabric, and flannel. A representative from the charity provides education for the schoolgirls when the kits are distributed.
"Some of these girls think they're sick, that they have AIDS. No one has taught them what's happening to their bodies and they're often shunned and kicked out of school if they're bleeding. Imagine growing up in a place where there are no textbooks, no Internet, no fifth-grade maturation class. Their moms don't even know why it happens," said Ann Lewis, a member of the Days for Girls organization who has been to villages in Africa and India educating girls and distributing kits.
The hygiene kits Days for Girls supplies last for three years, long enough to get girls through high school. Chapters of the charity all over the country and the world are making the kits, but Utah makes more hygiene kits than the rest of the world combined. For more information, visit daysforgirls.org.