On pine nuts and…what floats?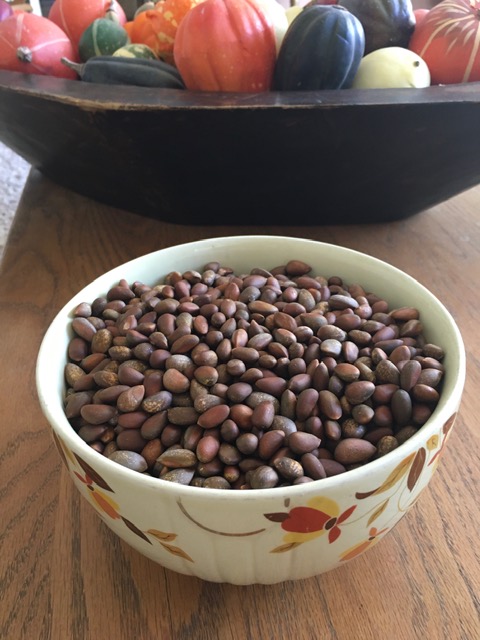 I tasted my first pine nut when I was eight years old. I didn't care much for the shell, but the meat was a delicious treat. I soon learned how to bite the shell in half and extract the nut with my teeth, then discard the shell in a rapid singular motion that rivaled my ability to eat raw peas from the outer shell. On many Autumn days, I started the school day with a pocketful of pine nuts, and always had a double handful to take on the deer hunt.
Every year, Uncle John Laursen bought a fifty-pound gunny sack full of pine nuts and all hunters could take "two handfuls" to nibble as we left camp in the cool morning of Utah's annual deer hunt. I remember he said the bag cost him fifteen dollars and he told us that it was a "hunter's treat." Aunt Irene often roasted a tin-foil layer full of heavily salted nuts for the hunt and the tiny morsels tasted even better.
One Fall Saturday we jumped in dad's '53 Dodge pickup and rode out to Broad Canyon, west of Mercur. The canyon was full of pinyon pines and we found four or five trees laden with large, gummy cones. Dad raked them from the trees and we picked them off the ground and put them in gunny sacks. It was a difficult and dirty job. When finished, we cleaned our hands with paint thinner. After we "washed up," we ate hots dogs and roasted marshmallows over a small campfire before heading home. When we got back to Lehi, dad poured the cones onto a old army tarp in the back yard and weighed the corners down with bricks. They sat for three or four weeks to dry and open, spilling their treasure on the old green tarp.
The cones were shaken off and the nuts were collected, washed, and cleaned. He then soaked them in five-gallon water buckets where the blights floated to the top and were discarded. We placed the remaining meat-laden nuggets on the green canvas where they quickly dried-out in the sun. Heavy full nuts were then put in mom's large "harvest jar" where they were kept on our cupboard until the Fowler squirrels ate them. They always disappeared as fast as my grandchildren eat Skittles. Sometimes we would give a handful to friends who often had to be taught how to shell them. Some had never tasted pine nuts before, but all of them wanted more.
I collect them now as a retired old "geezer" and give them to family members as "treats from the desert." Some friends beg for them–most don't know the hard work involved in getting them from "tree to mouth." Many years ago, as a young father, I took my little family out near Modena to gather pine nuts. We drove to a good location in a remote canyon on the Nevada border and found several pinyons loaded with nuts. The cones had already opened. This time my boys climbed and shook the trees. The small nuts rained all over the ground beneath the trees and we gathered them one by one with our nimble fingers and put them in plastic grocery bags. In three-hours we had three bags full of nuts and were thrilled with our harvest. I figured we would have about four pounds once they were floated and cleaned.
My wife Candy filled a grocery bag herself in one hour. However, when I poured them into a five-gallon bucket of water, almost all of Candy's pine nuts floated to the top and began to crumble. "My pine nuts are crumbling into nothing," she stammered. I looked closer. Almost all her pine nuts turned out to be deer and rabbit pellets (poop). We all laughed hysterically…and finally, so did Candy. A long day of hunting and gathering had turned into a grocery bag full of laughter. I told dad of the pine nut/pellet fiasco, and he laughed until tears came to his eyes. Fall was always our family's favorite time of year. With cool nights, the deer hunt, football, and pine nuts, this ole Lehi boy is a fan of Fall too.