MTECH partners with Ford Motor Company, Larry H. Miller Dealerships to train auto technicians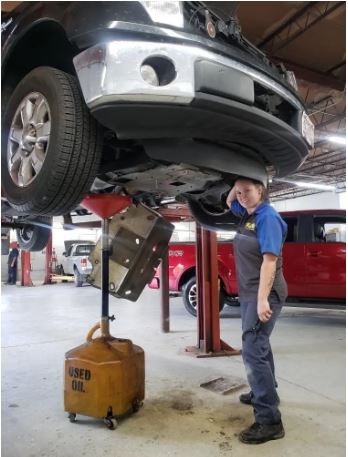 On November 4, Clay Christensen, President of Mountainland Technical College (MTECH) announced a partnership with Ford Motor Company, Larry H. Miller Dealerships and MTECH in training automotive technicians. The partnership is the first of its kind in higher education in Utah, and will be taught at both the Lehi and Spanish Fork MTECH campuses.
Representatives from Ford Motor Company, Larry H. Miller Dealerships, and MTECH teachers and about 40 students and parents met in the automotive building on the campus of Lehi MTECH to launch the new program.
Ford Motor Company started the initiative over a year ago. So far over 3,300 new recruits have completed the training. TechDrive, as the initiative is called, is celebrating 100 recognition events throughout the country. Frederick Toney, president, Global Ford Customer Service Division, said, "It's exciting to be filling a need for our business and our dealers, but the true surprise has been watching community connections grow. Dealers are taking TechDrive to their local schools and organizations and really creating opportunity for the youth in their community. That's special."
In his opening remarks, President Christensen said, "We are experiencing phenomenal growth. With more people come more cars and trucks, and more need for automotive technicians. There are more job opportunities than people to fill them. This is a landmark day for our college and students."
Vanessa Thompson, Regional Talent Placement Specialist for Ford Motor Company, spoke to the group complimenting the students on their commitment to the program. She said, "This is a long-term solution and requires a long-term commitment. The students have already completed eight days of training which involved completing 200 Automotive Career Exploration (ACE) objectives. Give yourself a hand." Thompson said Ford will gift Ford engines and transmissions, and ACE school kits to MTECH.
Pat Nichols, Director of Fixed Operations for Larry H. Miller Dealership expressed excitement for the opportunity to partner in this endeavor. "We can offer high paying jobs to those who complete the training," Nichols said.
One the students present was Tristan Sparrow and his mother, Brianne. Tristan is a student at Salem Hills High School and was one of the students to complete the ACE objectives. "I'm just a grease monkey," Tristan said. "I come from a long line of mechanics. My father and grandfather are mechanics." "As a mother, I am grateful for this opportunity for our son to get a good education without being thousands of dollars in debt," said Brianne.
The program takes two years. Students can begin the training in their junior year of high school. They will be job ready when they graduate from high school. Matt Zufelt, MTECH automotive technology instructor, explained that the students will receive cutting edge training methods and will strengthen our labor force.
The students in attendance ranged in age from 16 to 44. Anyone interested in the program may apply through the admissions process at MTECH or at their local high school.