Keith Hall, Lehi veteran, honored by Freedom Elementary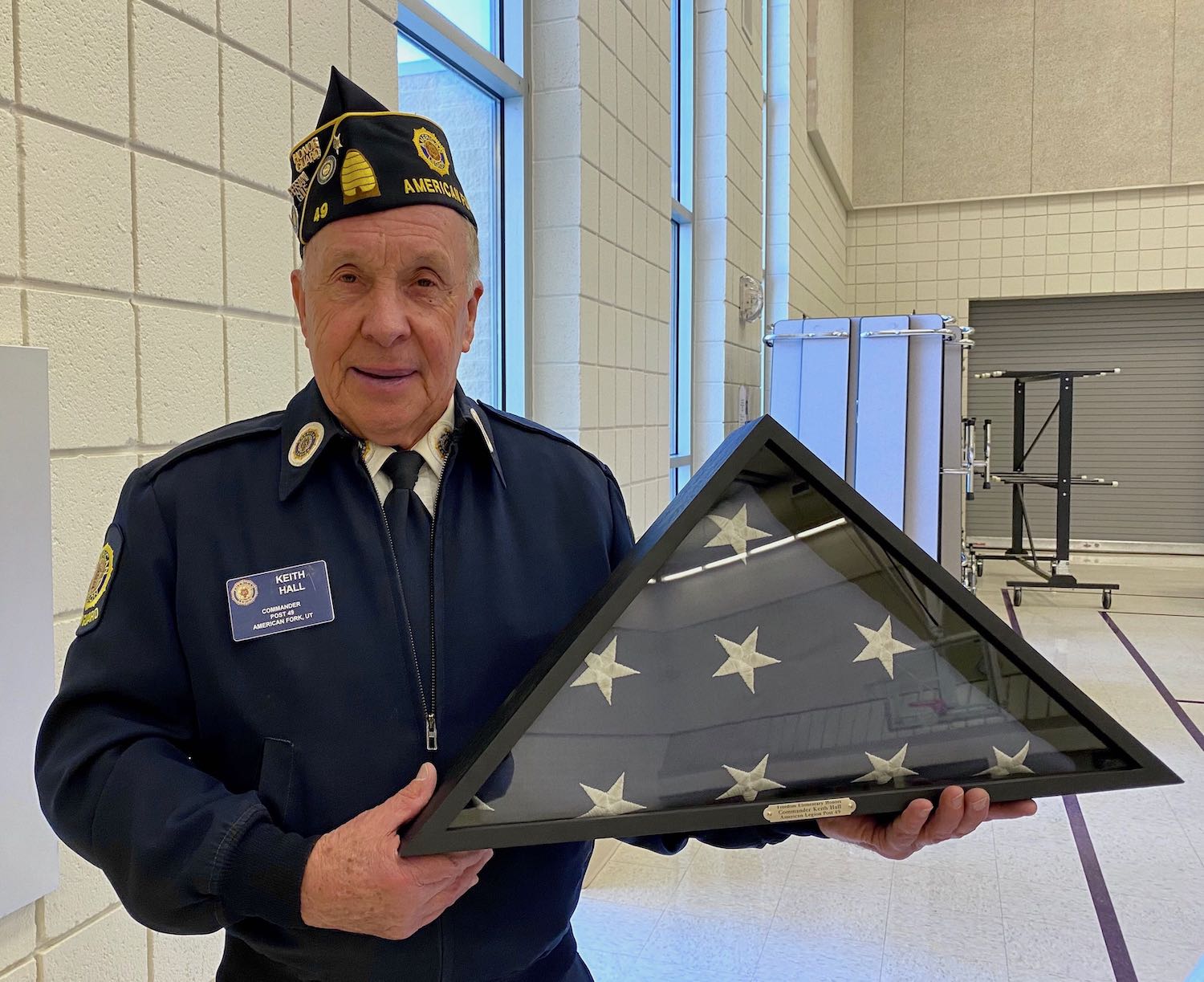 November 8, Lehi's Keith Hall was honored by Freedom Elementary for his service in the military. He was also there to help retire the flag that flew at the school since its founding in 2003.
Keith was born in American Fork, Utah into a family that loved their country. He was taught at a young age to show respect for our country and the American flag. He remembers having family prayers asking for protection for those fighting for our freedoms as well as the leaders of our nation.
His sister, Alta, was doing family history and found that an ancestor had served in the military in every conflict or war since the Revolutionary War. Many members of his family served in WWII including his father-in-law, who fought in Germany.
Keith always had the desire to one day serve in the military. On the completion of his senior year of high school, he enlisted in the Utah Army National Guard. Two days after graduation, he took his first airplane ride from Salt Lake City to San Francisco, California. Next was a bus ride to Fort Ord, near San Diego. He was in boot camp for eight weeks then was transferred to Camp Roberts for three weeks of advanced infantry training.
The experience was an eye-opener for a young boy from American Fork, fresh out of high school. He said, "I had to grow up in a hurry." He came home on leave and then left to be trained as a military cook. He was assigned to a mess hall for a field communication school. It was there he heard about President John F. Kennedy's assassination. Kennedy's death was a sad day for the country and especially the United States military. Keith said, "It is a day I will never forget."
After seven years in the National Guard, Keith joined the 151st Air Refueling Squadron as a medic. He worked in many Air Force hospitals all over the world and was deployed during Operation Desert Storm.
Keith had many diverse experiences while serving our country. There were many hard times, but when asked, he said he would gladly do it again. "Service is and should be a life-long endeavor whether serving our family, our country, or those who are dear to us," he said.
Keith also has worked and served the people of Provo City as a full-time Med Tech Firefighter. "It was a brotherhood I will cherish and never forget," said Hall.
For the past ten years Keith has been a member of the Honor Guard, performing the last rites for military veterans. He, along with other Honor Guard members, have served at over 200 funerals. "I am grateful for living in America and for the freedoms we all enjoy," says Hall. "I hope we will always remember that freedom is not free and never will be. May God bless America."