Timpview upends the Pioneers at Rice Eccles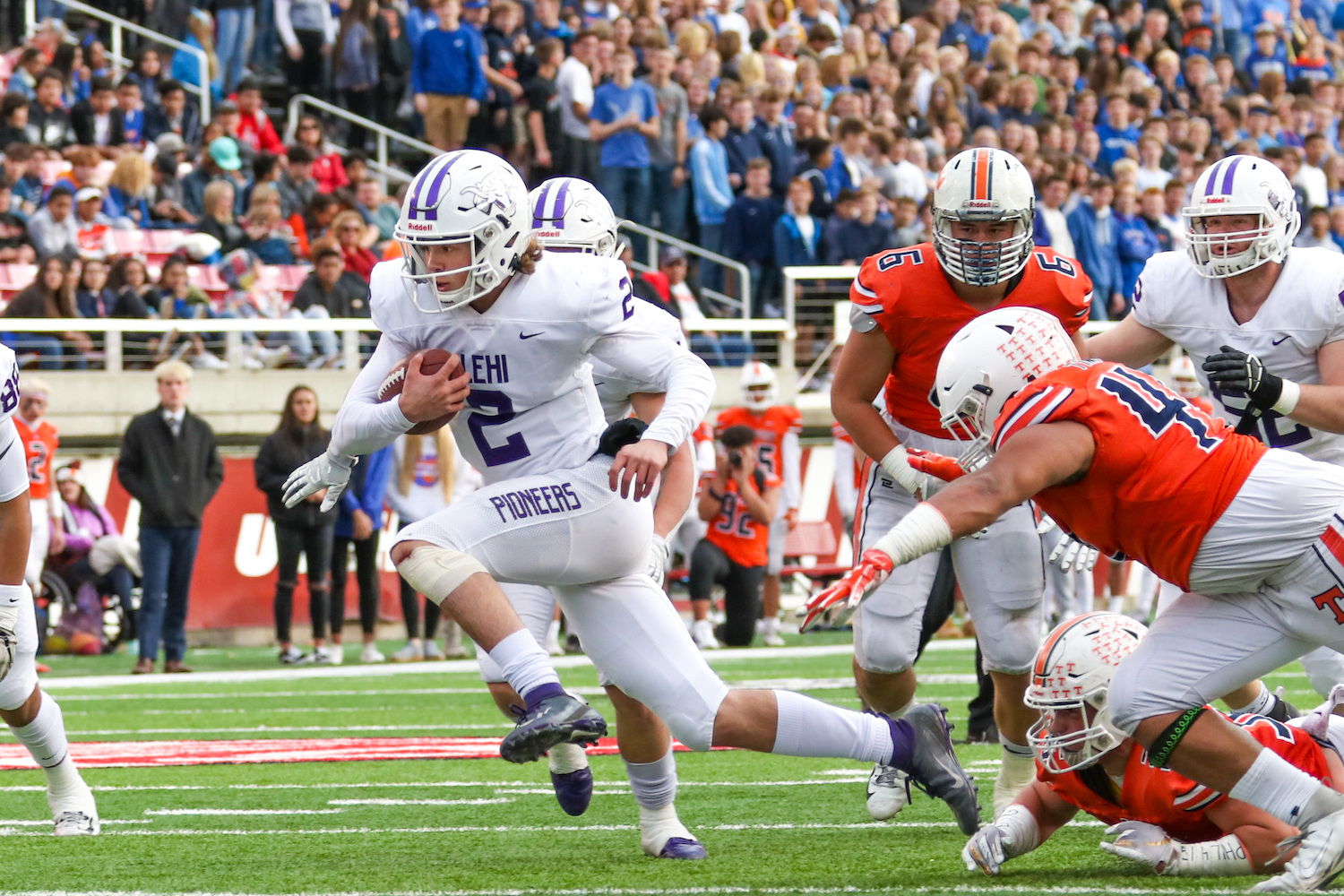 Emotions were high as the Lehi Pioneer football team took the field in the State Semi-Final game last weekend at Rice Eccles Stadium. A once-in-a-lifetime opportunity for underclassmen, Pioneer seniors made their third trip to Rice Eccles stadium in three years. With experience in hand, Lehi had a chance to claim redemption from an earlier season loss to Timpview and advance to play in the 5A State Championship for the second time in three years.
The game took an early turn into Timpview's favor as the offense committed a series of turnovers and Lehi found themselves down 21-0 early in the second quarter. The offense was able to take some pressure off the defense and capped a 13-play drive with a Carsen Manookin two-yard TD run. The momentum had turned. Lehi's stout defense forced Timpview into a fourth and long and came up with a huge stop by Jacob Vasquez, Christian Wren, and Ryder Hatch, putting the Timpview quarterback into the turf. The resulting offensive drive fizzled out and Lehi headed to the half with a sniff of momentum.
After the half, Lehi had a chance to take a bite out of the Timpview lead but were unable to halt the T-birds' rushing attack. Timpview scored two more touchdowns as Lehi's offense continued to struggle against the physical play. Creyton Cooper led the passing attack and was 11 out of 25 for 115 yards. Carsen Manookin carried the ball 17 times for 56 yards and a TD. Manookin, a standout, finished the year with 1,280 yards rushing and averaged 7.0 yards per carry. This year marked the third straight year Manookin eclipsed the season 1000-yard mark. Jaden Greenwood led the receivers with three receptions for 39 yards.
Lehi's defense was led this year by Jacob Vasquez, Christian Wren, Ray Harrington, and Ryder Hatch, and this game was no different. Senior Jacob Vasquez led the Pioneers with 20 tackles (9 Solo, 11 Assists, 3 TFL), Wren ended with 15 tackles (9 Solo, 6 Assists) Ray battled the big boys from Timpview and finished with five tackles. Hatch had 10 tackles (5 Solo, 4 Assists) and Jaxson Southard had a huge interception to stall the T-birds drive and swing the momentum back to Lehi; he finished with six tackles.
Every team makes goals to win championships, Lehi rose to those challenges and fell short in the semi-final. Generally picked to lose by the media experts, this team defied all odds to make it back to the "Carpet." They played the game for each other and for a coaching staff who supported them and helped them build character. The community rallied behind the Pioneers and helped push them to achieve their goals as well.