Butane tanker truck overturns in Lehi, I-15 closed for 10 hours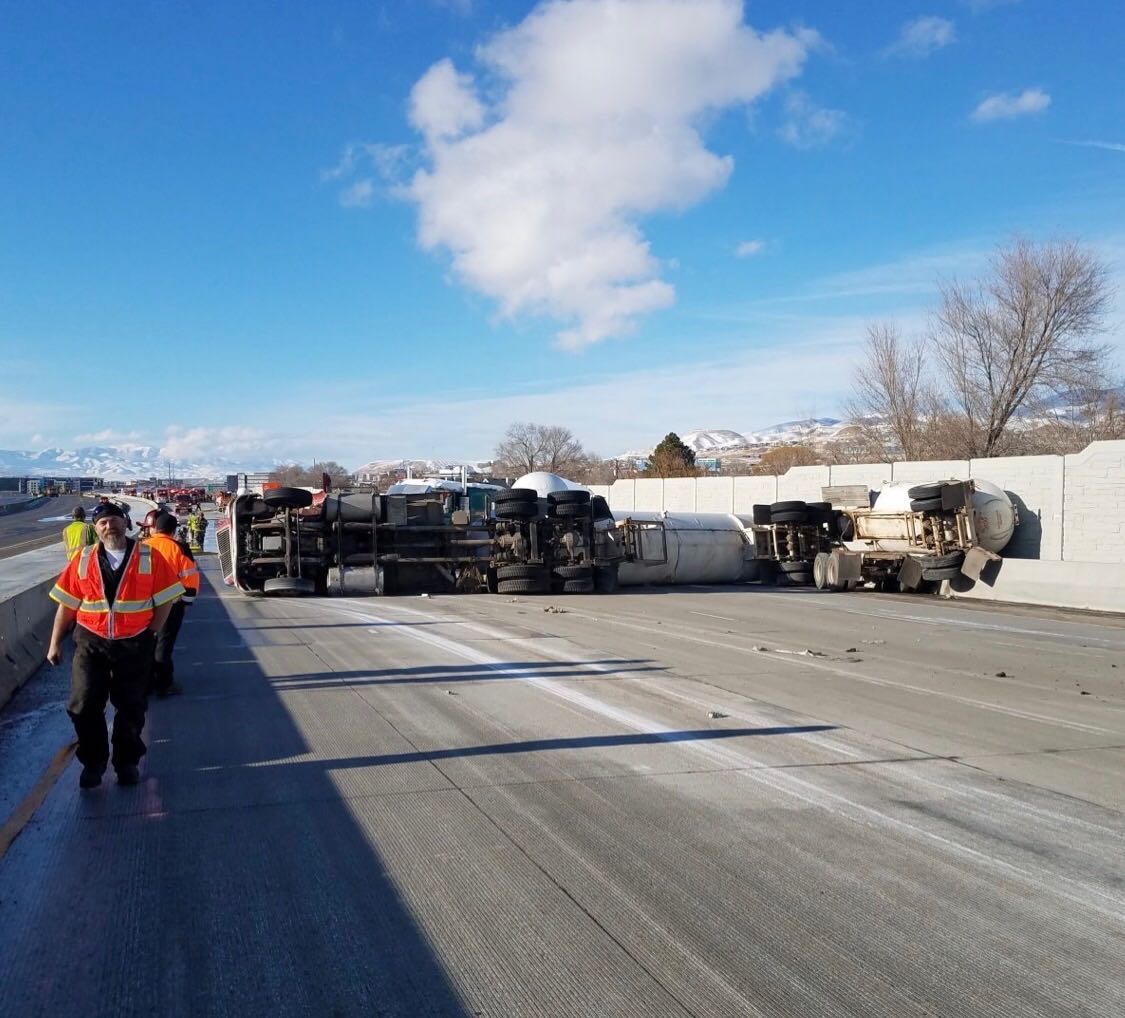 For holiday travelers and shoppers on Saturday, November 30, traffic problems were bigger than anyone could have imagined in Lehi when I-15–both northbound and southbound lanes–were closed for nearly 10 hours after a semi-truck with double tanks full of butane overturned near milepost 282. Lehi City officials decided to evacuate residents and businesses in the area when it was discovered that one of the two tanks was leaking highly flammable butane, according to Cameron Boyle, Lehi City Assistant City Administrator.
The wreck occurred about 10:30 a.m. on Saturday as the northbound semi-truck lost control, wrecked and tipped over on the freeway. The northbound lane was closed immediately, and the southbound lane was closed soon after.
"Lehi Fire was first on the scene. Agencies from the county and other cities were also called in to respond to the wreck. We had 42 people working the scene including crews from Unified Fire, American Fork Fire, Provo Fire, Saratoga Springs Fire, Pleasant Grove Fire, Lone Peak Fire, Utah Highway Patrol and the Utah County Sheriff's department. The Hazardous Materials Unit was also called into help with the situation," according to Tim Robinson, Deputy Chief of Lehi Fire Department.
The I-15 freeway was closed from Main Street in Lehi to about 14600 South in Draper. Once the freeway was closed, drivers were required to make U-turns to exit the freeway. "Our police and fire along with Volunteer in Police Service (VIPS), responded to the accident and helped redirect traffic to State Street, Timpanogos Highway, and Redwood Road," said Boyle, whose wife was stranded on the freeway behind the wreck. "It took her about 40 minutes before she was able to make a U-turn and get off the freeway."
"One of the tanks was leaking at a rate of about five gallons per hour, which is a pretty slow rate," said Boyle. "We evacuated an apartment complex, homes and a few businesses in the area," said Robinson. "We carefully watched our monitoring devices to determine how bad the butane leak was and where it was flowing. It never really got to a level that we were very concerned with," he said.
"We plugged the leak on the tanker several times to stop the flow, but the plug popped out each time as the pressure inside the tanker built up," said Robinson. "We were concerned because butane is heavier than air and can flow and possibly ignite if there is a flame near it–like on a water heater or furnace in a home or business. We stretched hoses and got them lined up in case the butane did light up," said Robinson.
Another tanker was brought in to "off-load" the butane and drain the wrecked tanker. "It took longer than expected to remove the butane, upright the wrecked semi-truck and get it stabilized," said Boyle. The southbound lane was opened up at about 7:30 p.m. and the northbound lane opened about a half hour later.
"Many of Lehi's police and fire workers and city administrators came in on their day off and worked the incident," said Robinson. "There were about six of us working out of Lehi's (relatively new) Emergency Operations Center managing the incident, coordinating the operations and communicating with all of the agencies involved. We got a chance to really test out Lehi's EOC," he said. "We feel like we did well in handling the communications and learned some things as well."
According to Geoff Dupaix, UDOT Regional Communications Manager, it has not been determined if speed, road conditions, or driver error were a factor in the wreck. An investigation with UHP is ongoing, said Dupaix. "Driving speed has definitely been our biggest challenge during this three-year construction project," he said. "We regularly drive the roads with members of the Utah Truckers Association to make sure the roads are safe for truckers at the posted 60 mph speed. We have been working with them since mid-summer to routinely evaluate the road as it changes during the construction process. We look to make sure the posted speed is appropriate, the road condition is good, and that traffic patterns and signage are correct," he said.
"Narrow lanes, shifting lances, and changes in the transitional lanes are all a part of the new road construction process that has to happen while we build the new sections and new bridges on this project," said Dupaix. "Safety is our biggest concern, and it is so important that all drivers do not drive faster than 60 mph. "We are currently in the process of internally evaluating the wreck that happened on Saturday," he said
"The driver of the semi was really shaken up," said Robinson. "There were no obvious injuries, but we took him to the hospital to get checked out. He was released the same day." The crash is also under investigation by UHP.
On Monday afternoon December 2, at about 4 p.m. northbound I-15 traffic was snarled again. Just two days after the butane truck wreck, both Lehi Fire and UDOT were dispatched to another semi-truck truck overturned in the exact same location on the freeway, according to Robinson. "The second wreck involved a triple axel semi-truck. The third (rolled) trailer was full of automotive parts," said Dupaix. A heavy-duty tow truck was dispatched, and a couple lanes of the freeway were closed just before rush hour. "We are estimating a couple of hours before the remaining lanes can be reopened. I don't know if it is speed related. We will be assessing the area to see if adjustments need to be made and what those would be," said Dupaix about the second wreck in as many days.