Retirement of Sherm Robinson marks end of era for Lehi Roller Mills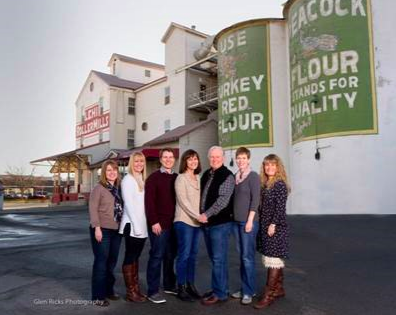 The end of an era comes with the announcement of the retirement of Sherm Robinson, great-grandson of George Robinson, who bought the iconic Lehi mill in 1910. The mill and its familiar and picturesque silos painted with the colorful turkey and peacock logos will continue under Ken Brailsford's ownership and managed by COO Brock Knight.
A co-op of Lehi businessmen initially built the mill in 1905. Sherm's great grandfather, George Robinson, immigrated to the area and leased the mill from the Lehi businessmen in 1909, and one year later purchased it.
The mill was known for its high- quality flour. The flour was ground from turkey red wheat grown in Cedar Valley and had a high percentage of gluten. Richard Van Wagoner's history book, Lehi, Portraits of a Utah Town, reported that in 1925, "Lehi Roller Mills took orders for 18 carloads of flour for bakeries in Salt Lake City and California."
The flour sacks that held the flour were 100% cotton and stamped with the turkey logo. A local story goes that in the late 1960s, several members of the Lehi High School football team wore boxers made from Lehi Roller Mills flour sacks. Many women washed, ironed and used the sacks for dishcloths, aprons, and other household items.
The 1984 movie Footloose immortalized the Lehi Roller Mills. Scenes of the mill played a prominent part in the popular movie. Sherm remembers meeting Kevin Bacon, Sarah Jessica Parker and John Lithgow. He proudly claims that he is "only one degree of separation from Kevin Bacon."
The years immediately following the movie were extremely successful. Sherm guided the mill through the 90s and into the early 2000s with high spirits. But, in 2013, after difficult economic times, a bank closure, and various legal battles, Sherm found the mill in a situation he never thought would occur—bankruptcy.
Instead of closing up shop, cashing out, and selling the land, Sherm fought desperately to save the mill. He approached network marketing pioneer Ken Brailsford to acquire the business. Brailsford stepped in, paid off debts, invested in equipment and processes, and eventually rebranded the company as "Lehi Mill." The tradition of high-quality baking flour continues.
Through the acquisition and changes, Sherm has continued as General Manager. As Sherm looks back on what he has learned over the decades, he recalled, "Things work out—if you keep working at it, things work out."
With over a century of Robinson family management in Lehi Mill, Sherm is ready to pass the torch to current and longtime mill employee Brock Knight. Knight, who started working at the mill as a flour packer during college, has worked closely with Sherm for two decades. Robinson feels comfortable handing off the family responsibility. After all, Sherm himself trained Knight. 
"I feel good about turning the mill over to a group of people who will carry it on."
When asked what he wants the legacy of Lehi Mill to be, he said, "I don't want it to be about me—We want to keep our origins. We want to use what we learned back then. We don't want to forget it."