Lehi girls basketball upsets Herriman on the road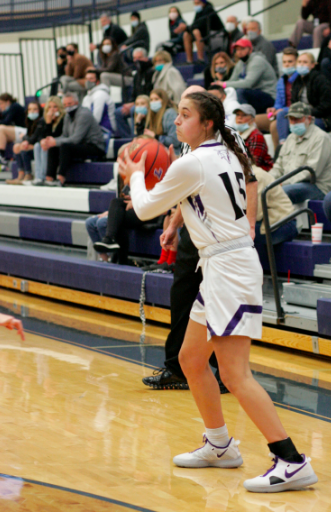 The Lehi girls basketball team visited 6A No.2 Herriman on Dec. 22 and prevailed in a tight contest 73-66 to deal the Mustangs their first loss of the season after six straight wins.
It was a close battle right from the start and the Pioneers had a slight 16-15 advantage at the end of the first quarter, but Herriman got the upper hand in the second period and led 34-30 at the break.
Lehi worked hard in the third quarter to overcome the deficit and edged ahead 47-45 entering the final period.
In a lively fourth quarter, the Pioneers managed to outscore the host school 26-21 and held on for the exciting victory.
Mustang senior forward Lealani Falatea scored a season-high 30 points, including six treys, in the loss, but she didn't get enough help from the rest of her teammates to answer the onslaught of the visitors.
Senior guard Maddie Warren netted 24 points, including three triples and 11-of-12 at the line. The Pioneers made 30 of the 40 free throws they were awarded in the game.
Lehi senior guard Macie Warren also scored 24 points, including 13-of-16 at the line, and had three rebounds and a couple of steals. Junior wing Jamisyn Heaton contributed 10 points with seven rebounds and two assists. Senior wing Brinly Whiting grabbed seven boards and made three assists.
"Tonight was a blast," said Pioneer Coach Sean Seastrand. "It was two big-time teams just going toe-to-toe all game long, with some of the best players in the state battling it out.
"Herriman is really, really good," he went on. "We got down early and battled back to take the lead. Luckily we had some great free-throw shooting to go get a big road win against one of the best teams in the state right before Christmas.
"I'm really proud of the progress our team is making," the coach concluded.