Skyridge boys basketball goes 2-1 at tourney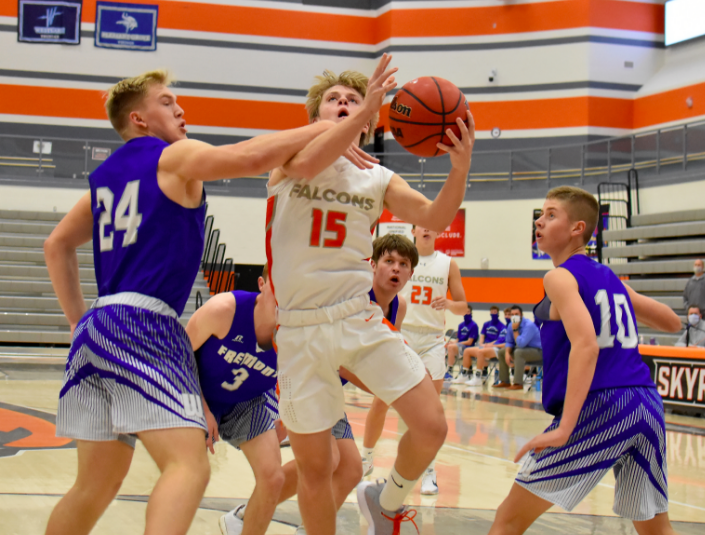 The Skyridge boys basketball team suffered its first loss of the year but also had two wins at the Cedar Valley Jingle Bell Jamboree tournament Dec. 16-19.
The Falcons opened the event Dec. 16 with a victory over Weber but fell to Timpview the next day. The team rebounded with a drubbing of Provo on Dec. 19.
Skyridge 79, Weber 71
Skyridge actually trailed the Warriors for a significant portion of this contest but upped the energy on both ends of the floor in the fourth quarter to work for a 23-9 advantage in the period and pull out the win.
The Falcons got 30 points from senior guard Parker Christensen to lead the way. Senior guard Duncan Reid scored 21 points, junior guard Nick Holland added 13 points, six rebounds and four assists, and senior forward Dallin Yates had 12 points and seven boards.
Timpview 74, Skyridge 61
A similarly uneven output sank Skyridge against the hot-shooting Thunderbirds. The teams dueled about even through the middle quarters but Timpview earned a six-point edge in the first and fourth periods to get the victory.
Yates had 23 points on 9-of-11 shooting from the field (82%) and 5-of-7 (71%) at the line, while Reid added 18 and Christensen 14.
Skyridge 72, Provo 56
The game with the Bulldogs was a toe-to-toe battle for the first half, but the Falcons buried the opponent 44-29 in the final two quarters for the runaway win.
More balanced contributions from the players was a key. Yates netted 19 points with nine rebounds and Holland added 19 points and three assists. Reid scored 16, including three triples, and also had five boards. Junior forward Colby Carter contributed eight points, 10 rebounds and three steals.
"We had a great weekend at the Jingle Jam at Cedar Valley High School," said Skyridge Coach Jeff Gardner. "We were able to play three quality opponents and to continue to develop our team. We ended up learning a lot about ourselves in the process.
"After suffering our first loss of the season to Timpview, I was pleased with the way we responded against Provo," he said. "We came out with an increased focus on the defensive end and were able to hold them under 60 points."