Hundreds line streets to honor Elder Jake Smith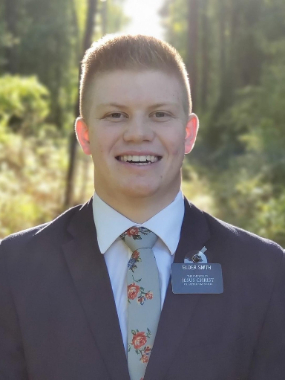 Donna Barnes | Lehi Free Press
On Saturday, January 16, family and friends of Elder Jake Smith honored the missionary in memorial services held at the Lehi North Stake Center, 900 North, 1200 East, Lehi. Smith was killed in an automobile accident while serving as a missionary in Arkansas.
Elder Neil L. Andersen spoke at the service, representing the First Presidency of the Church of Jesus Christ of Latter-day Saints. His message was inspirational and comforted those who attended, particularly when he spoke individually to each Smith family member. The funeral services were viewed by many through teleconference. A special video honoring Elder Smith was made by fellow missionaries from the Little Rock, Arkansas Mission and a missionary choir sang, "Peace in Christ."
Friends and neighbors lined the road outside the chapel as the funeral party left the services. One touching scene was about two dozen missionaries in their Sunday best, who stood along the roadside as the funeral procession made its way to the Lehi Cemetery. The street was also lined with white balloons as families paid homage to the missionary.
The Walton Family, Dan, Kaye, and children, Emma and Colin, made a sign saying, "Ever Onward, Elder Smith." Several other families held signs honoring their friend and neighbor.