Lehi boys hoops splits home region games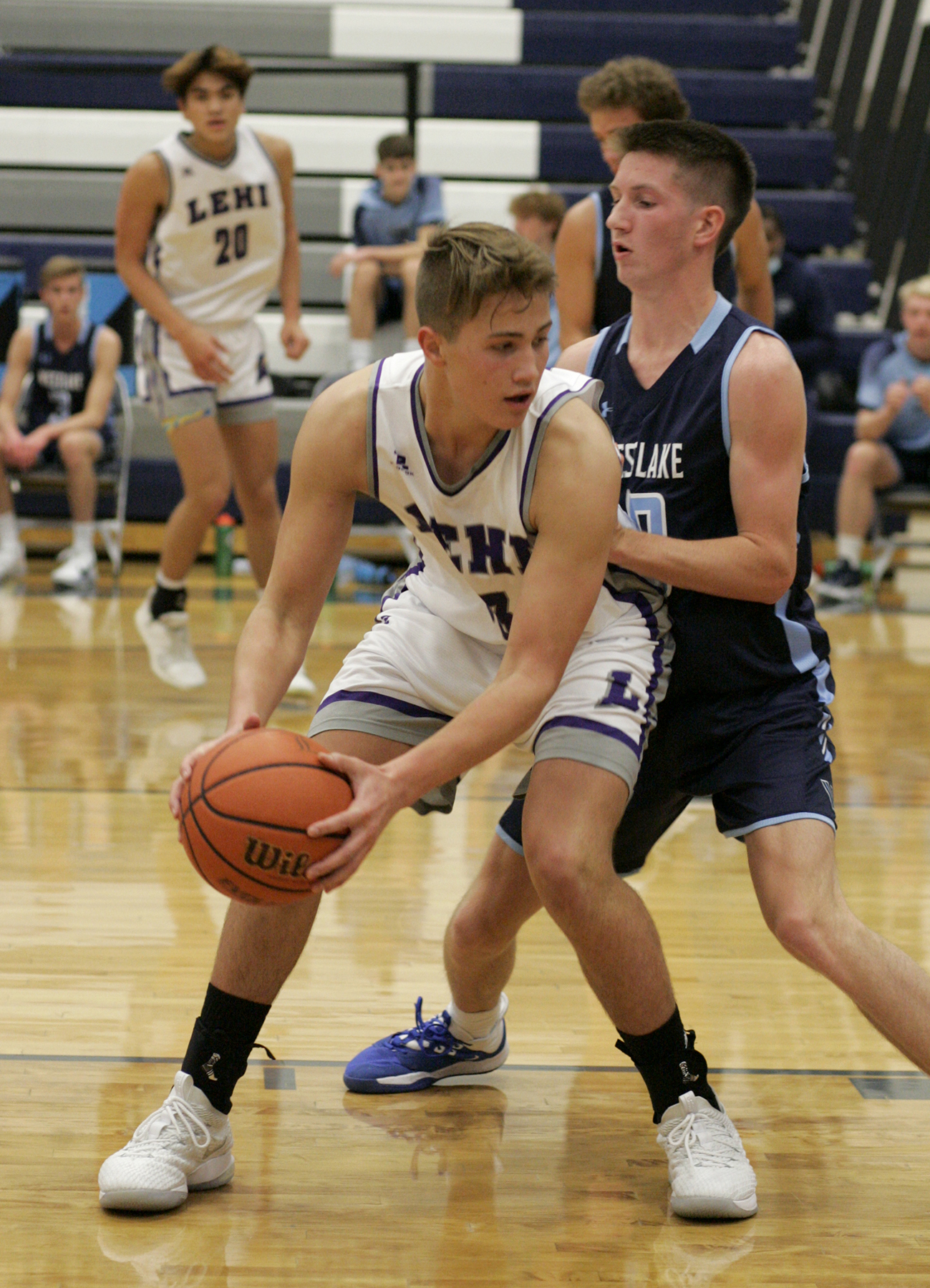 Beky Beaton | Lehi Free Press
The Lehi boys basketball team earned a victory over Timpanogos on Jan. 19 but bowed to No. 1 Timpview on Jan. 22 playing shorthanded in a close contest.
Lehi 59, Timpanogos 42
After a one-point loss in the previous game, the Pioneers came out strong on both ends of the floor against the Timberwolves.
They shot lights-out in the first half, netting eight treys and completing better than 58 percent of their attempts from the field to take a 17-6 lead in the first quarter. The advantage ballooned to 36-13 by the break and the home squad never looked back.
"I thought we made a really good defensive effort and withstood a couple of runs in the game that they made," said Lehi Coach Quincy Lewis.
Senior guard Noa Gonsalves finished with 29 points on 11-of-15 (73%) field goals and 5-of-8 (63%) from long distance. He also had three rebounds, three assists and three steals.
Senior guard Tyson Hawkins contributed eight points with seven boards and nine assists. "I was pleased with Tyson's overall floor game," Lewis said.
Senior forward Peter Amakasu scored 12 and senior wing Blake Hill added 10 rebounds and four assists to go with his six points.
Timpview 59, Lehi 54
On Friday, the Pioneers had the daunting task of facing the top team in 5A without the services of their starting point guard. Hawkins was out with a knee injury that will keep him sidelined for several weeks.
However, the Lehi players rallied to the cause. Although they trailed by double digits at points in the contest, they rallied time after time to stay within reach of the Thunderbirds.
Timpview was able to manufacture a bit of a spread in the second quarter and led 27-20 at the break. The margin hovered around seven points for all of the third period and most of the fourth until there was just two minutes to play.
Gonsalves then sank the last of his four treys to make it 52-55. With just 17.5 seconds to go, the visitors missed the front end of a 1-and-1 and Gonsalves was fouled going for the rebound. He went to the line for 1-and-1 on the other end and hit both to reduce the deficit to a single point.
The Pioneers had to foul for possession then and the Thunderbirds made their final four free throws to secure the win.
Gonsalves netted 20 points to go with three rebounds, five assists and six steals. Freshman Grayson Brousseau turned in his best game of the season to date, hitting 5-of-6 (83%) from the field including his only 3-point attempt and completing 3-of-4 from the line for 14 points with five boards.
Amakasu tossed in 14 points as well and had seven rebounds. As a team, Lehi committed just six turnovers against a very good opponent.
"We showed great resiliency in the game, especially with losing Tyson," Lewis said. "I thought we responded well and showed good toughness Grayson really stepped up and Noa played a really well-rounded game. "