Falcon girls hoops split league games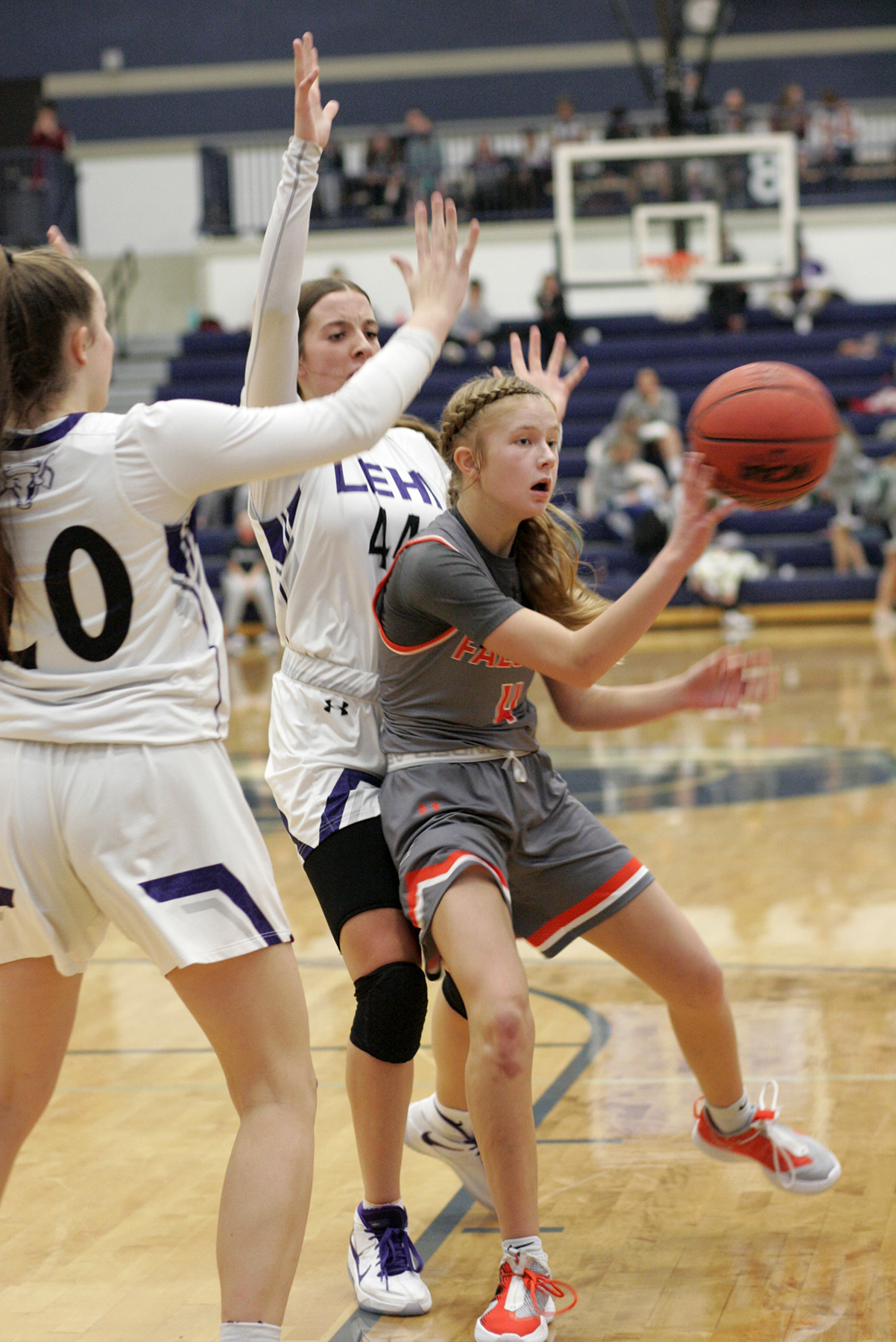 Beky Beaton | Lehi Free Press
The Skyridge girls basketball team suffered a close loss at Westlake 45-42 on Jan. 19 but rebounded with a big road victory 49-30 at American Fork on Jan. 21.
Westlake 45, Skyridge 42
The Falcons put up a stiff fight against the Thunder's tall roster and were trailing by just two points at the half. Westlake stretched the advantage to 36-28 by the end of the third quarter, but Skyridge responded with a 14-9 run and simply ran out of time to get over the hill at the end.
Senior guard Ally Blackham led the charge with 15 points, three rebounds, five assists and four steals. Freshman guard Cambree Blackham added 11 points including three triples to go with three boards and three deflections.
Junior guard Teagan Gray chipped in for nine points, all from long distance, and also grabbed five rebounds. Senior guard Taylor Arnell had four boards and three steals.
"I was really proud of our team against Westlake," said Skyridge Coach Shaylee Nielsen. "We applied the concepts we have been working on in practice and executed our game plan.
"Westlake is a great team with a lot of size and our girls did a great job battling them," she continued. "Unfortunately, we didn't close out at the end of the game, but we put ourselves in a great position to win.
"Again, I was proud of our girls and really happy with our effort. They really settled into their roles and set each other up for success," she said. "Teagan and Cambree really shot the ball well and hit big shots down the stretch.
"Ally had a really great game for us. She is always incredible on defense and she was able to finish at the rim and facilitate our offense," Nielsen said. "We pretty much ran everything through her and relied on her to set shots up for her teammates."
Skyridge 49, American Fork 30
The Falcons were in control most of the night against the Cavemen, paced again by Ally Blackham with 12 points, nine rebounds, five assists, three steals and seven deflections.
Arnell netted nine points on 4-for-4 shooting from close range and grabbed four boards. Senior guard Jade Wallace canned a couple of treys and finished with eight points. Cambree Blackham contributed six rebounds, four assists and three steals with her seven points and Gray scored seven as well.
"American Fork was a great team win for us," the coach said. "It was a really fun night and everyone was able to contribute. We are coming together as a team and each girl is recognizing what she does best and how she can help her team win."
Nielsen continued, "I was extremely happy with our defense. We were able to cause over 20 turnovers and held them to 17 first-half points. If we can continue to defend like that we will compete in every game.
"Ally was a menace in defense," she said. "I felt like every time I turned my head in our press, she was flying out of nowhere picking off passes. All of our guards did an amazing job pressuring their ball handlers and forcing turnovers.
"It was really exciting to see Jade Wallace knock down some 3s and get back into her rhythm. She's a kid that puts in the work and really deserves to play well," Nielsen concluded.