Pioneer girls basketball gets control of Region 7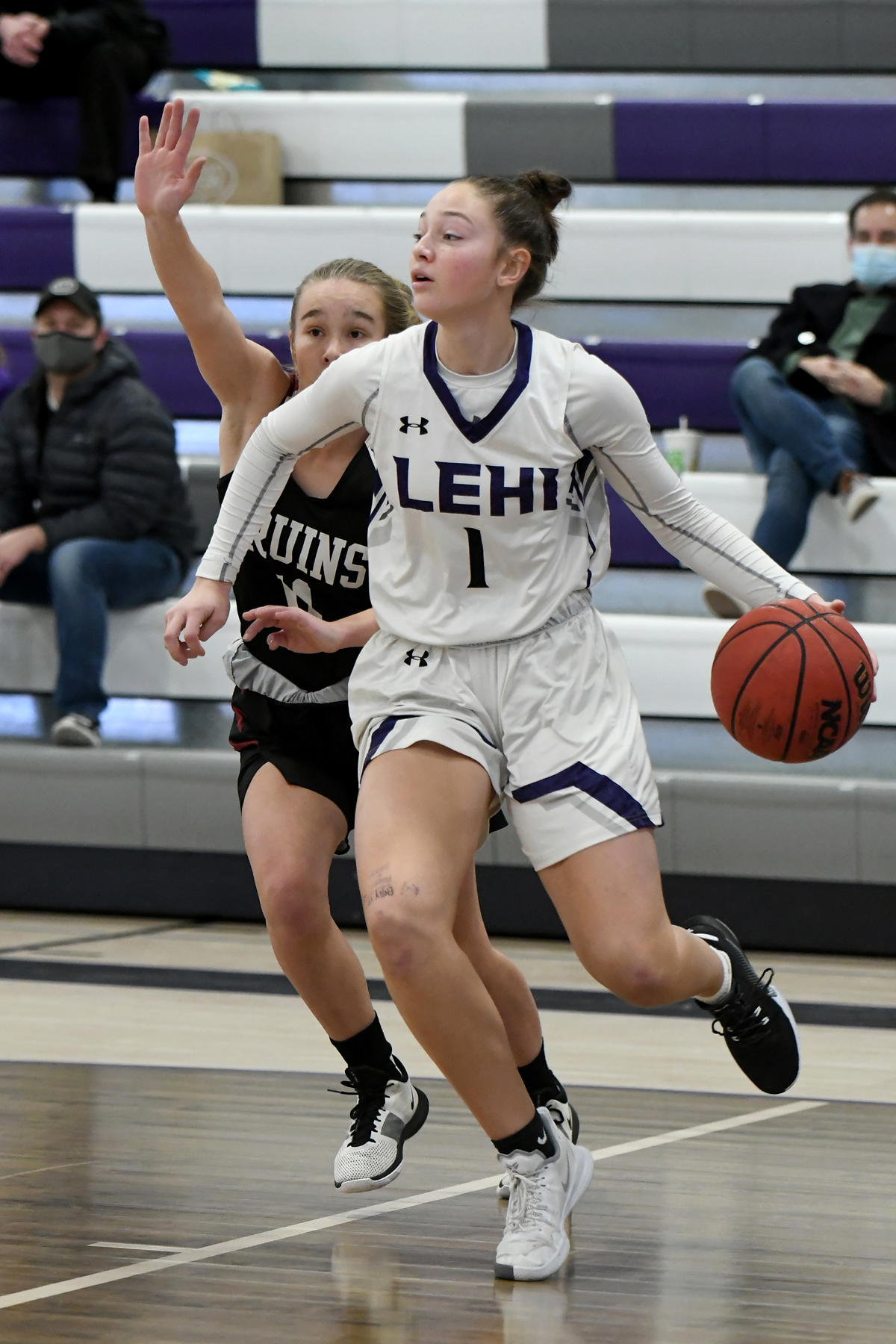 Beky Beaton | Lehi Free Press
The Lehi girls basketball team remains undefeated in league play and sits alone atop the Region 7 standings after completing the first cycle of games this past week, winning at Timpanogos on Jan. 19 and then triumphing at Timpview on Jan. 21.
Lehi 55, Timpanogos 37
Big first and fourth quarters were the story against the Timberwolves. During the middle quarters, the teams were essentially even at 26-25, but the Pioneers outscored the hosts 17-7 with a fast start in the first period and closed out 12-5 in the final stanza to secure the victory.
"We didn't really play very well in this game, said Lehi Coach Sean Seastrand. "We got a little stagnant on offense and we missed some shots we usually make, and then we made the mistake of letting that dictate our aggressiveness.
"I have to give credit to Timpanogos with a great game plan that slowed us up, but we got enough to get the win," he added.
Junior wing Jamisyn Heaton led the charge with 22 points, seven rebounds and a couple of steals. Senior guard Macie Warren added 11 points plus six boards, eight assists and four steals. Senior guard Maddie Warren scored nine points with three rebounds, three assists and four deflections.
Lehi 51, Timpview 44
The game with the Thunderbirds featured the only two teams which had won all of their region games to that point. It figured to be a close contest, and it was. The squads finished the first quarter deadlocked at 15 and Timpview had a slight edge 25-24 at the break.
After returning from the locker room, the Pioneers patiently worked themselves into the lead, finishing the period ahead 38-34 and then scoring three points more than the Thunderbirds in the fourth quarter to hang on for the critical win.
"This was an absolute slugfest, and it was so much fun," Seastrand said. "Timpview is great. They're very solid. It was just one of those games where both teams are throwing their best punches and trying to respond to each other.
"We made a few more plays down the stretch and got some great plays from everyone," the coach went on. "A key deflection from Brinly (Whiting) and a key offensive rebound from Lizzy (Rees) really helped.
"Those kinds of plays make the difference in tight ones and we made enough to get another big road win," Seastrand concluded.
Macie Warren netted 18 with seven rebounds and six steals. Maddie Warren had 11 points with six boards, five steals and four deflections. Rees collected seven rebounds on the night.