Falcon boys basketball gets big win over AF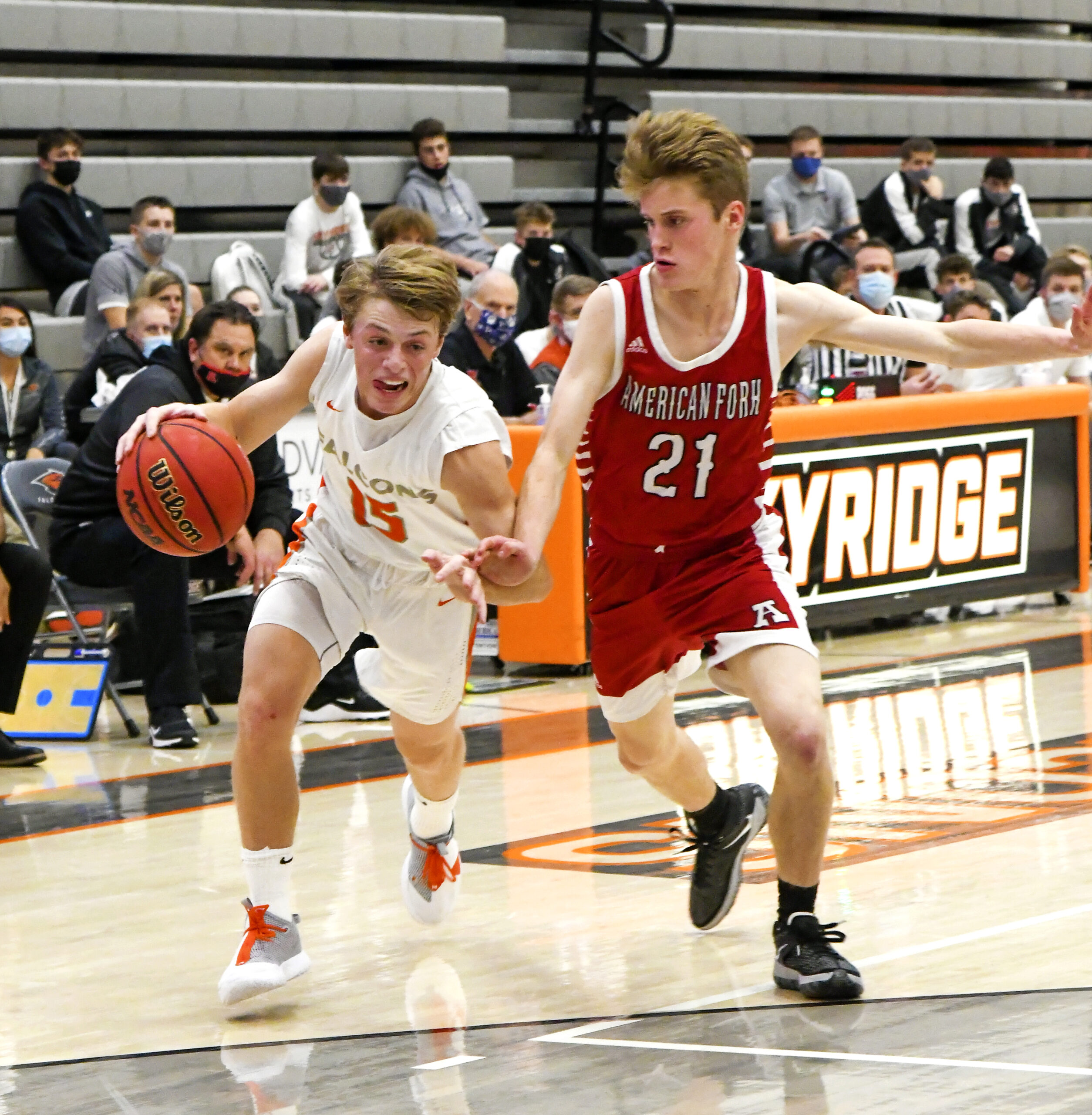 Beky Beaton | Lehi Free Press
The Skyridge boys basketball team had mixed results last week, falling at state No. 1 Westlake on Jan. 19 but earning an exciting victory over No. 3 American Fork on Jan. 22.
Westlake 95, Skyridge 70
The Falcons just never got on track against the Thunder as a six-point deficit at the end of the first quarter ballooned to 25 by the end of the game.
They returned from the break with energy and played Westlake the closest in the third period when they scored 22 to 25 for the Thunder, but they were never able to significantly reduce the gap.
Skyridge still had four players score in double figures, led by senior guard Parker Christensen with 23 points, including four treys. Senior forward Dallin Yates netted 19 with eight rebounds, senior guard Duncan Reid added 12 points and junior guard Nick Holland scored 11.
Skyridge 79, American Fork 69
The Falcons bounced back from the big loss by pulling away in the second half to defeat the Cavemen. The visitors led much of the first two quarters but were barely ahead 45-44 at the break. Skyridge outscored American Fork 35-24 in the second half to get the important Region 4 win.
Reid became the program's all-time leading scorer with 19 points in this contest. Junior forward Colby Carter had a monster game, dropping in seven shots from beyond the arc and finishing with a double-double of 23 points and 17 rebounds.
Christensen added 18 points and Yates contributed 13 to the tally.
"After Tuesday's loss we worked really hard Wednesday and Thursday on getting back to our defensive roots," said Skyridge Coach Jeff Gardner. "We made good progress on the defensive side of the ball and that was key to the region victory Friday.
"It was great to see the kids come out with confidence and play tough basketball for 32 minutes," the coach added.