Skyridge girls fall to 6A champs in quarters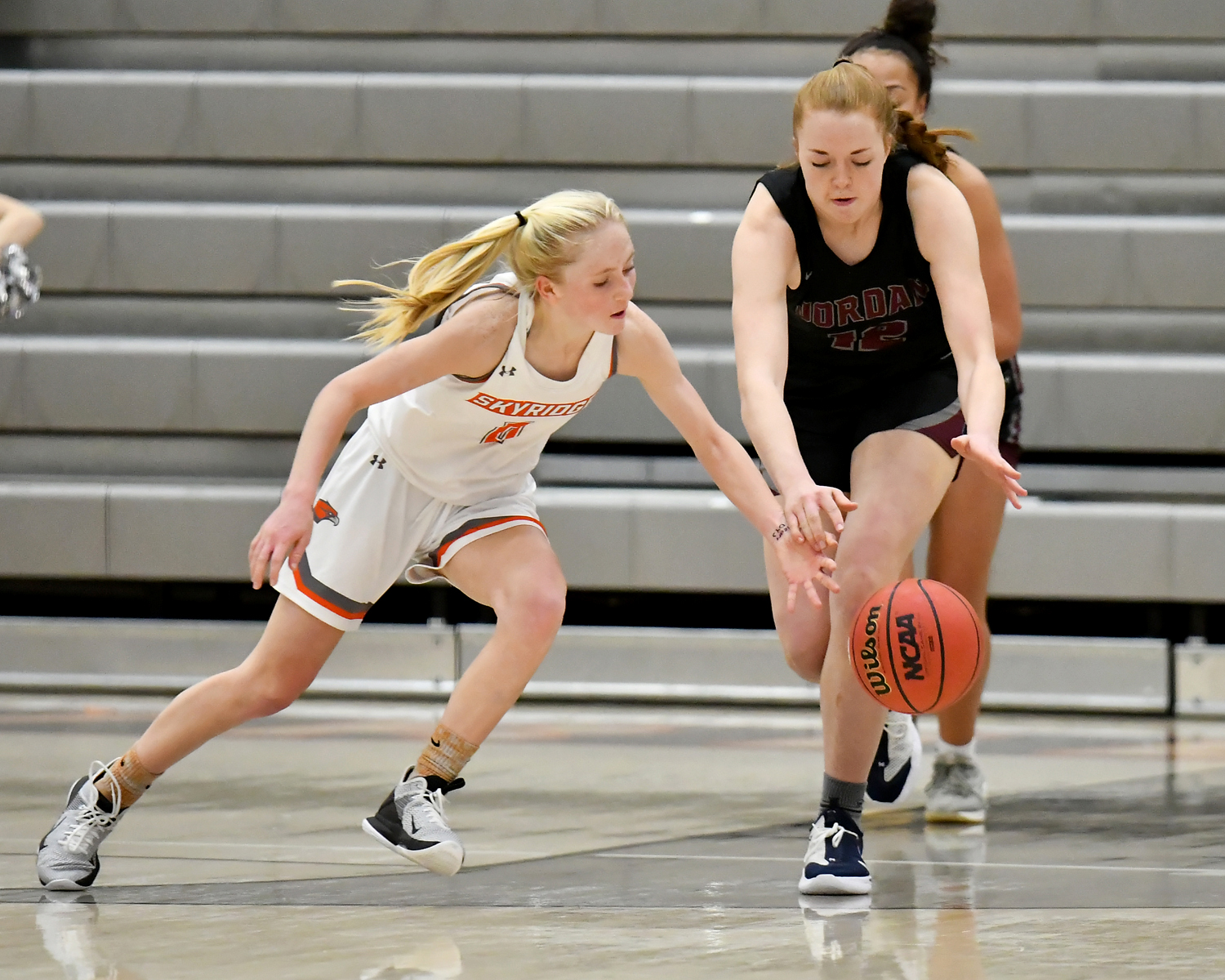 The No. 7 Falcon girls basketball team gave the eventual state champion Silverwolves the toughest game they'd had all season in the quarterfinal round on March 2, but eventually Fremont's overwhelming height advantage allowed them to post a 49-39 victory.
With three top college recruits and five girls on the roster measuring 6-foot tall or better, the Silverwolves finished the season undefeated at 26-0 and claimed the 6A title four days later.
The Falcons made the long bus trip determined to put up a fight, and they did. They dueled their formidable hosts nearly even in the first quarter as Fremont led by just a single point at the end of the period.
However, Skyridge could only manage two points in the second while Fremont got 12, so the Silverwolves had a 21-10 advantage going into the break.
The plucky Falcons manufactured an offensive surge in the third quarter and reduced the deficit to just five points by the end of the period, but Fremont controlled the fourth quarter and went on to what was, for them, a relatively narrow victory.
Senior guard Taylor Arnell led the visitors in scoring with 13 points and also had three rebounds, two assists and two steals.
Junior guard Teagan Gray netted 12 points with three boards, three steals and four deflections, while senior guard Ally Blackham added six points, five rebounds, four steals and three deflections. Freshman guard Cambree Blackham contributed four assists and four steals.
"Our team played a great game against Fremont and executed our game plan very well," said Skyridge Coach Shaylee Nielsen. "We tried to keep them off balance and cause a lot of chaos and were able to force 19 turnovers.
"We had to do our best to keep the ball out of their big girls' hands and we were able to do that until the fourth quarter when they really beat us up on the offensive boards," she continued.
"Our girls made some huge plays to give us a chance, but in the end their size was just too much for us. Fremont is a great team and their guards stepped up and hit some big shots whenever we gained momentum," Nielsen said.
"We struggled scoring in the second quarter and only got two points but after halftime we came out and scored 21 points in the third quarter," the coach went on.
"If we could have consistently scored throughout the game it might have been a different story," Nielsen said. "I was really happy with our defense and that we were able to hold them to just 49 points. They have consistently been putting up around 80 points this year so that was a big success for us.
"Taylor Arnell had a big game for us. She came out fearless and did a great job attacking their zone," she added.
The Falcons wrapped up their year with a 13-8 record.
"I could not be more proud of our team for the way they battled against Fremont and during the whole season," the coach said.
"In the fall when we were playing in fall tournaments and conditioning, our theme was 'Resiliency' and we continually preached that throughout the season," she continued. "Our girls fully embodied and embraced that theme.
"I don't know if there is another team that plays as hard as our girls and with as much heart," Nielsen said. "We were outsized almost every game this season and won a lot of them anyway based on the fight and toughness of our kids.
"Our seniors were incredible leaders this year and were everything we want in a Skyridge basketball player," she added. "Each one of them has left a legacy here at Skyridge and have helped our program continue to build. We love our seniors so much and will miss them tremendously."