Pioneer boys tennis wins St. George tourney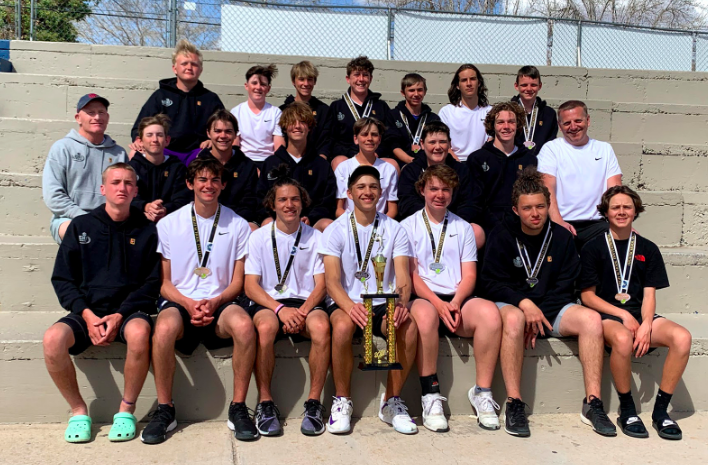 The Lehi boys tennis team won first place in their division of the annual St. George Invitational March 19-20 after earlier posting a 1-2 record in their initial matches, all on the road.
On March 19 in St. George, the Pioneers swept Stansbury 5-0 and also topped Mountain Crest 4-1 and Box Elder 3-2 to earn placement in the Gold Bracket for Saturday's competition. On the final day, three Lehi entrants won their brackets to give their team the overall championship.
In No. 2 singles, Chase Jones beat a Provo opponent 8-2 and then one from Lone Peak 8-4 to finish first. In No. 3 singles, Jackson Sheen prevailed over Lone Peak 8-4 and Mountain Crest 8-3 for his bracket title.
In No. 2 doubles, Spencer Bretey and Brayden Nelson took down Provo 8-1 and beat Lone Peak 8-3 to earn the top spot.
In No. 1 singles, Dallin Schaefermeyer fell to Lone Peak 8-4 and then was outlasted by a Provo opponent 8-6 to finish in fourth place.
In No. 1 doubles, Brevan Francom and Will Worsley easily topped Uintah 8-1 but lost a hard-fought battle to Lone Peak 8-6 to end up in second place.
The JV Pioneers also did well in this event, finishing first in five of six positions.
In earlier matches, the Pioneers opened with a victory at Herriman on March 10, then lost their first two Region 7 matches at Orem March 11 and Alta March 16.
Lehi 4, Herriman 1
Against the Mustangs, the Pioneers won every varsity match except No. 1 singles, where Schaefermeyer fell to Kael Nicholson 6-4, 6-1.
In second singles, Sheen defeated Ethan Talbot 6-4, 6-4. In third singles, Devon Olson outlasted Parker Cummings 6-4, 7-6 (7-0).
In No. 1 doubles, Francom and Worsley topped their opponents 6-4, 6-3, while Nelson and Bretey won their match 6-2, 7-5.
Orem 5, Lehi 0
The Pioneers all won some sets in their matches but weren't able to pull them out. Sheen put up the biggest fight in the No. 3 singles spot.
Alta 4, Lehi 1
Three of the varsity matches went to three sets, including No. 1 doubles where the Pioneers won their only varsity match. Francom and Worsley topped the Hawk duo 6-3, 0-6, 6-4.
The Pioneers have been playing at Willowcreek Middle School while the high school reconstruction has been going on. The tennis courts were the first casualty of the project and will be the last facility to be replaced.